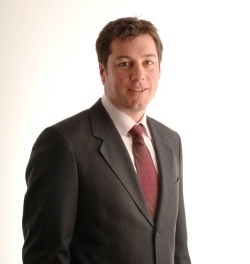 Advanced Power Components (LON:APC) founded in 1982 is an AIM listed specialist distributor of electronic components.  As a business, APC is split into a number of autonomous units, who supply a wide range of specialist components and equipment to a range of customers within different sectors such as, aerospace, defence, display technology and specialist industrial and commercial markets.
Following a busy year end and having recently announced that the company expects to post a return to profit before tax, Mark Robinson the APC Chief Executive Officer has taken time out to discuss various aspects of the business, including, returning to profit, positioning for growth, the marketplace, strategy and the much talked about imop™ energy saving device:
Q1.  Briefly, how would you describe APC's business, its values and beliefs?
At its core, APC is a specialist electronic component distributor whose strategy is centred around providing a "design-in" service which is of value to both customers and suppliers. By helping our customers achieve their design goals using our suppliers' components, we're as much a service provider as a component distributor, which significantly differentiates us from the bulk of the component distribution market.
On top of this, APC is a creative, entrepreneurial company constantly looking for opportunities to diversify to achieve new avenues for growth. This strategy was successful during the 1990s when we created our own range of components aimed at the communications market. Right now we're looking to generate growth by accessing the "green tech" sector with the imop™, a unit that helps reduce the energy consumption of electric pumps and motors.
Across all of the business we have developed a culture of mutual respect, integrity, ongoing learning and trust in which our employees are encouraged to take responsibility without the fear of blame, something we are proud of and display within each of our reception areas. I firmly believe that this helped us significantly through the difficult times over the last 24 months.
Q2.  APC have recently reported an expected return to pre-tax profit in line with market expectations for FY10, how did you turn the situation around from a loss making FY09?
The challenge has been to reduce operating costs in line with current trading without limiting the growth potential of the business and I feel we have done this. The market now is not radically better than it was 12 months ago, which was significantly down on where it was 24 months ago, but we've reduced costs and created a number of proactive sales positions across the business at the same time. This has enabled us to post a modest profit but at the same time sow the seeds that should result in good growth in the medium to long term.
Q3.  The business contains a number of different brands, did the autonomous APC brands meet your expectations during FY10?
Our strategy is designed to provide some balance across different market sectors to provide stability, so it's usual that some areas perform better than others. During this year we found our performance in some high reliability markets affected by programme slippage and tightening budgets, whereas industrial markets proved resilient. Overall we exceeded our sales budgets by a couple of points which, for me, underlines the benefit of a diversified strategy.
Q4.  Within the trading update it is stated that APC achieved a net cash inflow from operating activities in excess of £750,000, how was this achieved? and as things currently stand, do you envisage having to tap the shareholders for cash during FY11?
Our objectives in 2010 were to generate a profit and a positive cash flow and we expect to report that we exceeded our expectations in both areas. Achieving positive cash flow from operations in excess of £750,000 was particularly pleasing.  Generally speaking it resulted from our operations and finance teams working closely together to tightly control inventory and our debtor book while all over the business we closely controlled our costs.
Wider economic uncertainty remains a cause for concern but, that aside, we would only need to secure further funding in the event that we were presented with or identified a new unforeseen investment opportunity.
Q5.  Will the overstatement of inventory for FY09 have any bearing on the expected profit before tax for FY10? 
None whatsoever.  This is a straight forward adjustment to last year's result following work undertaken by our Finance Director following his appointment earlier this year.
Q6.  Within the recent trading update it is mentioned that APC have invested in additional sales resources and that a number of additional promising opportunities are being pursued.  Can you please provide a bit more detail about the opportunities being pursued in terms of products, potential market and time frame.
I am pleased to say that over the last 12 months we have generated a culture amongst our sales management whereby they are constantly looking at ways to diversity in ways which maximise the potential of the skill sets within their part of the business. As a result we have numerous projects about which we're quite excited but as usual the timeframes are difficult to predict, but it is fair to say that some of these could start to come to fruition in the current financial year.
Q7.  APC have recently commenced a training and hiring programme, what are the aims of the programme and how successful has it been to date?
Over the last 3 months we have recruited a few people that we would define as specialist technical sales people. They have very specialist knowledge and have come into the business to focus on winning new design-ins in very specific market / technology areas. It has been very pleasing to see a number of new and potentially significant situations already shaping up, although we have been quite clinical in our approach so as to avoid wasting time on opportunities that do not lead anywhere.
Q8.  How competitive is the components distribution market? Is APC maintaining its share of the market? What is APC's point of difference?
We avoid competitive situations as far as is possible by focusing on niche markets and offering a unique service. Our differentiator is the amount of time we invest to have our components embedded in the final customer design. This can be significant so we need to be sure that when the project reaches production we're not scrapping on an even playing field with multiple competitors. We achieve this through exclusive relationships with our suppliers, or at least relationships backed up by design registration schemes, and by providing an excellent service that adds value for our customers. Outside of the specialist niches in which we operate, it is a very competitive sector.
Q9.  One product that is currently generating interest amongst investors is the 'imop', could you briefly describe the product and its key characteristics? Where did the idea come from? What stage the product is at?
The imop™ is an energy saving device that is customised for individual motors. It optimises the power factor of the motor to unity, thereby reducing the flow of current to the motor to the minimum needed for full operation. More information can be found at www.theimop.com. The technology has been independently validated and we have a number of extended trials underway with a range of potential customers to prove the effectiveness of the product in a variety of high profile applications. We would expect the flow of sales orders we are now receiving to increase once these trials are complete.
Q10.  What is the current situation regarding the sales and distribution of the 'imop'?
We are taking a similar approach to sales and marketing to the one we employed in the 1990s when we appointed a 'master distributor' to generate demand. At that time our target market was North America so the master distributor was based there, whereas in this case we are looking at UK and wider international markets so our master distributor, Minimise Limited, is based in the UK. APC owns 17.5% of Minimise. The advantage from APC's point of view is that we can focus on product development and manufacturing without the added burden in terms of effort and cost of setting up a sales and marketing team.
Q11.  How does the APC order book at the start of Q1 FY11 compare to Q1 FY10? Are the new distribution agreements announced during FY10 likely to have an impact?
Our order book is currently very close to where it was 12 months ago. Over the last 24 months we have seen a definite shift away from long term contracts to shorter term commitment being placed by our customers but the bulk of this transition occurred more than 12 months ago. We do, however, have a much bigger pipeline of opportunities; some of this is a result of the new agreements signed, but the majority results from the renewed emphasis on securing new design-in opportunities.
Q12.  What has been the main challenges posed by the economic downturn for a specialist electronic components distributor? How do you safeguard the business in uncertain times?   
The biggest challenge is forecasting and then setting budgets which are aggressive in terms of medium to long term growth but still generate short term profits. Our forecasting for the last 12 months was 97% accurate which was in part due to an effort to identify where the majority of our business for the year would come from on a line by line basis. The key is awareness of what's in the pipeline and to capture as much information as possible as to the timing of those projects. This level of awareness is crucial in a rapidly changing market, where the only way to ensure the continued success of the business is to be prepared to implement plans A, B or C in the event of changes in market conditions.
Q13.  Looking at the share interest from the annual report it seems that around 11.5m of the 25m issued shares are closely held holdings of over 3%, what feedback do you get from the shareholders about the performance of APC?
Our major shareholders have held shares in the Company for a considerable time and therefore understand well the nature of the business. During the last 6 or 7 years we stabilised the Company then generated consistent high growth with limited funding. However, the severe conditions in 2008/9 inevitably had an effect on the Company and I'm pleased to say that our shareholders were very supportive and generally took a balanced view, recognising that growth would not come without an element of risk. We communicated effectively with the major shareholders when the going was tough and I believe that they feel we reacted appropriately in the circumstances and remain supportive as we endeavour to reposition the Company for a return to growth.
Q14.  Finally, what can the APC shareholders look forward to this year in terms of company news flow?
We are working very hard and have a good number of positive situations under development, any one of which would be worthy of positive news flow. However, if the last 24 months have taught me anything it's to expect the unexpected so, although we're optimistic about the future, we will ensure that positive situations are in the bag before we start talking about them!
Thanks for taking the time to discuss the various business aspects and for sharing your thoughts.
All images courtesy and copyright of Advanced Power Components and Redleaf Communications.
---
Disclaimer:
This content has been created for information purposes only, and is NOT, in any way, a recommendation to invest.  This communication is a snapshot of a certain aspect of a discussed business at a moment in time, and is merely a basic starting point for research.  The article/thread has been created with honesty and integrity in mind and is based on publically available information sourced in relation to the title, such as from, RNS announcements, published reports, management comments, analyst reports, media coverage etc.  To this extent the author who has written the piece in good faith accepts no liability for the accuracy of the information and urges all readers to verify the content independently.  Please note that the value of investments may fall or rise and you may not get back the amount originally invested, or in some cases your investment may be wiped off altogether.  When investing, bear in mind that past performance is not a guide to future performance and that qualified independent financial advice should be sought before buying or selling shares.  The Author of this article may hold shares in the companies discussed.
---
---

APC Technology Group PLC is a United Kingdom-based company engaged in the supply and distribution of specialist electronic components and the sale of energy efficient products and services. The Company's technologies and services include consulting, energy reduction, energy generation, water management and project financing. The Company operates in two trading business segments: Distribution, which is engaged in the distribution of specialist electronic components and Cleantech, which is involved in the sale of smart energy saving products and services. The Company also has central services segment that provides support to the trading businesses. The Company's subsidiaries include Minimise Energy Limited, Minimise Controls Limited, Minimise Energy Solutions Limited, Minimise Solutions Limited, Minimise Finance Ltd and Minimise Holdings Limited. more »