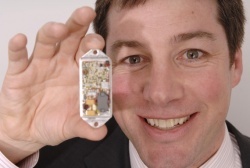 Advanced Power Components (LON:APC) founded in 1982 is an AIM listed specialist distributor of electronic components. As a business, APC is split into a number of autonomous units, who supply a wide range of specialist components and equipment to a range of customers within different sectors such as, aerospace, defence, display technology and specialist industrial and commercial markets. Following a busy year end, and having recently announced that the company expects its profits to show a substantial improvement over the prior year in line with expectations, Mark Robinson the APC Chief Executive Officer has taken time out to discuss various aspects of the business, including, growth strategy, QV acquisition, debt terms, and the much talked about imop™ energy saving device:

Q1. Advanced Power Components have recently provided its shareholders with a positive end of year update, what would you personally regard as being the high point of FY2011 for APC as a business?

The high point of the year is difficult to pin-point as in truth it's been very hard work for the last 3 years without many specific noteworthy achievements. Even though we've turned things around, a good number of people have put a huge amount of effort into building a positive future and much of it has yet to come to fruition though we are seeing some satisfying signs of progress.

Over the last two years we have avoided the temptation to compete for spot business in the market and focussed on building long term design-wins. It is satisfying to see this reflected in the fact that our order book is now the highest it has been in a number of years

In addition, I've spent a great deal of the year travelling to new markets in developing countries in an attempt to create new opportunities which at times has been quite an eye opener. The contrast between the stalling western economies and the rapidly developing nations is quite amazing. I feel we are making steady progress in efforts to widen our markets which is again quite satisfying.


Q2. During hard economic times many firms have had to cut back on expenditure such as wages, training, advertising etc, have APC been forced to cut back costs?

At the start of our last financial year we froze wages and put in place an additional company wide bonus scheme which paid out if we achieved budget, which we did. At the same time we increased expenditure on training across the company as we see this as an investment which will reap rewards when the market recovers. We have a limited spend on general advertising so this wasn't really affected.


Q3. The debt level has been reduced by around 300k in FY11, What are the terms for the remaining debt? Can it be call up at short notice?

We consider it to have been quite an achievement to have reduced the debt level from £2.2m on 31 August 2009 to £1.4m on 31 August 2011. The debt that remains has three main elements.


A term loan which is guaranteed under the governments EFG scheme which is being repaid over 4 years: we are just under halfway through this. This is a fixed term loan so as long as we continue to meet our covenants it cannot be called in. The interest rate on this loan is 5.3% above base and we have to pay a guarantee fee on this.
Convertible loan notes that can be converted to equity at any time by either the Company or the loan note holder or repaid in February 2014. We have seen some of these convert to shares already and currently there is a balance of about £245,000 on which we pay interest at 8%. So again this facility cannot be called in.
We also have an invoice discounting facility which is renewed annually. The facility is £3 million but we only draw down what we need, which is typically much less than the three million. The interest rate on this facility is very attractive at 1.75% above base but there are additional fees (for transactions etc) that push the cost up significantly. We have become quite smart about using this facility and have kept the fees down but they still add up.

Q4. How did the Quo Vadis acquisition come about? What are your aspirations for QV Controls Ltd?

We have a strategy to diversify into technologies which enable consumers to reduce energy consumption and the recently rebranded QV Controls ticks that box for commercial, retail and other markets.

They were recommended to us by our ex Non Executive Director Joe Stelzer who had direct experience of competing with them in the lighting control market in the past. Joe was impressed by the technology and the people and recognised the mutual advantage of us joining forces.

We have taken a 70% stake in the Company with full knowledge that in the short term our profits will suffer but believe that longer term, with our support, QV will grow to be a significant part of an expanding APC Group. Everything we are doing is intended to carefully balance short term performance to achieve longer term profitable growth.


Q5. It was recently mentioned that APC are looking towards the emerging markets with regards to energy efficient technology, specifically which markets are involved and what has been the success of this strategy to date?

As we develop a portfolio of products to improve energy efficiency it is our intention of taking these to market internationally. We have made some inroads into markets in the Middle East, India and some parts of Asia but it remains early days. In the future we intend to address markets in Latin America but resources are limited and we are having to be careful not to overstretch ourselves.


Q6. Are you disappointed with the lack of sales generated by the imop™ to date? What seems to be the general customer objections?

I think that's a fair statement although we have a number of opportunities in the pipeline which could reverse this overnight. I believe we are suffering from a number of separate issues which are all combining to make the sale difficult. These include the difficulty in proving the savings without investing to fit out the whole building on a sale or return basis, the general lack of capital available to invest in energy efficient products and the slippage in the implementation of the carbon related government schemes in the UK and overseas. We continue to be optimistic but timescales remain uncertain.


Q7. Have Minimise signed up many distributors for the imop™? Are there any imop™ trials underway?

Yes, Minimise have been effective in signing distributors in Europe and Asia but to date only a few of them have gained traction for the same reasons as stated above. We are continuing to educate them and, as has been proven by those that are now successful, once they find the niche in their local markets then sales can accumulate very quickly.

Minimise have trials underway with a few significant organisations and we are anticipating positive results becoming apparent before the end of the year.


Q8. Where do APC see direct government legislation helping APC products given the highly fragmented and competitive green market for such devises? Which specific legislation or catalyst will aid in the sales of the imop™?

We had anticipated that the Carbon Reduction Commitment in the UK, combined with escalating electricity prices would make the imop™ a compelling proposition. However, the scheme is not yet fully implemented so the number of organisations compelled to act on it remains limited. We consider this to be an issue both in the UK and overseas. However, it should be noted that imop™ is a part of our plans and we are working hard to supplement it with other product offerings for what we believe will be a huge growth market for many years to come.


Q9. Is there any way APC could encourage additional market makers to "trade" APC stock? Potential investors are often faced with a wide bid to ask spread and lack of liquidity on many AIM stocks?

I really don't believe we could do anything to improve liquidity apart from make our stock more desirable by driving significant growth. Northland Capital recently started making a market in addition to Winterfloods but the effect has been insignificant.


Q10. In terms of market consolidation, being currently capped at around £2.5m how could APC safeguard itself form an opportunistic approach before the fruits of its strategy have matured?

We're in a rather fortunate position as more than 50% of the shares are in the hands of a limited number of investors who understand what we're trying to achieve. I can't speak for them all but I believe that they recognise the value that we are creating and are not minded to cashing in beforetime.


Q11. How well insulated is APC to cope with the Government austerity measures and an indifferent economic outlook?

That's a tough question to answer. Our backlog remains strong and we believe that we are yet to see the benefit of the positive actions taken over the past couple of years so I guess we're hoping that any negatives associated with the austerity measures are offset by the positives we have introduced into the business. Time will tell on this one I'm afraid and that's the most honest answer I can give.


Q12. Have APC ever paid its shareholders dividends? Are dividend payments something the BOD would consider in the future?

We did have a dividend policy in the 1990's when on the full list but we've never paid a dividend since delisting and relisting on AIM in 2002. We have the intention of paying dividends when generating profits sufficient to reduce debt, though the timing of this remains uncertain.


Q13. Going forward what can Advance Power Components shareholders look forward to over the next 12 to18 months?

I hope they will see a growing core business supplemented by revenues and profits generated from the sale of green tech products into UK and wider international markets. The potential is enticing though timescales are simply not yet clear enough to call.


Thanks for taking the time to discuss the various business aspects and for sharing your thoughts.

All images courtesy and copyright of Advanced Power Components (LON:APC)

Disclosure: the interviewer holds shares in Advanced Power Components (LON:APC)
Disclaimer:
This content has been created for information purposes only, and is NOT, in any way, a recommendation to invest.  This communication is a snapshot of a certain aspect of a discussed business at a moment in time, and is merely a basic starting point for research.  The article/thread has been created with honesty and integrity in mind and is based on publically available information sourced in relation to the title, such as from, RNS announcements, published reports, management comments, analyst reports, media coverage etc.  To this extent the author who has written the piece in good faith accepts no liability for the accuracy of the information and urges all readers to verify the content independently.  Please note that the value of investments may fall or rise and you may not get back the amount originally invested, or in some cases your investment may be wiped off altogether.  When investing, bear in mind that past performance is not a guide to future performance and that qualified independent financial advice should be sought before buying or selling shares.  The Author of this article may hold shares in the companies discussed.
---
---

APC Technology Group PLC is a United Kingdom-based company engaged in the supply and distribution of specialist electronic components and the sale of energy efficient products and services. The Company's technologies and services include consulting, energy reduction, energy generation, water management and project financing. The Company operates in two trading business segments: Distribution, which is engaged in the distribution of specialist electronic components and Cleantech, which is involved in the sale of smart energy saving products and services. The Company also has central services segment that provides support to the trading businesses. The Company's subsidiaries include Minimise Energy Limited, Minimise Controls Limited, Minimise Energy Solutions Limited, Minimise Solutions Limited, Minimise Finance Ltd and Minimise Holdings Limited. more »