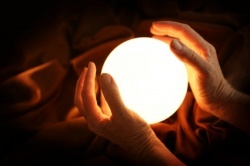 When the Bank of England first began publishing their "fan charts" I immediately became a fan of the fan charts.  They bring to life the uncertainty which is implicit in most forecasts.
Sadly, there is a lack of similar visual tools for stock market investors, which means those who are not of they buy-and-hold variety are left with little to go on, other than perhaps the market's current PE, the dividend yield, and the chicken-entrail readings of analysts.
The rise of CAPE
In recent years the snappily titled CAPE, or cyclically adjusted PE, has become popular, probably because it's a giant leap in the right direction.
By comparing the market's current CAPE to its long-run average, investors can at least begin to have an idea of whether or not the market is too hot, too cold, or just right, as goldilocks would say.
That's possible because CAPE has proven to be mean reverting.  In the long-run the FTSE 100′s CAPE, or that of any sufficiently diversified index, tends to move around its long-run average.  At least that's the story of the past century or so.
As well as being mean reverting, the FTSE 100′s CAPE hasn't moved very far from its average, which is about 16, going perhaps twice as high and half as low in extreme booms and busts (the S&P 500 did go almost three times as high in the dot com bubble, but on this side of the pond our markets maintained somewhat more decorum).
There certainly doesn't appear to be any evidence that CAPE is something that can grow indefinitely, or is something that changes by huge amounts, which means the FTSE 100 is unlikely to reach 100,000, or 100, any time soon.
Although there is no magic bullet, CAPE is a sensible way to give yourself a ballpark estimate of where the market is in terms of the range of valuations it's likely to reach.
The chart below shows a set of FTSE 100 valuation bands for the past 25 years, covering a range from around half to double the long run average.
A few points to note :
The rise from left to right of the valuation bands.  This occurs because of two things – inflation, and the real growth of companies which make up the stock market.
The valuation bands get wider to the right because they are a multiple of the cyclically adjusted earnings, which is getting larger almost all the time, so the bands get wider.
The central band is darker because it's more likely that the market will be close to that level.  The extreme valuation bands are light because it's less likely that the market will be at those levels very often.
Data is taken from annual snapshots, so they out some short term moves like the 1987 crash, but I think it's fit for its intended purpose.
It's interesting to see that if market participants were as enthusiastic today as they were in 1999, then the FTSE 100 would have already reached the lofty heights of 14,000.
Fortunately, for those of us who are still compounding savings and reinvesting dividends, the companies that make up the stock market are by and large far cheaper and better value now than they were back then.  In fact they are better value now than at almost any time since the FTSE 100 began.
Special Offer: Invest like Buffett, Slater and Greenblatt. Click here for details »
Risk and reward depend on valuation
Another interesting point is that risk and reward change as the market's valuation changes.    If for example the market were valued "just right" with a CAPE of 16, then the odds of the market going up or down in the short-term would probably be close to 50/50.
However, the further the valuation is from average, the more likely it becomes that the valuation will move back towards average.  Not certain by a long shot, but more likely.
If the valuation is around 30, like it was in 1999, then it becomes very likely that the next move will be down, back toward 16 rather than upwards towards 35 or 40.  It follows that there is more risk (falling share prices) and less reward (rising share prices).  The opposite is true when valuations are low.
Why?  Because a CAPE of 16 (or thereabouts) it the natural state of affair, the price that investors have been willing to pay for stocks and shares, under a wide range of conditions, over a very long period of time.  When valuations are extremely high or low, like in 1999 or 2009, they require extreme conditions for them to prevail – Extreme optimism in 1999, extreme pessimism in 2009.
However, extreme conditions are short lived almost by definition.  If extreme conditions were the norm then they would not be extreme.  Eventually the short-term driver of extreme valuations fades and things return to normal (or the system collapses entirely and is replaced by something else, but that's a different conversation).
Seeing the wood for the trees
One of the most important things that a valuation tool like CAPE can give is a wider perspective.  In the chart above, you can look at the FTSE 100 and see that it hasn't gone anywhere for 13 years, which is depressing.
On the other hand you can look at the valuation bands, which track the cyclically adjusted earnings of the underlying companies, and see that in all that time the underlying value of the FTSE 100 may have increased by almost 100%.  The "just right" valuation has gone from about 4,000 in 1999 to perhaps 7,500 today.
By separating the wood from the trees, or value from price, you give yourself a much better chance of beating the market.
The map is not the territory
Be aware though, that you shouldn't think this is some infallible way of measuring or predicting the market with probabilities and two decimal places.  It isn't, because there isn't one.
It's just a sensible way to look at market valuations, just like house price to earnings ratios still are, even though many people will talk about how affordability is all that matters, and that house price to earnings ratios are outdated.
They said the same thing about PEs in the dot com bubble too.  The fact that both those bubbles burst should tell you that valuations matter more than almost anything else.
In the long-run, if you overpay, you will underperform.
---
Disclaimer:
This article is for information and discussion purposes only and nothing in it should be construed as a recommendation to invest or otherwise. The value of an investment may fall and an investor may lose all their money. Any investments referred to in this article may not be suitable for all investors.  Investors should always seek advice from a qualified investment adviser.
---
---