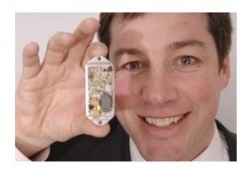 Advanced Power Components (LON:APC) founded in 1982 is an AIM listed specialist distributor of electronic components and is a company I have followed for a number of years.  As a business, APC is split into a number of autonomous units, who supply a wide range of specialist components and equipment to a wide range of customers within different sectors such as, aerospace, defence, display technology and specialist industrial and commercial markets.  However, although contributing, the components side of the business is not the part of the businesses that interests me the most as an investor, it is more the diversification strategy followed by APC which has resulted in a controlling interest in three subsidiaries within the energy saving products and technologies market.
Following the third substantial reported order for LED lighting products from a supermarket chain through the Minimise brand, Mark Robinson the APC Chief Executive Officer has taken time out to discuss various aspects of the business, including, the LED orders, QV Controls, Minimise energy services and funding for growth:
Q1. How are the general trading conditions for the core components business? Do you have any thoughts on potential market or brand consolidation going forward?
The general trading conditions in the electronic component distribution sector have been tough to say the least for the past two years. AFDEC (Association of Franchised Electronic Component Distributors) statistics indicate that monthly sales have declined by 26% during the previous 24 months. Our distribution business has declined by less than 10% over the same period indicating that we've increased market share which is some consolation. We would expect this to mean that we have the potential to maintain this increased market share when the market begins to grow again, which I believe will coincide with an improvement in general economic conditions.
As far as brand consolidation is concerned, we have done some of this internally over the past couple of years as part of reducing management overhead but we still have specialist technical sales people focussing their efforts on promoting the brand and the products in which they have a high level of expertise. This is critically important to us as consolidating the brands and have everyone selling everything would ultimately dilute the expertise we bring to niche markets which is ultimately why we exist .
Q2. Can you please explain the Minimise work carried out to date for the 'major UK retailer', what feedback have you received from their team and what's the value of the orders received to date?
The total value of orders received to date is now just short of £9m. Primarily this has been for the replacement of fluorescent lamps with low energy Minimise alternatives based upon light emitting diode (LED) technology. However, the range of our products being deployed is now expanding and includes LED fixtures for exterior applications and advanced LED light panels which replace the need for light 'tubes' altogether.
The feedback we have received has been excellent in terms of the improved look in the stores, the drastic reduction in energy consumption and the levels of service and customer care provided to date. The Minimise team are rightly very proud of everything they have achieved over the past 12 months and the feedback gives us confidence that the relationship will continue to develop over the coming years.
Q3. Will there be further work to come from the 'major UK retailer' and are you talking to any other prestigious retailers?
While we don't want to take anything for granted we believe that there is the potential for the deployment of our low energy lighting products to this one customer to continue for the foreseeable future, and certainly through our next financial year. This will of course depend upon us maintaining the technology lead that we believe we have and continuing to provide the level of customer service delivered to date.
It seems clear that we are growing a positive reputation on the back of this first major customer and many doors have been opening to us over the past 6-9 months. We are talking to a number of well known companies across several sub-sectors of the retail market and hope that these conversations will develop into business once trials and negotiations are complete, although from experience we know that these engagements take time to develop.
Q4. Are Minimise Ltd tendering or quoting for orders with organisations outside the retail sector or is the LED product on offer typically going to be suited to predominantly retailers?
Minimise has a rapidly expanding range of LED based lighting products which can be used in virtually any market sector. One of the strengths of the company has been its appreciation of market and/or customer needs and the aggressive way that develops a product to meet that need. Orders have been received and delivered to various parts of the public sector, to commercial offices, to the leisure sector and the industrial sector as well as the retail sector. It just happens to be the case that our first major customer is in retail and that has grabbed all the headlines.
Q5. Can you please explain what products and/or services are offered by Minimise Energy Limited and how much success this subsidiary has had to date?
Forgive me for answering this question in a slightly long winded way but I think it is important for our shareholders to understand why our cleantech organisation has evolved in the way that it has.
When we created Minimise Limited it was intended to be a vehicle for energy efficient technologies to go to market. Initially that was to be the imop™ with the intention of adding other technologies once the company was established. The imop™ sales have not yet met our expectations and were not enough to sustain the company so its Managing Director seized on an opportunity that arose for the company to enter the low energy lighting market. This was clearly a great move as we see the market developing for these products at a tremendous rate. As a result, everyone in Minimise is working tremendously hard to capitalise on the potential that exists with LED products or other closely aligned technologies.
At the start of 2012 I was introduced to a group of individuals who had significant experience in a number of clean technologies and who possessed a strong financial background. They set up a company, Cero UK Limited, with a business model based on integrating a number of synergistic technologies into an overall scheme to reduce carbon emissions by either reducing energy consumption or generating energy more sustainably, and, critically, for that scheme to be suitable for third party financing. We acquired Cero and rebranded it Minimise Energy which we have been developing with the intention of building our own, evolving, portfolio of technologies which can be offered to the market home and abroad with a number of financing options.
In terms of building the foundations for this business we have made very good progress. We see this in terms of building blocks; (1) We have created a portfolio of technologies, the core of which we either control or will be looking to control, which can provide significant energy savings within a built environment or generate energy in a sustainable manner, (2) We can now offer guarantees in the form of insurance which underpins promised levels of energy saving and/or generation using these technologies, (3)  As a result we can offer a number of energy performance contract variations with the knowledge that we have a number of financial institutions willing to fund our energy efficiency projects.
Minimise Energy have a good number of projects in the pipeline and moving steadily forward.  A couple of small contracts have been awarded but we are expecting much more in the future.
Q6. How is QV Controls Ltd developing? Is the subsidiary showing the commercial promise hoped for at the time of acquisition?
In all honesty the performance of QV Controls to date has not met our expectations but it has been instrumental in securing our position in a significant project for a major UK transport infrastructure company which should be the launch-pad for the business to move onto bigger and better things.   
Q7. It was recently noted that the Group's net debt has increased since the year-end due to the working capital and investment requirements of its subsidiaries.  Are the subsidiaries now fully funded to capitalise quickly and ahead of competition in this fast growing sector?    
I need to break that question down into two parts. Firstly, Minimise's business has grown tremendously over the past 9 month and there has been a need for increased working capital to fund the purchase of product which has been met by an extension of our banking facilities. In addition APC's board made the decision to effectively invest APC's share of near term profits generated by Minimise into both Minimise Energy and QV Controls with the long term aim of increasing the Group's penetration into the cleantech sector. While this reduces the Group's short term profitability and adds to short term debt we are satisfied that it is in the best long term interests of the Group and its shareholders.
Q9. APC have recently made board changes, and have appointed a new Non-Executive Chairman and Non-executive Director, what can holders expect these new additional to bring to the company?
We felt it necessary to make some changes at board level to ensure that the individuals on our board really understand the specific challenges we will face in the markets we are addressing.  Our new Non-Executive Chairman Leonard Seelig has been in finance for most of his working life previously holding senior positions in the US and Europe with America's largest banks. Non-Executive Director Tessa Laws is a qualified lawyer running her own legal practice. Away from APC both Leonard and Tessa have been actively involved in the cleantech sector for a number of years and we feel that their financial and legal experience, as well as their appreciation of the market, will be of huge value to us as we grow.   
Q10. What do you make of the recent share price performance with APC currently trading at highs not seen for many years?
I guess my answer to that is that everything is relative. In 2001 the APC's market cap briefly exceeded £100m which was reflected in a share price, albeit fleetingly, of just above £4.00. On 2nd January 2003 the market cap had tumbled to £1m with a share price of 4p. APC shares may well be trading at highs not seen for many years but as far as I'm concerned the share price is still languishing far too close to the low end of the 4p to £4.00 range and there will be little satisfaction on my part until we've built a business valued far higher than it is right now.
Q11. Finally what can Advance Power Components shareholders look forward to over the next 12 to 18 months?
Based on everything I know today I hope they can look forward to a prolonged period of profitable growth…
Thanks Mark for taking the time to discuss the various business aspects and for sharing your thoughts.
Ticker code: APC, Shares in issue: 30.4m, Current SP: 28.75p  
@EliasJones1
All images courtesy and copyright of Advanced Power Components and Redleaf Communications.
The interviewer holds shares in Advanced Power Components.
Disclaimer:
This content has been created for information purposes only, and is NOT, in any way, a recommendation to invest.  This communication is a snapshot of a certain aspect of a discussed business at a moment in time, and is merely a basic starting point for research.  The article/thread has been created with honesty and integrity in mind and is based on publically available information sourced in relation to the title, such as from, RNS announcements, published reports, management comments, analyst reports, media coverage etc.  To this extent the author who has written the piece in good faith accepts no liability for the accuracy of the information and urges all readers to verify the content independently.  Please note that the value of investments may fall or rise and you may not get back the amount originally invested, or in some cases your investment may be wiped off altogether.  When investing, bear in mind that past performance is not a guide to future performance and that qualified independent financial advice should be sought before buying or selling shares.  The Author of this article may hold shares in the companies discussed.
---
---

APC Technology Group PLC is a United Kingdom-based company engaged in the supply and distribution of specialist electronic components and the sale of energy efficient products and services. The Company's technologies and services include consulting, energy reduction, energy generation, water management and project financing. The Company operates in two trading business segments: Distribution, which is engaged in the distribution of specialist electronic components and Cleantech, which is involved in the sale of smart energy saving products and services. The Company also has central services segment that provides support to the trading businesses. The Company's subsidiaries include Minimise Energy Limited, Minimise Controls Limited, Minimise Energy Solutions Limited, Minimise Solutions Limited, Minimise Finance Ltd and Minimise Holdings Limited. more »