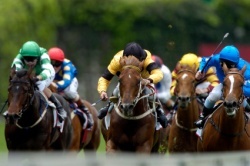 A simple question and easy to answer. "I am an investor of course, I don't throw my money around willy nilly as if I'm betting on a horse." However if we delve a little deeper we can uncover the characteristics of a successful investor and then measure ourselves against these qualities to see how we measure up.
1. System
Successful investors have a "system" that gives them an edge and tips the probability of success slightly in their favour. It is this edge that leads to the steady accumulation of capital over time, rather than the erosion of capital over time. When I say "system" it could be a process/methodology/algorithm or an automated system or whatever else you choose to label it as. What I mean by "system" is a defined process of identifying stocks to invest in based on predetermined criteria.
You should write it down and be able to easily communicate it to someone else (but if you're like me you won't as you don't want to give away your competitive edge).
2. Research
Once your system has identified a potential investment opportunity then you need to research that stock. What industry does it operate in, what countries does serve, what are it's future business prospects, who are the management, what's the opinion of the management team, what do the latest published accounts say about the business, are there any hidden statements buried in the notes to the accounts, do the management have large shareholdings…..?
Then you need to apply your general economic knowledge to your potential investment opportunity. Is it a bank or exposed to banks? Is it a retailer or exposed to retailers? Does it have significant sovereign debt exposure? Does it have refinancing requirements coming up?
General research is an ongoing task and something that I love doing anyway, this is the fun bit! Reading the FT, investment websites, business news stories, news blogs and discussion boards. The key is to pick up general news, trends and sentiment, but not to let it unduly influence your investment decisions (unless of course the news directly relates to your potential investment).
3. Understanding
I mentioned reading the company's accounts and annual report. Reading a set of accounts is not straight forward the first time but you need to be comfortable with looking through the accounts as this is a way of identifying concerns that the directors don't want to highlight in their accompanying results statement. Profits may have grown but is this due to one off factors? The dividend may be high but is it sustainable? Debt may be low but are there other ongoing commitments that act like debt (property lease obligations)?
4. Persistence
Persistence is what separates people who really want to be successful (at anything) from those that don't. You try, you fail, then what? If investing is something that you love doing then you will look at what worked, what didn't work and refine your methods and try again.
When you learn to ride a bike, your brain processes all of those experiences and gradually you learn how to balance and ride a bike. When you learn to drive your brain again processes the speed and distance of other vehicles, how much you need to release the clutch, an awareness of other road users until gradually it is all second nature. In both cases this is unconscious competence.
With investing you need to do the same, become an unconscious competent investor. It takes time trying out different techniques, practice with real money at stake so you know what it feels like to lose money and understanding your own emotional state and how much risk you can handle while still being able to sleep well at night.
5. Money Management
Nobody is going to get every investment decision right, you win some and you lose some. Successful investors either win more often than they lose or when they win they win big compared to their losers. The aim of the game is to build capital, therefore we need to ensure that we have enough money to stay in the investment game.
Money management means not over committing to an individual stock through diversification, not over investing in a particular market segment, identifying when to cut your losses. Good money management allows you to sleep at night and reduces the emotional tendency to overreact to news events and sell at the worst time (generally the panic lows). It also means only committing your capital when you have followed your system and having preservation of your capital as one of your primary objectives.
Investing is risky and money management allows you to manage that risk (along with your system and research).
6. Entry & Exit Targets
Entry and exits are the hardest part of this in my opinion. This other areas may require more time and effort but this is the hardest to get right and that because you can't get it right. You might buy at a low a few times and sell at a high but it won't happen every time.
Your system has identified a target stock and its price today could be your entry point. I like to wait for a pullback to buy but there is no guarantee that you'll get a lower price. You could use recent support levels, trend channels, averaging in or whatever you feel comfortable with. This will come with experience and what suits you.
I believe that not many people have an exit price in mind before they invest. We are so used to being told that we should invest for the long term that most people have a buy and hold strategy which quite often means buy and forget.
Once you have bought a stock it needs to be monitored on a regular basis and you need to identify when its time to sell and reinvest elsewhere. If your investment has increased in value to a level where it is fairly priced then it makes sense to sell and reinvest in another opportunity. Here we come back to the "system", you identified an investment opportunity that would hopefully increase in value and once it has got to its price target you need to whether there is still further upside available and how that compares to other opportunities.
7. Consistency
There are many investment approaches (value, growth, distressed, fundamental, technical….) and various trading approaches (oversold bounce, momentum breakout, candlestick patterns…..) and the key to success is to get good at something and stick to it.
Consistency means steadfast adherence to the same principles or course. You have your "system", you've refined it over time investing real money and learning from your mistakes. You know what works and what doesn't and now you reached a state of unconscious competence. You have settled on one course of action and all that remains is to repeat what works and invest in successful opportunities.
The time and effort spent on your "system" means you have the confidence to trade it through difficult markets because your have experienced them before. Obviously markets change and once the banking crisis is resolved they'll be something else that comes along. But by then you'll have the experience to see the warning signs and respond appropriately when the need arises.
Private Investor or Gambler Checklist
Do you utilise the following when making investment decisions?
1. System
2. Research
3. Understanding
4. Persistence
5. Money Management
6. Entry/Exit Targets
7. Consistency
I'll leave it up to you to determine whether you are a private investor or a gambler. I used to think I didn't need to worry about money management as I could top up my investments from my salary if they went down but I realised that this is not the mindset of a successful private investor.
Investing is not the easy road to getting rich that many people think it is. Investing is easy; you open an online account and buy some stocks. Successful investing is not easy and it does require a lot of work to be successful (just like anything else).
The more I try and the harder I work the luckier I become. Good luck!
---
---
---