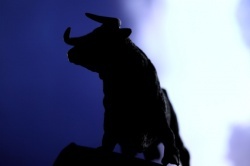 US and UK indices have continued to push ahead since my last report four weeks ago, with the Dow climbing to 10829, up from 10447, and the FTSE100 rising to 5592, up from 5428.

Although the indices have risen, they are still inside those multi-month ranges which I talked about last time. Obviously however, they are now closer to breaking out, and the index that looks like it could be the first is the DAX, which is only about 2% from the upper boundary. This resistance level has been in force for most of this year, so breaking it would be a highly significant development which should see that market move substantially higher. If one major index manages to break out, then almost certainly the rest will follow.

Just to reiterate the main point from last month's report, all major US, UK & European indices have been in ranges which have persisted more or less for the whole of 2010. That kind of duration is very significant - it usually means that when the breakout comes, it will produce a big move. Of course simply being in a range for a long time doesn't necessarily tell you which way it will eventually break, but there are some big clues. Firstly, the fact that the markets were trending up for nine months prior to the ranges. Secondly, the refusal of the market to capitalise on chances to move significantly lower during the summer - in effect what we saw were false downward breaks, with the indices quickly springing back up. Thirdly, rising lows recently. Finally, as I have just mentioned, markets are closer to the upper boundaries of their respective ranges, rather than the lower.

The gains since my last report, together with the observations above, simply serve to underline what I said four weeks ago: "I'm now even more convinced that we are in a bull market which has much further to go, and I'm sticking with my long-term target of FTSE at 10,000 by the end of 2012"

This may still seem like an outlandish forecast, but it can be understood quite easily by breaking it down into stages. The all-time high on the FTSE 100 is around 6950. If I'm right about the breakout from the range, the all-time high is within striking distance. The reason for this is simple. The range is around 1000 points deep (4800 - 5800) and chart theory says it should produce at least that amount of movement once it breaks out. So if the breakout is upwards (which looks the most likely direction) then that takes us to 6800. But the 1000 points target is a minimum - we could easily make it past 6800 and on to a new all-time high. Once there, it is simply a question of the reliable adage: one all-time high leads to another and another. This is simply a consequence of having no resistance. Far-fetched? Not really; I used exactly the same logic on the Dow in 2006 (which had just broken out of a two-year range) to predict a move of 3000 points.

Remember also that if FTSE did get to 7000 then the regular news bulletins would mention "shares at a record high" night after night, and the public would come back in again, simply fuelling the advance. A move from 7,000 to 10,000 would be a fairly straighforward passage.

Away from the stockmarket, the outstanding situation is the Gold chart. Last time it stood at $1247, and I pointed out that this was close to the all-time high of $1256. I said "If it takes this out, expect it to keep going higher as one all-time high usually leads to another and another" Gold now stands at $1319, a very nice illustration of the all-time high rule.

FTSE 100 Chart


(c) Robert Newgrosh 2010


---
Disclaimer:
As per our Terms of Use, Stockopedia is a financial news & data site, discussion forum and content aggregator. Our site should be used for educational & informational purposes only. We do not provide investment advice, recommendations or views as to whether an investment or strategy is suited to the investment needs of a specific individual. You should make your own decisions and seek independent professional advice before doing so. The author may own shares in any companies discussed, all opinions are his/her own & are general/impersonal. Remember: Shares can go down as well as up. Past performance is not a guide to future performance & investors may not get back the amount invested.
---
---