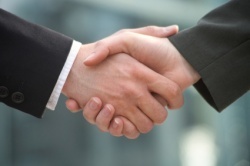 There are few opportunities for the ordinary investor to get involved with the activities of E&P companies controlled by people from the United Arab Emirates. Anything important within the country is usually state-controlled, while, when they're active overseas, the only option has tended to be through investing in companies with whom they share acreage. Now, though, there's an opportunity, through a reverse take-over deal between a Canadian minnow, Blackbird Energy (CVE:BBI), listed on the Toronto Venture Exchange, and Dubai-based Thani Emirates Petroleum.
The details of the deal are here but, in essence, Thani are selling their Netherlands subsidiary, Thani Netherlands Holding, TNH, (which holds their exploration acreage) to Blackbird, in exchange for an issue of shares amounting to 72,5 per cent of Blackbird's authorised share capital and a payment of $ Can 15 million. Following conclusion of the deal, Thani will control Blackbird and will have seven members, a controlling number, of its board of directors, while the company will then be re-named Thani Emirates Petroleum Inc. Consummation of the deal is also dependent on a number of factors, including
Completion of a financing in the amount of up to CDN$32.5 million shall  be completed on such terms and conditions to be determined by the Parties (the "Financing"), in compliance with Exchange policies
Clearly, getting access to some more funds is pretty crucial! Prior to the creation of the new Thani-controlled board, details of Blackbird management can be found
here
.  Interestingly, the Chairman is Robert Booth, who is also not unconnected to the UAE himself:
Currently the CEO for Emaar in North America, Mr. Booth oversees Emaar Canada and until June of 2009, also John Laing Homes the second largest home builder in the U.S. In addition, Mr. Booth is also a Director for Hamptons International, a European Real Estate Brokerage with 100 offices and 1,000 staff. Robert's career with Emaar since 2001 has covered various parts of the world in his responsibility for Development, Sales and Marketing. Robert Booth, in his capacity as the CEO of Emaar for North America, is to assist Emaar's entry into the Canadian market, and its subsequent expansion into the rest of North America.
Emaar is one of the big Dubai-based  property developers, (31.2% owned by the Dubai Government) so I guess that may have been the original link to Thani. The firm, of course,
is not unfamiliar with debt
....
So what's the new firm going to look like? Well, Thani's exploration acreage is as follows (from the announcement above)
The oil and gas assets held by TNH include the right to explore for and exploit the oil and gas resource potential within certain blocks ranging over an expansive area, including both onshore and offshore, of North and West Africa. The exploration stage of each block varies, however no reserves have yet been assigned. The interests currently held by TNH are as follows:

Tunisia: 100% working interest in the El Jem block which is situated on the east coast of Tunisia in a region with high exploration, appraisal and development activity. In addition, also held are the Sidi Mansour permit (20% carried interest, OMV is the operator) and the Tozeur permit (100% working interest).

Egypt: 100% working interest in the South Siwa permit, with the region having developed infrastructure with a strategic geographical location.

Ghana: 42% working interest in the Tano Shallow permit. Interoil is the operator of the permit. The region has recent large discoveries, such as the Jubilee field by Anadarko and Tullow Oil.

Ivory Coast: 12.6% working interest in the CI-105 permit. The operator is Anadarko with the other major partner being Tullow Oil. The region is becoming an emerging player in the oil and gas industry due to its proximity to Ghana's offshore basins. Also has an established refining sector.
As far as Ivory Coast CI-105 is concerned, this is the Thani-operated block, with Tullow TLW.L and Anadrako being the partners, where the South Grand Lahou well was drilled last year. It was then pretty much of a make-or-break for Thani - and it didn't come in. In post two on this thread last year by Doverbeach, I noted of Thani:
A UAE minnow, owned by a junior member of the Qatar ruling family who moved to Dubai years ago. Up until early last year, they had onshore concessions in Tunisia, Senegal and Sudan (in the producing Petrodar consortium) as well as the Cote d'Ivoire offshore concession. They announced in 2007 plans to float on AIM (oil interests only - it's a diversified group) under the name African Arabian Oil Compony, talked about a price tag of around $ 500 million, IIRC, and retained Merrill Lynch to prepare for an IPO.

This fell through and they announced in late 2007 plans to sell/give up the assets.

The 4 Senegal blocks were allowed to expire in January last year. The 3% stake in the Petrodar consortium was sold (to a Kuwaiti investor) in March last year, for a reported US $ 500 million and their 80 per cent stake in one of the Tunisian concessions was sold in April/May last year to OMV. A couple of Tunisian blocks still left (I think - announcements are few and far between), but the Cote d'Ivoire block C1-105 is the main remaining Al Thani oil interest.

So South Grand Laho may be the last throw of the dice for them. If it comes in - fine. Either they sell up at a good price, or move on to drill other prospects before selling up later. If it doesn't come in, then I would expect the predators to start sniffing around VERY quickly. And that could lead to an interesting bidding war as other companies who do NOT have West African offshore interests seek a way in.
I don't see any indication that Tullow are planning another well on the Ivory Coast acreage this year. Perhaps it's worth another poke?The Ghana Tana Shallow acreage doesn't sound too promising either - this from the Tullow website again:
In early 2009, Tullow withdrew from the Shallow Water Tano licence where the sub-commercial Ebony field was discovered in November 2008.
This is despite initially positive sounding noises from Aidan Heavey:
"The current interpretation of the Ebony-1 result is extremely encouraging as it further de-risks the regional prospectivity and improves our overall understanding of the hydrocarbon distribution in the basin. This has potentially positive implications for the Tweneboa stratigraphic trap prospect, which is scheduled for drilling in the first quarter of 2009."
Well, with Jubilee, Tweneboa etc, I guess Tullow have enough to keep them busy in Ghana... For Tunisia, this provides a bit of background on the licence shared with OMV (to whom Thani sold an 80 per cent interest in 2008. Not far from the Ashtart field, but no sign of activity that I can find. I haven't gone into the Egypt interests. And what do Blackbird bring to the party? Essentially, it seems to be small beer in Texas (when it comes into production) as seen in the geological overview here and a presentation here. Last financial statement (unaudited) was filed 30 April 2009and showed no production income. 
In summary,  the Blackbird owners are promising to raise $Can 15 million to get a 27.5 per cent share of Thani's acreage, along with handing over the rest of the company, while Thani get the TSX.V listing in return. Both parties then have to raise the $Can 32.5 million in financing - through a large placing, perhaps? The main assets of the 'new' Blackbird/Thani will be the African exploration acreage, though perhaps with the Texas interests being developed to provide some cash flow. Would I touch it now? No thanks - let's wait and see if anything interesting happens adjacent to their African acreage!
Watch the (Black)Birdie...
Disclaimer:
The author may hold shares in this company. All opinions are his own. You should check any statements that appear factual and seek independent professional advice before making any investment decision.
---
---