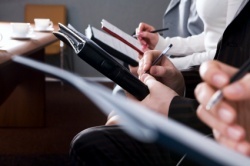 Firstly, let me thank UK Value Investor for bringing Braemar Shipping Services (LON:BMS) to my attention, here and here. After my own research, I decided to add some to my high-yield sub-portfolio and attended their AGM on 22nd June to learn more.
See Braemar's annual report for details. Braemar's business comprises four areas of operation: i) Shipbroking, ii) Technical Services (Warranty services, Marine Consultancy, Vessel surveys etc), iii) Logistics & Environmental (Pollution control, salvage etc).
Investment metrics
What attracted me to the business, as an investor, is an attractive yield, backed by a strong earnings track record and sound balance sheet. Here is a summary snapshot of some key investment metrics (you should DYOR as the figures may not be up to date):
BMS

2010/11

2011/12f

Share price (p)

468.0

 

Shares in issue (m)

21.1

 

Mkt cap (£m)

98.7

 

Turnover (£m)

126.1

127.0

EPS (p)

47.4

48.2

P/E

9.9

9.7

NTAV (£m) 

32.0

 

NTAV/share (p)

151.8

 

Net cash (£m)

25.6

 

Cash/share (p)

121.3

 

Dividend (p)

26.0

26.3

Yield

5.6%

5.6%

ROCE

19.7%

 

Year End

28th February
2011/12 figures are based on current broker consensus forecasts. Braemar has no bank debt.
I hold BMS within my high-yield sub-portfolio, as I believe it will offer a solid yield and a measure of inflation protection. Note that Braemar has so far continued to produce strong profits throughout the GFC (Global Financial Crisis). Founding directors continue to have "skin in the game" with around 12% of the shares between them.
AGM - General
The AGM, on 22nd June, was well attended, with around 20 shareholders present. I was pleased to see that well known poster "AliceInWonder1" was also there - and in good form. Details and resolutions can be found in the Notice of Meeting. All directors were present, apart from Alastair Farley, for whose absence the chairman apologised profusely and advised that he had permission to be on leave, agreed before he joined the company this January. I wish all companies would take ensuring the presence of all their directors at General Meetings as seriously. Some (particularly on AIM) seem to regard a token presence as sufficient.
The Chairman read an AGM Statement - which I found encouraging - and then proceeded with the formal business. Questions were invited before each resolution, rather than there being a general Q&A session. I was able to discuss various points of detail with individual directors after the formal meeting was closed. These detailed questions are covered below. Most questions during the meeting came from "Alice" and I.
Questions on the Resolutions
Approval of the report and accounts offered an opportunity to ask general questions.
Q1. I observed that shipbroking generated of 80% of group profits but comprises only 50% of revenue and employs roughly 1/3 of Braemar's 802 staff. So, why not focus on this and what is the value of the other businesses?
A1. Sir Graham Hearne, Chairman, confirmed that the other businesses offered lower margins but their earnings were less volatile than those of the shipbroking business, so it offered a useful complementary and stabilising earnings stream. I observed that this did not appear to be the case last year, when results were rather poor. GH responded that improvement could be expected this year and he confirmed that full integration of relatively recent acquisitions should help.
Time for a post-meeting fact check... Here are the figures for the last 5 years:
| | | | | | |
| --- | --- | --- | --- | --- | --- |
| Revenue (£m) | Ship-broking | Tech. Services | Logistics | Environ-mental | "Other" Total |
|   |   |   |   |   |   |
| 2007 | 40.5 | 6.6 | 23.5 | 3.2 | 33.3 |
| 2008 | 52.8 | 9.5 | 27.9 | 10.8 | 48.2 |
| 2009 | 60.4 | 21.2 | 40.8 | 4.8 | 66.7 |
| 2010 | 57.4 | 22.7 | 31.9 | 7.1 | 61.7 |
| 2011 | 61.7 | 22.6 | 35.1 | 6.8 | 64.5 |
|   |   |   |   |   |   |
|   |   |   |   |   |   |
| Operating Profit (£m)* | Ship-broking | Tech. Services | Logistics | Environ-mental | "Other" Total |
|   |   |   |   |   |   |
| 2007 | 8.8 | 0.6 | 0.9 | 0.2 | 1.7 |
| 2008 | 13.1 | 0.8 | 1.2 | 1.9 | 3.9 |
| 2009 | 15.0 | 4.2 | 1.1 | -0.2 | 5.1 |
| 2010 | 13.3 | 2.3 | 1.4 | 0.6 | 4.4 |
| 2011 | 14.3 | 1.3 | 1.2 | 0.3 | 2.8 |
|   |   |   |   |   |   |
|   |   |   |   |   |   |
| Operating Margin | Ship-broking | Tech. Services | Logistics | Environ-mental | "Other" Total |
|   |   |   |   |   |   |
| 2007 | 21.6% | 8.3% | 3.9% | 7.1% | 5.1% |
| 2008 | 24.8% | 8.9% | 4.1% | 17.3% | 8.0% |
| 2009 | 24.8% | 19.6% | 2.8% | -3.6% | 7.7% |
| 2010 | 23.2% | 10.3% | 4.5% | 8.6% | 7.1% |
| 2011 | 23.2% | 5.8% | 3.5% | 4.0% | 4.4% |
*Pre-amortisation, impairment and exceptionals
"Other" Total = Technical services + Logistics + Environmental
So, it would appear that the facts don't bear GH's statement out. Shipbroking appears to produce excellent and pretty steady returns, whereas "Other" is more volatile and offers much poorer margins. I may have to write a follow up letter.

Q2. "Alice" enquired about succession planning. [Alan Marsh, CEO and co-founder is now 61].
A2. GH responded that this was an issue that featured high on the Board's agenda and action could be expected. In response to further probing, GH also felt that any transitions would be "seamless".
Q3. I complemented the Audit committee on retendering their audit work, resulting in a change from PWC to KPMG and a significant saving. (see Corporate Governance Report and Note 5 to the accounts).
Moving on to the remuneration report...
Q4. On p33 it states:
In discharging these responsibilities the Remuneration Committee may call for information and advice from advisers inside and outside the Group. During 2010/11, the Remuneration Committee took advice from the Chief Executive, Alan Marsh.
On what matters was the CEO consulted?
A4. Concerning remuneration of senior executives.
Q5. What is meant by "rewarded competitively" & "competitive base salary"?
A5. Shipbroking talent is highly sought after and we need to ensure we can recruit quality staff.
I warned of the danger of a ratcheting up of salaries.
Q6. What difference does the Committee feel the LTIP makes to the performance of the directors. Will they work harder as a result?
A6. IMO the response to this was rather weak. There were smiles at the notion that the LTIP would make any difference to how hard exectuives worked but the Board expressed a desire to have an element of remuneration that was linked to longer term performance of the business.
As I wasn't happy with the remuneration report, I told the Board I would vote against - and was the only shareholder present to do so.
I had a longer discussion with the Chairman of the Remuneration Committee, John Denholm, after the formal meeting. More on this below.
Other resolutions were voted on without questions, apart from the final one, permitting the company to communicate with shareholders electronically, if they accepted this option. Shareholders were assured that it would be straightforward to change their election for communications if they wished to change their minds (I have sometimes found that this is not the case with other companies, where it is not made clear how paper communications can be requested or the process is made difficult).
Post-meeting Discussion
I had quite a lengthy discussion with John Denholm and Richard Agutter concerning the remuneration report after the meeting. I was interested to learn that the CEO (whose remuneration last year totalled £846K) was not the highest paid employee! Details of shipbrokers' pay is highly confidential because the market for these individuals is very competitive. I note that the average revenue per shipbroking staff member is £214K - which is high, considering this includes junior and support staff, and is largely professional services/commission income with little "cost of sales". AIUI shipbrokers perform a similar function for vessels that estate agents perform for property, and suspect they will be strongly remunerated on a personal commission basis.
Though the Board pay (£2.5m in total) may be considered high, for a business with pretax profits of £13.2m, I do accept that the nature of the business does lead to well above average salaries.
Considering all this, I suggested that the wording of the remuneration report was improved: "competitive" suggests that the company is striving to offer the highest salaries! In times when general pay levels are subdued this is not a desirable trait. We also discussed the fact that the LTIP (long term incentive plan, awarded as shares) is based on EPS growth. I expressed the view that linking it to cashflow would be preferable, to avoid an incentive to distort EPS. JD stated that the committte would consider these points.
I went on to raise some detailed questions with the finance director, James Kidwell.

Q7. Why does Note 26 to the accounts show a movement in trade receivables of £4.4m but the difference between the current and last years' balance sheets is £3.8m?
A7. Probably due to currency translation.
Q8. Per note 16, I observe a significant increase in > 3 month old receivables. What is the reason for this?
A8. 2011 saw a greater proportion of commission income from new-buld shipping, which tends to have longer payment timescales. This is particularly the case for increasing business done with China. Another "problem area" is collection of loss adjuster payments, where Braemar has to collect its fees from numerous parties involved in a claim
That pretty much covers all my notes.
Regards,
Mark
---
Disclaimer:
The author may hold shares in this company, all opinions are his own and you should check any statements that appear factual and not rely on them before making an investment decision. The author is NOT a qualified analyst nor authorised to give investment advice. Whilst the author is a director of ShareSoc, all views expressed are entirely his own and not necessarily those of ShareSoc.
---
---

Braemar Shipping Services PLC is an international provider of services to shipping, marine, energy, offshore and insurance industries. It operates in four business segments: Ship broking, Technical, Logistics and Environmental. The Ship broking segment offers spot and period chartering, sales and purchase, market research and freight derivatives brokering across all major commercial shipping sectors. The technical division offers a range of engineering, environmental technical consultancy firms serving the shipping, offshore, energy and insurance sectors. The Logistics division offers services for Port Agency, Liner and Logistics through a network of offices and provides transport across the world. The technical division consists of Braemar Adjusting, Braemar Engineering, Braemar Howells, Braemar Offshore and Braemar (Incorporating the Salvage Association). more »