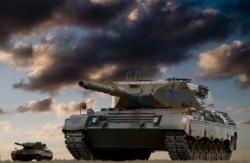 This is a short post following up on a write up I did a couple of months ago on the FTSE 250 defence company, Chemring (LON:CHG) .
As shown in the article the company had enjoyed several years of rapid growth until 2012 which saw a drop in profits as a result of operational issues, order cancellations and delays. It was also a year which saw the departure of its FD and its CEO as well as a takeover approach which was subsequently aborted.
But the key question for me was whether the valuation adequately reflected these issues and whether the dividend looked sustainable given the trailing yield approaching 6%. In light of recent earnings downgrades I now think this needs to be revisited.
At the time I wrote the article the company's own website gave analysts' EPS forecasts for 2012 of 54p and so taking into account the 13p downgrade announced in the 1st November trading statement I had assumed an EPS of around 40p for 2012, down from 52p in 2011. That now appears to be way off the mark. Not only were some of the analysts' forecasts well out of date, but I don't think the company had kept its own website up to date either which is disappointing. If there's one place where you expect to get some reliable data it is from the company itself, but in this case sadly not, and looking at the relevant page today it appears that the data has gone missing entirely.
Given that the year end was 31st October the recent analysts' forecasts should more accurately reflect the guidance from the company for the year. These now show a forecast EPS for 2012 of 28.9 which is a huge 45% fall on last year's underlying figure of 52.1p. That's a lot worse than the 23% fall at the half year when the company also reported a record order book of £1bn.
Sometimes Mr Market's fears can be irrational but in this case I think he got it about right. At the current share price of 238p the P/E ratio of just over 8 for last year is probably a fair reflection of where the company is. But if an EPS of around 28p is correct, I think that casts some serious doubts over the sustainability of the dividend. The trailing 12 month dividend of 16.1p would be covered about 1.7 times and I suspect the new CEO may want to see it rebased to a level which will offer growth going forward as well as avoid any worsening in the balance sheet given the existing gearing. Indeed, analysts are now on average expecting a dividend of 10.9p for the year and so we may see a big cut in the final dividend when their preliminary results are announced on 24th January. A dividend of 10p would be a yield of just over 4% on the current price, but from a more sustainable base.
Overall this is clearly very disappointing although CHG may still offer a reasonable long term return from here as long as trading stabilises in 2013 and costs are kept under control after the significant expansion in recent years. The new CEO certainly has his work cut out.
I don't think I can summarise it any better than the company itself in its last trading update on 27th November:
The Group's performance during 2012 was extremely disappointing. Chemring's operational performance has been weak, and management of investors' expectations over the past year has also been poor. In part, this resulted from a failure to anticipate the likely impact of the changing market dynamics on the Group's businesses, but also reflected failures in performance at several of our businesses.
Disclaimer:
As per our Terms of Use, Stockopedia is a financial news & data site, discussion forum and content aggregator. Our site should be used for educational & informational purposes only. We do not provide investment advice, recommendations or views as to whether an investment or strategy is suited to the investment needs of a specific individual. You should make your own decisions and seek independent professional advice before doing so. The author may own shares in any companies discussed, all opinions are his/her own & are general/impersonal. Remember: Shares can go down as well as up. Past performance is not a guide to future performance & investors may not get back the amount invested.
---
---

Chemring Group PLC is a United Kingdom-based company, which is engaged in developing and manufacturing protection solutions for defense and security markets based on threat detection, countermeasures and energetic material products. The Company operates in three segments: Countermeasures, which is engaged in the development and manufacture of expendable active and passive countermeasures for naval and air platforms, and land–based electronic warfare equipment; Sensors & Electronics, which includes the development and manufacture of improvised explosive device (IED) detection equipment, chemical and biological threat detection equipment, IED electronic countermeasures, network protection technologies, explosive ordnance disposal equipment and demilitarisation services, and Energetic Systems, which includes the development and manufacture of signals and illumination devices and payloads, pyrotechnic devices for satellite launch and deployment, and propellants, among others. more »