City of London Investment Trust: 46 years of dividend growth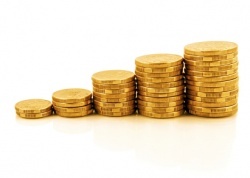 City of London Investment Trust (LON:CTY) is a UK growth & income beast that has consistently delivered above average yield to its investors. Conservatively ran by the same manager for over 20 years, it boasts one of the lowest charging structures in the UK fund market.
I spoke to its manager to find out more...
History
City of London has come a long way since it was set up in 1860 as City of London Brewery to acquire the then renounced city brewing company of Calverts. To readers not from London, the City of London refers to the historic square mile to the east of London that houses St Paul's cathedral and the financial district. So valuable was the property assets the brewery had within the City that it gave up brewing in the 1930's and sold the land for vast profit. It is that profit that seeded funding to the renamed City of London Brewery & Investment Trust and led to today's successful investment vehicle.
It wasn't till the 1960's that the connection to the brewing industry was discontinued altogether with the sale of the pubs the company owned. And it took till the early 70's when the investment mandate moved to Touché Remant for the name to be changed again to reflect the new reality.
The next big change for the trust came in 1991 when Touché Remant were acquired by Henderson Global Investors and appointed John Curtis to the role of portfolio manager. After a series of mergers and acquisitions at Henderson where it became at one point the UK subsidiary of a large Australian insurer, it now resides in shiny new offices in Liverpool St in the heart of the City but still with John Curtis as the portfolio manager.
46 Years!!!
History is one of the fascinating stories many investment trusts have to tell but it is never a reason to invest. What might be a reason is  4 6  Y e a r s  of unbroken dividend growth. Not only does City of London have the longest track record of dividend growth but it does it whilst paying a dividend that is around 25% more than the average of the market and its index the FTSE All-share with a current yield of 4.56%. That beats inflation hands down. And that's not all, over the last five years as the table at the bottom of this article reveals, the dividend growth has averaged 4% for the period. For income investors relying on the dividend to pay for increasing living costs, City of London have done this job admirably in the recent past.
Although it is no longer the independent entity it was when it was a brewery, one of the features of investment trusts is their independent boards. The boards of investment trusts are designed to work in the interests of shareholders, whereas the structure of open ended unit trusts and OEIC's seem to be designed to benefit the management companies. This can be seen in the lower management charges enjoyed by the closed ended investment trust sector. As John Curtis put it when I met him recently "they put me through my paces. Like a select committee making me explain my decisions and keeping the charges down". I should add he wasn't complaining with that explanation, no, rather he was using it to illustrate why he though investment trusts a better investment vehicle for investors.  
Investment Philosophy
City of London has a remit for both generating income and asset price growth. It is a conservatively run beast however, with a lower level of investment risk or volatility than the wider market it tracks.
City of London yields around 25% more than the index so dividend is a very important factor in identifying stocks to invest in. The sweet spot for a stock is above average yield and above average growth. "What I'm trying to avoid is the value traps" explained Curtis. "Other features of my style is I like companies with asset backing. I'm as concerned about the downside risk as the upside so I look for companies with a low beta*. This portfolio has a beta of 0.85 so our portfolio beats the market in a falling market as we fall less, and in a rising one we don't rise as high. We tend to be in the more boring end of the market". 
That boring end of the market as Curtis describes it has produced steady FTSE All Share index beating results. As John explained City of London isn't likely to produce the greatest share price return in the Income & growth sector on a consistent basis, though is up there with the leading players. But what it does offer successfully is value style investing with dividend growth.
With an investment hero of Warren Buffet, John couldn't help but be a value investor. But he differentiates himself with some value investors by not being preoccupied with value to the extent of ignoring macro economic factors in the wider environment. "Dividend is very important to me and the most important part of being a value investor".
City of London is the second biggest trust in its sector behind Edinburgh investment trust, managed by Neil Woodford. Its sector features other leading players and WhichInvestmentTrust.com favourites such as Lowland, Finsbury Growth & Income, Troy Income & Growth.
It has traded at a premium to net asset value for around 3 years, but the trust has been manufacturing new shares to manage this, issuing around £100 million over this period.
Macro view
John Curtis' believes "there is still too much debt in the Western world. That is both with consumers and government. It is beginning to come down a bit as a percentage of disposable income but it is still too high. This is and will continue to result in very anaemic growth".
He takes heart from strong balance sheets to be found in the corporate sector. Also he likes that policy makers appear to have learned from the 1930's and are doing all they can with the massive programs of QE in the UK, US, Japan and in varying, perhaps less effective forms the Eurozone.
On Eurozone countries Curtis added "the difficulty remains the eurozone. You've a currency union without a fiscal or political union. Mr Draghi is doing all he can but he's coming up to a buffer with the Netherlands, Finland and Germany who really don't want to bail out the debts of what they see as the more profligate southern European countries".
"I'm not clever enough to tell you how it will end out, but they've had 23 summits since the crisis started, and I think it likely that some of the countries will have to drop out of the currency or a currency fiscal and political union will be the solution.
China
"China was growing at 11 or 12% a couple of years ago, but now it's growth is around 7% but because the economy has got much bigger that 7% is bigger than the 11% was a few years ago.
Curtis' portfolio is still positioned to take advantage of emerging or developing economies. That is done mostly from these shores. City of London's remit is to invest at least 80% of its assets in the UK. At present it's around 93%. But he believes he can play countries like China and they're emerging domestic consumer with a growing middle class through London listed companies such as Unilever, which derives 56% of its revenue in emerging markets. Or Diagio, which was heading toward 40% before the announcement of the deal to buy India's United Spirits. Now it's likely to be closer to 50%. British American Tobacco is another, and it derives 70% of its business in emerging markets.
On the US, "the economy is recovering and that certainly helped Obama in the election, but we have the fiscal cliff coming up at the end of the year. My view is I think at the end of the day they will strike a deal there".
The future
Curtis believes interest rates are likely to stay as low as they are for some time yet. This low rate environment is of great value to fund managers in the growth & income space because with interest rates so low for borrowers, the rate for savers is equally low.  "This is good for a fund like ours with a high dividend yield, and it underpins the strength in our share price".
With a trailing historic P/E of 12 times, Curtis believes the UK market is still cheap. This even though it was trading at a P/E of under 10 a year ago. The average since 1993 is a P/E of around 16/ 17 times earnings.
The trust has gearing or borrowing of 7%. "We have a conservative portfolio at City of London so I think that bit of gearing gives us a little bit of help to participate more fully and benefit from a rising market".
Cost & Commitment
The underlying fee to the manager, Henderson Global Investors is 0.35% per annum. This is the lowest in its sector, and comparable to some tracker funds that haven't delivered anything like the sort of returns City of London has. 
There is a performance fee too but to achieve it the trust has to outperform its sector by 15% over 3 years. It is suitably hard to achieve. They did manage it 3 years ago, and still, even when it is achieved, the highest fee than can be earned is 0.65% of assets.
I asked his about his personal holding in the trust, "my biggest holding beside that of Henderson Global Investors that I'm committed to buy, with employee share schemes etc is City of London. I put my own money in there. Occasionally I buy some small stock that's probably to small for the trust to own but essentially I put all my money in to City of London.
Since becoming manager of City of London the dividend has gone up from 4p to 14p. Since he has such a large exposure to the trust himself, he has set himself the ambition to increase the quarterly dividend to 4p before he retires. As he is only 51, he might have a while to achieve that yet.
WhichInvestmentTrust.com View
City of London is one of my top picks for income investors. As stated earlier, an investment here is not likely to be consistently at the top of its sector. But many investors aren't looking for that. With being top of the sector often comes greater risk.
John Curtis has a long pedigree at City of London, and has demonstrated that he is a competent and capable manager of assets. City of London joins my buy list.
*Beta: Is a measurement of risk and volatility. A stock with a Beta of 1 is said to have the same risk of the market. High growth stocks tend to have a Beta of higher than one, which means they have more risk though they might produce higher returns too. Utility companies tend to have a lower Beta than the market to reflect their reduced risk and sometimes lower returns. 
City of London Investment Trust Metrics
Share Price
309.10 pence
Dividend Yield
4.56%
5 year dividend growth p.a. = 4%
Total/Net Assets/Market Cap (Million)
£809m / £724m / £755m
Gearing
9%
Managed by John Curtis since 1991
AIC Sector/Date Founded
UK Growth & Income / 01/01/1891
Ongoing charges
0.45%
Manager significantly exposed to shares via his SIPP
Discount to NAV
3.77%
12 Month Average Discount to NAV
3.13%
Financial year end:
30/06/2013
Total Return 1, 3, 5 & 10 years
15.20%
46.40%
36.90%
150.10%
UK Growth & Income Total Return 1, 3, 5 & 10 years
15.20%
48.30%
31.30%
164.80%
FTSE All-Share Index Benchmark Total Return 1, 3, 5 & 10 years
9.60%
23.30%
11.20%
120.80%
---
Disclaimer:
WhichInvestmentTrust.com is designed to give you the investor information which might help with your decision on suitable investments. It is not intended as a recommendation or as financial advice. We are NOT authorised by the FSA (Financial Services Authority) to give advice. We are NOT regulated by the FSA either. Instead you should use this site and the information within it for research purposes only. The suitability of the investments discussed here will depend upon your personal circumstance. If you are unsure about its suitability for you personaly then seek the counsel of an experienced financial adviser. Considered financial advice is often greatly undervalued and is of great use in navigating the complex universe that is both investments and holistic financial planning. You should also remember that when reviewing investments past performance has been shown to be an often poor indicator of future performance, and particularly so in the short term. Before making an investment it is important to consider the risk to your capital should the investment go down in value. Substantial loses can be experienced, again this is especially so over the short term. It is also important to consider that the nature of the investments featured on WhichInvestmentTrust.com are long term in nature and should NEVER be considered over a short term horizon. Predicting the direction of investment markets on a short term basis has been shown to be incredibly difficult, and no one here at WhichInvestmentTrust.com professes to have any such experience or qualification. Dice McCairn, Editor WhichInvestmentTrust.com
---
---

The City of London Investment Trust plc is an investment trust company. The Company's objective is to provide long-term growth in income and capital, principally by investment in equities listed on the London Stock Exchange. It will mainly invest in equities and there is the flexibility to invest in debt securities, such as convertibles, corporate bonds or government debt. Typically at least 60% of the portfolio by value will be invested in companies in The Financial Times Stock Exchange 100 Index. The Company will not invest more than 15% of its portfolio in any single investment on acquisition, nor will it invest more than 15% of the portfolio in any other the United Kingdom listed investment trusts or investment companies. It invests in various sectors, such as oil and gas, basic materials, industrials, consumer goods, healthcare, consumer services, telecommunications, utilities, financials and technology. Henderson Global Investors Limited acts as the Company's investment manager. more »