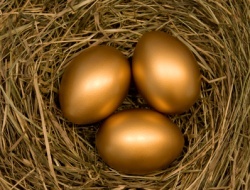 Imagine you find a goose (or possibly a goosander?) that lays golden eggs. It usually produces 1 or 2 eggs every year usually on its birthday - known as the Annual Goose Month (AGM). Occasionally it has a bad year and lays no eggs. It is obvious that it will only continue to lay eggs if it is looked after really well by somebody that knows what they are doing so you have to be really careful how you feed it and how it is housed and watered and so on. Years go by and you become an expert in looking after this unusual and precious goose. Sometimes you even sing it a lullaby to help it get off to sleep at night.

You decide that in the short and medium term you will not sell any of the eggs in case that upsets the goose and the laying stops. Your cunning plan is to wait until the goose has laid all the golden eggs that you think it is capable of and then sell them all. Years pass and the goose's nest gradually fills up until it is half full of golden eggs. You think you are perhaps half way to the time when it will make sense to sell all the the eggs. But one day a wandering Korean sage knocks on your door, tells you he covets your goose and offers to buy it. What he wants is all the eggs that are in the nest AND the goose that has produced them. What he offers you is the market value for the existing eggs but nothing for those to come later this year, or next year or the year after.....

Why on earth would you sell? You have only to wait and eventually you will have a nest full of eggs worth twice the offer being made. If you take the money you will find it very difficult to find another goose that can lay golden eggs. Why not just keep on accumulating the eggs as you have done for the past 10 years? If you really want to sell the eggs why sell the goose as well? Especially when the price you've been offered includes next to nothing for the bird itself. Isn't the goose actually worth more than the eggs in the nest? Shouldn't an egg producing paragon (that's different from a polygon of course) be worth quite a lot? And what about the expertise on the part of the goose herd that enabled it to be so productive. Isn't that worth something too?
I see no rational basis for selling a business like Dana Petroleum Plc (LON:DNX) which has created substantial assets for no more than the value of the assets created to-date. What are the owners getting for the value generating capacity itself as distinct from the value already generated?
Disclosure of Interest: The author holds shares in Dana Petroleum Plc.
Disclaimer:
The author may hold shares in this company. All opinions are his own. You should check any statements that appear factual and seek independent professional advice before making any investment decision.
---
---