Examples of companies we are looking at Dividend Income Investor.com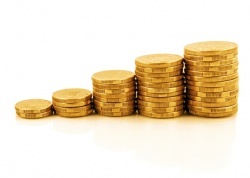 We are looking for solid companies that are able to increase their dividends, preferably above inflation rate, each year, which we can buy when they are historically undervalued. Inherently these are defensive companies with sales and profits holding up even in a recession and have strong balance sheets that do not normally depend on huge amounts of debt. Currently, we are focusing on UK companies, but at some stage we also want to buy their Asian and other developing countries' equivalents. Why, see our recent interview with global value investor Jeffrey Towson.
So, here are some UK examples.
Miners
I am a firm believer of the long term up-trend in commodities. Also in a real economic and financial collapse, with ensuing hyper inflation and currency depreciation, prices of gold and several other commodities would go stratospheric. I belief there are a number of undervalued gold miners out there, such as AIM-listed Goldplat which in my view currently represent deep value, but unfortunately it does not pay a dividend (yet).
Instead, we have invested in BHP Billiton (LON:BLT) during the recent sell-off when its share price was nearing historic undervalue levels. Comfortingly, during the last 14 years, BHP has been paying dividends during 12 years including 9 when it increased its dividends by more than 7.5%.
Supermarkets
Supermarkets are seen as an obvious defensive sector in tough times. Food sales provide defensive characteristics. Also, the current supermarket 'price' war underlines the importance of market share and pricing power. Earlier this year we invested in Tesco (LON:TSCO) - whose UK market share is nearly double that of Sainsbury and Morrisons. Long term, I expect major growth for Tesco to come from its expanding Far Eastern activities which in time will boost its dividends. Also remember Tesco is one of only very few companies listed in London which have been paying increasing dividends for more than 25 years. I like that continuity. Also, while starting from a low base dividend, Tesco has increased its dividend by 7.5% or more in 20 of the last 22 years. Value investor Warren Buffett is a long term investor, having only recently added more into his Berkshire's holdings.
Consumer staples
Another angle on necessary recession expenditure are consumer-staples manufacturers Reckitt Benckiser and Unilever (LON:ULVR) . Both have global sales and global brands, but Reckitt's greater dependence on Europe (around 40% of profit and sales against Unilever's 30%) makes Unilever potentially the safer choice if and when parts of Europe default. Unfortunately both companies are not trading near enough their historical undervalue levels for us to warrant a purchase. As a result they have rather mediocre dividend yields. Nevertheless, they are definitely on our watch list.
Alcohol and tobacco
Renowned for their sales withstanding recessions are companies with activities in alcohol and tobacco. Absolute winner, at least from a historic perspective, is British American Tobacco. With 13 out of 14 years of annual dividend increases above 7.5% what's there not to like as a dividend income investor. Value investor Neil Woodford clearly agrees.
In the drinks sector, Diageo (LON:DGE) should fill the bill nicely, but again it is currently not trading at historical undervalue price levels. Instead, Sabmiller (LON:SAB) is an interesting alternative, also due to its lower gearing and more diverse emerging-market sales (Latin America and Africa), but again only if and when its share price comes down to historic undervalue levels.
Defence
While the defence sector is not entirely recession proof the obvious pick - BAE Systems - is suffering from US and UK defence budget cutbacks and a Euroland disaster is likely to curtail European governments' appetite for military intervention. However in-depth analysis shows some fairly strong fundamentals, and with five dividend increases above 7.5% in the last 12 years it is one of our holdings.
Utilities
Finally energy utilities offer resilience against most eventualities. Scottish and Southern Energy's board is almost evangelical about paying out increasing dividends which is always a good sign from a dividend income investor's perspective. Unfortunately, though, part of SSE's results is dependent on fluctuating commodities risk, such oil and natural gas prices. No, thank you.
Instead, I prefer National Grid, which we picked up during the recent sell off. Regulated near monopoly National Grid owns many of the UK 'pipes' and pylons transporting gas and electricity irrespective of the price of natural gas or electricity. It also has a strong record of paying dividends with 14 years of dividend increases above 7.5% during the last 19 years.
---
---
---

BHP Billiton Plc is engaged in exploration, development, production, processing and marketing of minerals, in respect of iron ore, metallurgical and energy coal, copper, aluminum, manganese, uranium, nickel, silver and potash, and exploration, development, production and marketing of conventional and unconventional oil and gas. The Company operates through segments, including Petroleum and Potash, Copper, Iron Ore and Coal. The Company's Petroleum and Potash segment is engaged in exploration, development and production of oil and gas and potash pre-development. The Copper segment is engaged in mining of copper, silver, lead, zinc, molybdenum, uranium and gold. The Iron Ore segment is engaged in mining of iron ore. The Coal segment is engaged in mining of metallurgical coal and thermal (energy) coal. more »

Goldplat plc produces and explores precious metals on the African continent. The Company has two main business areas: the production of precious metals, primarily gold from materials acquired from primary produces and the mining of and exploration for gold. The Company operates in three segments: Recovery operations, Mining and exploration and Administration. The Recovery operations include the recovery of precious metals from metallurgical challenging materials and the processing of ore, sourced from other mining operations. Mining and exploration includes assets held for commercial exploitation of precious metals and exploration assets held where the commercial viability of the ore resource has not yet been evaluated or is in the process of evaluation. Administration includes activities conducted by holding companies in relation to the group and its subsidiaries. more »

Tesco PLC is a retail company. The Company is engaged in the business of retailing and retail banking. The Company operates in four segments: UK, Asia, Europe and Tesco Bank. It has retailing and associated activities (retail) operations across the United Kingdom, Asia and Europe. It is engaged in the retail banking and insurance services through Tesco Bank in the United Kingdom (Bank). The Bank offers a range of personal banking products, which include mortgages, credit cards, personal loans and savings. The Company operates approximately 7,817 shops around the world. Its subsidiaries include Tesco Stores Limited, One Stop Stores Limited, Tesco Ireland Limited, Tesco-Global Stores Privately Held Co. Limited, Tesco Polska Sp. z o.o., Tesco Stores CR a.s., Tesco Stores SR a.s., Homeplus Co. Limited and Homeplus Tesco Co. Limited, among others. more »