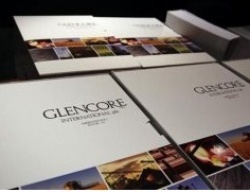 When such a large scale IPO hits the market, there are some concerns as whether this is a sign of the commodity cycle peaking. The Glencore IPO is the largest since General Motors sold shares in November, and will give Glencore a value of $61 billion if priced at the midpoint of its offer range. There are signs of market over-heating with the IPO demand having been enough to sell the shares on offer in Glencore more than twice over. To put things in relative perspective: a valuation of as much as $60 billion would place Glencore within $10 billion of Anglo American (LON:AAL) , the world's sixth- largest mining company by market value, and ahead of Morgan Stanley (NYSE:MS), one of the biggest commodity traders on Wall Street.
Glencore (LON:GLEN) has been a private-run company and a lucrative operation and would expect to have more market intelligence than most others. In the short term I wouldn't be surprised if we see a market correction/ pull-back but there is a long term growth story here. 
Note: London listed shares are expected to be listed in the 480-580p price range.
VIEW: 
1. Glencore is a good, diversified business. Not only are they continuing to expand their traditional commodities trading business, they are also investing in upstream business. That is where it will bring in value for investors long term. Going forward, Glencore should benefit from global economic recovery. 
2. To be pricing Glencore over $55 billion seems way out of line, I would not buy that. Under $50 billion it may be worth a bid, but even then there's the outlook consideration for commodities. I'm favourably biased towards commodities but increasingly I am taking a cautious stance especially given developments in China.
3. I believe one will be able buy Glencore cheaper once listed. It is way below benchmark allocation because we already own the likes of Xstrata… If we price Glencore at this rate, we by the same hand are underpricing Xstrata. 
The commodities sector is peaking and toppy, and the timing of this flotation is more attractive to Glencore management than it is for investors. 
Note: Glencore's IPO is good news for all debt holders and particularly good for the strategic investors holding Glencore's convertible bond as they will almost double their money in a timeframe of 17 months!
4. I think shorter term the value for investors would be assessing Glencore target companies. Glencore have publicly stated that they intend to use the proceeds to make acquisitions of commodity producing assets. Glencore's potential acquisition target list for Glencore include the following:
- 34.4% owned Xstrata (LON:XTA) is also very likely to be of interest to Glencore.
- Glencore also owns 8.8% of United Co Rusal, the largest aluminium producer, 74% of Katanga Mining Ltd. and 71% of Australian nickel miner Minara Resources Ltd. It also has stakes in Century Aluminium Co and zinc producer Nyrstar NV. 
What Glencore is trying to achieve by the listing is to get fresh funding for further acquisitions which allows them to do larger deals. When raw-material prices were much lower five years ago, it would be good for investors but now it's a big risk. Given current commodity prices, it's possible that Glencore will overpay for the acquisitions.
OTHER OPERATIONAL/ BUSINESS MODEL RISKS: 
It is worth noting that Glencore's employees and management have in the past been involved in illegal transactions. Marc Rich, the founder of the company, was indicted in the United States on charges of tax evasion and for making illegal oil deals with Iran during the US hostage crisis. Rich was pardoned by Bill Clinton as one of the former President's very last acts of office in 2001.
Glencore continues to trade in all manner of countries that appear on the lower reaches of Transparency International's Global Corruption Barometer. Consequently, I would view litigation and political risk as being particularly high. Note unless there is internal reform in the business model corporate governance could be an issue pricing downside risk into the stock. 
It is not unusual for large, multinational companies to face litigation in the commercial courts but Glencore could be judged more harshly as it plans to go public after operating privately for 37 years.
A Reuters article made reference to the Glencore litigation aspect: 
"Amongst these is the US Virgin Islands case, originally filed as a putative class action in 1999, are suing Glencore and aluminium giant Alcoa, alleging they were exposed to toxic substances as a result of "negligent storage and containment" at an alumina refinery, according to court filings.

This case is currently in a territorial court in the US Virgin Islands. Defendants have asked a US appeals court to remove it and send it to a US federal court, which is subject to a different set of laws. A decision is pending.

Plaintiffs are pursuing "compensatory and punitive damages" from Glencore and Alcoa for exposure to dust containing bauxite or red mud after strong winds blew the steel roof off a shed housing bauxite awaiting processing.

According to the plaintiffs representing lawyers, Lee Rohn, Glencore's liability alone could amount to $800 million to $900 million. They have stated this estimate to be "conservative." 

The St Croix case is one of several outstanding lawsuits."
Litigation and transparency are risks inevitably linked to Glencore's business, particularly cases linked to its operations in more difficult markets.
TRADING BUSINESS MODEL RISK & CORPORATE GOVERNANCE:
It is worth noting 92% of Glencore revenues are derived from its marketing activities. Therefore at its heart, this is a trading company. That raises some interesting issues for investors. Trading – buying things from one person in the hope of being able to sell them to someone else for a higher price – is a speculative and risky activity – this is evident in the company's relatively thin margins. Trading risks at Glencore previously would have previously have been something the partners at Glencore took with their own money; now that the company is public, someone else's money will be backing them. Every indication is that Glencore is good at managing risks and when that's the case, trading can be hugely profitable. 
Glencore will get asked tough questions about transparency and dealings with unpleasant regimes and individuals; commodities trading involves plenty of both. So Corporate Governance risks are a potential issue with their business model. Furthermore, while mines, ships and refineries are easy for analysts to value; trading is opaque, with much dependence on the individual traders. 
In a worst case scenario when trading goes wrong, the consequences can be huge. Historically Mr Rich (ex CEO) apparently nearly bankrupted Glencore trying to corner the zinc market in the 1990s; this was one reason he opted to sell it.
CONCLUSION:
I would not recommend subscribing to the over-priced IPO subscription of Glencore and would instead wait to re-evaluate purchasing the stock when prices normalise and finds market equilibrium, i.e. once listed. Even then I would hold back for further market weakness. I would also consider using the weaknesses in the markets to build strategic stakes in Glencore's target companies thereby chasing stock price recovery but with the potential buy-out angle so that we can position for significant upside on actual talks as well as any speculation led rumours.
Disclosure: The Author has no positions in Glencore. 
Prepared on: 04 May 2011
---
Disclaimer:
AJ Sangha is an active investor and may have financial interests and holdings in any of the topics about which he writes. The views expressed are solely those of Mr Sangha. This material is not intended to provide, and should not be relied upon for, investment advice or recommendations. Readers are urged to seek professional advice before making any investments.
---
---

Glencore plc, formerly Glencore Xstrata Plc, is a Switzerland-based natural resource company. The Company operates in three segments: Metals and Minerals, which includes copper, nickel, zinc/lead, alloys, alumina/aluminum and iron ore; Energy Products, which includes controlled and non-controlled coal mining and oil production operations and investments in strategic handling, storage and freight equipment and facilities, and Agricultural Products, which focuses on grains, oils/oilseeds, cotton and sugar. The Company's operates in Americas, Asia Europe, Africa and Oceania. The Company's portfolio of diversified industrial assets consists over 150 mining and metallurgical facilities, offshore oil production facilities, farms and agricultural facilities. more »