Guru Strategies Summer Review: growth tactics pay off as value gets harder to find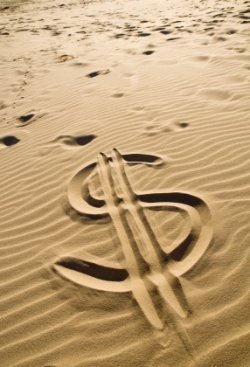 It's been eight weeks since we completed the quarterly rebalancing of Stockopedia's 65 GuruModel investing strategies – but it has been an uncertain period for the market and for investors. With growth and momentum strategies blossoming during the bullish early months of this year, the portfolio rebalancing came just as a long awaited correction in prices appeared to be unfolding. Those declines however, have been clawed back over the summer – leaving investors in the dark about when or if a meaningful pull back in prices will eventually occur. So how has this affected our guru-inspired screen performances?
So far this year the GuruModels have provided a textbook example of the cyclical nature of investing. At the turn of 2013, it was deep value strategies such as Ben Graham's 'Net Nets' that were making the running. Bargain bucket screens like this tend to throw up cheap, obscure shares that most people wouldn't touch during a bull market but the rising tide of optimism early in the year floated these boats too, which meant Net Nets was a winning strategy in Q1. 
It was all change as we headed in to spring, with momentum and growth strategies leading the pace, leaving some value screen struggling. Portfolios based on earnings upgrades and price momentum did exceptionally well, indeed the Earnings Upgrade Momentum screen has proved to be the best performer of the year so far, with a return of 38.6% against 9.6% for the FTSE 100 at the time of writing. Growth investing screens were also emerging as potentially strong performers, with strategies from Charles Kirkpatrick and Martin Zweig breaking out as the mid-year approached. 
Interestingly, as this chart shows, the GuruModels were able to keep pace with the market as it accelerated during the first six months. But when May's pull back hit, those screens were nowhere near as badly affected… and they haven't looked back since. In the four week market decline following May 22, the Earnings Upgrade Momentum portfolio amply illustrated this trend, initially losing 9.2% of its value only to bounce back by 11.4%. By comparison, the FTSE fell by 11.3% but has only managed to rebound by 9.5%.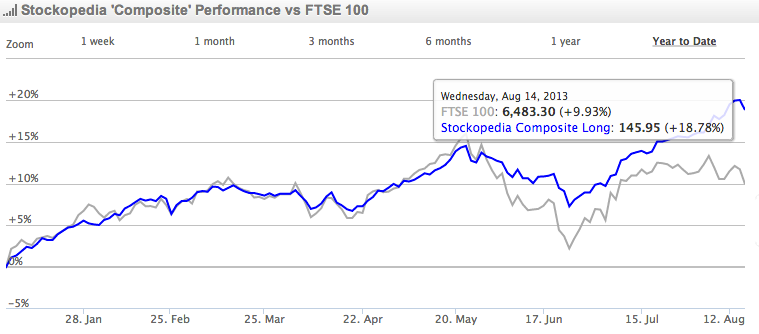 But it isn't just momentum screens like earnings upgrades that are now bossing the GuruModel performances; growth strategies such as Bill O'Neil's CAN-SLIM are also flying. O'Neil's earnings growth and price momentum approach has driven a 35.1% return so far this year and the same goes for growth screens inspired by Charles Kirkpatrick and James O'Shaugnessy, which have both delivered more than 30%. In very recent weeks, some growth strategies even appear to be accelerating, with O'Neil's CAN-SLIM and Jim Slater's Zulu Principle screens producing exceptional returns.
 Finding value in the market
For value hunters, strategies that take a lead from price momentum have been the most effective. Investors like Kirkpatrick and O'Shaugnessy devised value strategies in recognition that going for 'pure growth' can risk missing out on the sharp gains that can be had from value stocks (we recently wrote about Kirkpatrick's here and O'Shaugnessy's here). Both of these screens combine value with the momentum effects of relative share price strength and both have produced excellent performances as a result (28.9% and 26.9% respectively). Likewise, our Joseph Lakonishok screen, which looks for value stocks that the market is just starting to recognise, has also been strong recently, up by 26.3% this year.
 Meanwhile, Stockopedia's Screen of Screens, which tracks those companies that are qualifying for the highest number of GuruModel strategies, has produced a return in 2013 of 19%. Among the companies making the grade are airline and logistics group Dart (LON:DTG) (10 strategies), defence company Cohort (LON:CHRT) and business software supplier Globo (LON:GBO) (both on nine strategies) and Highland Gold Mining (LON:HGM), TUI Travel (LON:TT.) , St. James's Place (LON:STJ) , Harvey Nash (LON:HVN) and Pace (LON:PIC) all qualifying for seven strategies.
Expectations for 2013
In many respects the short lived nature of the market correction in May has left investors in a difficult position; indeed some commentators were relieved when share prices showed signs of deflating. There's a sense now that after a bull run that has lasted just over a year, many shares are over-extended and value opportunities are certainly thin on the ground. Individual momentum strategies have been major beneficiaries of these conditions, as have value and growth strategies that use price strength as a buy signal. Without a major correction there's perhaps little reason to see why these strategies won't continue to outperform in the coming months. 
---
Disclaimer:
As per our Terms of Use, Stockopedia is a financial news & data site, discussion forum and content aggregator. Our site should be used for educational & informational purposes only. We do not provide investment advice, recommendations or views as to whether an investment or strategy is suited to the investment needs of a specific individual. You should make your own decisions and seek independent professional advice before doing so. Remember: Shares can go down as well as up. Past performance is not a guide to future performance & investors may not get back the amount invested.
---
---