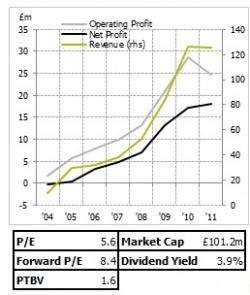 I had two main reasons for looking at H & T Group; one a curiosity for the past, and another a curiosity for the future. Since we like to be chronologically logical - a phrase I plan to be using more in the real world as it rather smoothly rolls off the tongue -  I'll start with the past. I looked at H&T Group about half a year ago, back in May, and found myself interested buT not hugely swayed. I'll copy the intro for those who don't want to click through:
H & T is primarily a pawnbroking group which has, given the rather wide-ranging changes in the macroeconomic environment in the last few years, branched out to become a provider of all sorts of more niche, non-bank financial services.
Among those niche financial services was, unsurprisingly, a good deal of gold buying. Most of my uncertainty came from that gold buying; it strikes me as a decidedly wobbly profit stream, and that's been somewhat confirmed since then. Gross margins on gold buying have come down, says the company, and that's even with gold prices still looking rather healthy at the moment. They can be expected to fall further, but they have served very one useful purpose - the management seem fully aware of the fact that the exceptional returns on gold are just that; exceptional. What the great margins have done, though, is allow the company to expand its store estate far more rapidly that it might otherwise have done. They've opened 67 on top of their existing 108 in the last 3 years, with another 25-30 planned for this year.
Anyway - the thing I was curious about going backwards. In my last post, there's a rather length discourse in the comments section between me and someone who was slightly more bullish on HAT than I was. One thing we did both agree with, though, was that H & T's listed cousins - Albermarle & Marle - were a rather similar company trading at a much higher valuation. They even have worse returns with a higher exposure to gold buying, though I should note that the differences in how they operate are rather marginal. They are very similar. In the rather short and noisy time frame, Albermarle are down about 35% and HAT are down about 8%. Still, I kick myself for not making that bet; I think it was a pretty obvious one. 
I won't make this post about Albermarle, since having just looked at them I still just about prefer H & T group. H & T group offer better returns and I much prefer management rhetoric. Albermarle are discussing cost reduction initiatives, and have cut their plans for new stores. I'm not entirely sure why - I would've thought right about now would've been a fantastic time to be expanding, given that there doesn't seem to be any likely let up for consumers for a while yet.
There is, of course, the possibility that H&T are expanding or have expanded too rapidly. Against this point is the fact that they still earned decent returns pre-crisis; so perhaps it was just a case of finding the capital with which to expand. On the other hand, it's always easy to expand to more marginal locations when times are good. That all starts unravelling when the general trend depresses, and you're left with a bunch of stores leaking money while your more solid base maintains profitability. Still, I do at least slightly buy H&T's insistence that pawnbroking is in a long-term secular positive trend. It certainly does seem to be an industry that's slowly losing its seriously negative connotations. That's a land of opportunity, and the fragmentation is also something that reminds me of another industry I like - car dealerships.
Finally, I note that they're also beneficiaries of a trend I particularly liked at Howden - store maturation driving returns even without additional investment. Given how quickly they're opening stores at the moment, a decent number of them are still setting up. Profits at these units should improve just as the store matures over time, and hence while current profits may be flattered by gold buying, we can expect a slight uplift from that.
I've sort of changed my mind on H&T, then. I think I've more clarified my opinion, and as things have got a little better over time at H&T and the share price has remained the same, I'm considering buying for the portfolio. I'll run the figures again tomorrow and give the last few annual reports a couple more reads to see if I've missed anything. One thing I will say on a slightly more holistic basis - I think HAT is definitely a great candidate for a lot of long/short trades. It still strikes me a stock which is going to do better if times stay bad - and even better if gold prices stay strong. Looking at other shares and sectors, their valuations seem to be driven by exactly that sort of growth and inflationary pessimism. If the market is pessimistic, HAT shouldn't be this cheap. If the market is optimistic  areas like retail and finance should probably be higher rated. It seems a nice stock from a diversification perspective, too.
---
Disclaimer:
As per our Terms of Use, Stockopedia is a financial news & data site, discussion forum and content aggregator. Our site should be used for educational & informational purposes only. We do not provide investment advice, recommendations or views as to whether an investment or strategy is suited to the investment needs of a specific individual. You should make your own decisions and seek independent professional advice before doing so. The author may own shares in any companies discussed, all opinions are his/her own & are general/impersonal. Remember: Shares can go down as well as up. Past performance is not a guide to future performance & investors may not get back the amount invested.
---
---

H&T Group plc is an United Kingdom-based non-trading holding company for Harvey & Thompson Limited and H&T Finance Limited. The Company operates in six segments: Pawnbroking, which is engaged in providing secured loans against collateral; Gold Purchasing, which is involved in buying Jewelry directly from customers through its stores; Retail, which is involved in retail sales of gold and jewelry, and the majority of the retail sales is forfeited items from the pawnbroking pledge book or purchased second-hand jewellery; Pawn broking Scrap, which consists of all other proceeds from gold scrap sales other than those reported within Gold purchasing; Cheque cashing includes two products: Third Party Cheque Encashment and Pay Day Advance, and Other financial services consist of KwikLoan product, Prepaid debit card product and the foreign exchange currency (Euro and US Dollar) service. The Company's subsidiaries include H&T Finance Limited and Harvey & Thompson Limited. more »