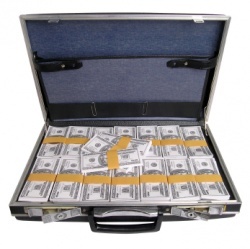 Bezzled by Their Blind Spot
It's sort of common knowledge that private investors generally lose by over-trading; invariably individuals think this only applies to other people and not to themselves, but you're just Bamboozled by Your Bias Blind Spot. The question remains, however, just how much do private investors lose by this behaviorally challenged frenzy of trading? 
Figures are hard to come by, but one rule of thumb estimate suggests that US investors gave up $160 billion dollars in 2010 through this hyperactivity. Which is a nice boost for the denizens of the underpaid and underappreciated securities industry, struggling to keep their superyachts afloat.
Uncertain Estimates
So how do we come up with this number and what does it mean? Well, there's no easy way of doing this calculation but we can do a bit of hopeful extrapolation to come up with a number to work with. In Just How Much Do Individual Investors Lose By Trading?, Brad Barber, Yi-Tsung Lee, Yu-Jane Lui and Terrance Odean analysed the Taiwanese market and showed that individual private investor losses equated to a 3.8% penalty on their performance, equivalent to a giant 2.2% of Taiwan's GDP each year between 1995 and 1999.
Now the paper indicates that the equivalent trading losses in the US are about half of what was seen in Taiwan, around about 2%, so to come up with a rough and ready calculation of the annualised losses of US investors we need to know the cumulative value of their stock holdings. Fortunately, the 2010 US census provides us with a number: US households hold $8,147 billion in equities and 2% of this gives us $163 billion. This is roughly 1.1% of US GDP in 2010 and equivalent to $527 per head of population; man, woman and child.
(In)credible?
Is this credible? Well, maybe. The original paper looks at data over a decade old, the estimate of the scale of US investor losses isn't backed up by any solid evidence I can find and it's not a valid assumption that all US equity holders are frenzied day traders riding a one-way ticket to oblivion. It also isn't a given that you can extrapolate from Taiwan to America –research suggests Chinese and Taiwanese investors are twice as confident about their abilities to beat the market as US investors.  
On the other hand, we've since seen…

Unlock this article instantly by logging into your account
Don't have an account? Register for free and we'll get out your way
Disclaimer:
As per our Terms of Use, Stockopedia is a financial news & data site, discussion forum and content aggregator. Our site should be used for educational & informational purposes only. We do not provide investment advice, recommendations or views as to whether an investment or strategy is suited to the investment needs of a specific individual. You should make your own decisions and seek independent professional advice before doing so. The author may own shares in any companies discussed, all opinions are his/her own & are general/impersonal. Remember: Shares can go down as well as up. Past performance is not a guide to future performance & investors may not get back the amount invested.
---
---