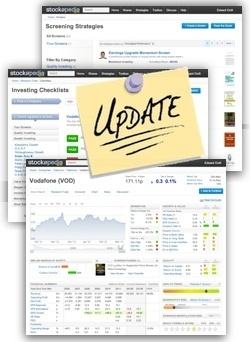 This is just a quick post to let Stockopedia subscribers know about some new advances to the website's Technical Charts. The feedback we get from subscribers is that they want to make Stockopedia their financial home on the web, and not have to click away for either their news or charts elsewhere and we are determined to put these essential features in place to make this a reality.
As of today, we have shifted away from using third party charts in order to bring all the data and chart provision under our roof. We've listened to the features that subscribers want and have built a full featured package that leverages both the robust price history data we source from Thomson Reuters and the design expertise we have in house. We now have the platform to extend our charting coverage across all of Europe's securities (and potentially the world) and ensure the reliability of the data.
We have noticed many pricing errors across third party chart packages - especially those offered by some of the global free to air websites. We hope that by bringing the responsibility of our charts under our own roof we can ensure much higher quality for subscribers as we build and extend coverage.
Here are some key improvements we've released today.
Overlays, Moving Averages, Indicators and Chart types
We have added an array of new technical indicators to the package with some well defined default settings. We know that power users will eventually want to create their own custom settings for almost all indicators (like RSI, MACD etc) but for now we have set well defined default settings. Many users are intimidated by difficult interfaces so we've kept things simple enough but no simpler.
We've added a glossary for all the terms used which we anticipate will grow over time. Many of the indicators I don't use myself, but our team has gathered and researched your feedback to create the algorithms and settings needed. You can read up on some of the Chart Types, Overlays, Moving Averages and Indicators available at our charting glossary or just try the options at the side of the charting package.
Custom Chart Settings
You can of course save your chart settings once you've created the charts the way you'd like them by clicking the green 'save' button. At the moment there is only a single setting to save, but we'll be adding the ability to save multiple presets soon.
Compare Stock Charts
We've improved the ability to compare the charts of different stocks in the package. You can now compare any share with any other and bring up a percentage comparison chart such as that below.
Sharing your Charts
You can now share a link to a chart directly from the interface - while most of the features of our charting package are subscriber only - any subscriber can share the charts freely on the web. At the bottom of the chart page is an image url and a button link to open the chart in the browser. This will provide a permanent link to the chart as of that date - i.e. it will remain static over time - unlike many chart packages which seem to continuously update from day to day!
Coming Soon - Trackable Cursors & Multiple Settings
Before anyone gets too carried away - we have not yet added a tracking cursor nor the ability to draw trendlines on top of charts. We anticipate the former will be added within the next couple of weeks, and the latter later in the year.
We'll also be adding the ability to view your charts in popup modals from any list on the site just by pressing - from portfolios, screening lists, sectors etc. This is another key feature and we anticipate it will be live within a few of weeks.
Please do let us know what we can do to improve the charts further. This is just the first step on our journey. We are aiming to make the charts package the best on the web over time so please get in touch using the green feedback button on the right and we'll try to implement your requests.   Once again the link to try out the charting package is here.
There's
value
in the stock market but do you know where to look?
Get the most concise synopsis of everything that's been proven to work in value investing. If you like your stocks cheap you've found a treasure trove distilled to under 70 pages.
How to find ultimate Bargain Stocks with Ben Graham
How to spot Turnarounds and avoid Value Traps
From Graham to Greenblatt via Piotroski & Lakonishok
How to value stocks and set a margin of safety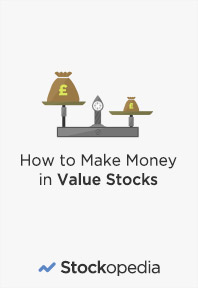 Disclaimer:
As per our Terms of Use, Stockopedia is a financial news & data site, discussion forum and content aggregator. Our site should be used for educational & informational purposes only. We do not provide investment advice, recommendations or views as to whether an investment or strategy is suited to the investment needs of a specific individual. You should make your own decisions and seek independent professional advice before doing so. Remember: Shares can go down as well as up. Past performance is not a guide to future performance & investors may not get back the amount invested.
---
---