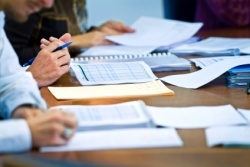 The question of shareholder interests is always a lively one, provoking rather heated debates and differing viewpoints. I've come into the same arena two times recently - with both my articles on RSM Tenon and Character Group. The question is fundamentally the same - are minority shareholder interests being looked after, or is the company being run for the profit of one group of individuals? This idea is particularly pertinent for private investors investing in small caps, as they often find themselves doubly vulnerable - with no real voting power, there is little ability to change perceived injustices. Since small caps may also have less vocal institutional ownership, there aren't any big agitators for change should things obviously be coming off the rails.
Hence, the small shareholder is left holding stock in a promising company being run improperly. Owning shares buys you a slice of the company and, as a joint owner, you should expect to reasonably share in the fruits of your investment. Evidently it doesn't always work that way, and so in this post I'll be looking at a few of the factors which I'm more and more taking notice of as I consider not just the business itself, but the structure in place behind the business to ensure I'm properly reimbursed for my risk.
Cash Returned
Dividends are always a point of contention among investors. They're almost a double edged sword, and my opinion on them has shifted somewhat since I started investing. I was first completely unconcerned - after all, small caps are great because of their potential for long-term organic growth - something the giants of industry rarely have so easily available to them. As I'm investing for the long term, I don't mind the company keeping its capital inside the business and investing in productive assets, on the basis that I'll benefit more in the long run from a larger and more effective company.  However, something I was perhaps a little lax on considering was the actual productive use of that money. Manufacturers may well have a great reason to keep money inside the business, but the same evidently doesn't ring true for a firm like the aforementioned Character Group, who have almost no fixed assets. In actuality, there's little to 'invest' in.
As such, an interesting statistic to look at is the ratio of cash retained to cash returned. It is essentially the payout ratio, slightly modified for share buybacks. Below I've laid out an example using Morson PLC, a company I think is a good example of well-aligned interests.
The calculation is simple to work with the statistics given in annual reports - net profit and cash returned, which adds share repurchases and dividends paid (found in the cash flow statement). It glosses over the complications involving share repurchases but, for a quick ratio, gives an intuitive and easy way to see just how much the company is paying out each year to shareholders. Of course, if you don't consider buybacks an effective way of returning cash, you can discount or discard from the calculation.
A 5y figure takes a few minutes to compile, but is good for seeing if the company has historically kept a similar trend - a stark difference between the figures would warrant some investigation. In Morson's case, we see both of the figures are similar and relatively good. The company paid out almost 40% of its earnings last year. Obviously, the ratio or percentage can also be calculated from EPS and DPS figures, or earnings yields and dividend yields - whichever is easiest to get your hands on. For companies which have remained operationally the same for the last 10 years or longer, it also makes sense to analyse payouts over a longer term; companies which have a long history of paying good dividends and returning cash are more likely to continue that trend.
Figures obviously vary from company to company, but 37% is certainly at the top end of my portfolio, and signals positive management intent as a regular commitment to give back to shareholders. Perhaps the key point to remember here is that simply taking dividend yields can be deceiving;  one share on my screen yields over 15%. At a P/E of sub 2, though, Morson are paying out a considerably bigger percentage of their earnings than they are - it is simply the rock bottom price that inflates the yield. Yields can be a sugar trap, as if earnings sharply decline, the low shareholder return will once again become apparent as the dividend gets cut to shreds to align once again with the low return ratio.
Director Ownership
I often discuss director ownership of shares in my analyses, as I think it's particularly important for directors to put money where their mouths are in the types of shares I buy. Small caps are inherently slightly less 'open' with statistics and information for private investors, and since I'm buying shares which trade at low prices - usually for a reason - I find it slightly offputting when directors, who know far more about the business than I do, don't take up what appears to be the opportunity for easy profit. There are a number of complicating factors, but the core of the issue remains the above.
Additionally, directors owning shares helps align director and shareholder interests more directly - by making them care about the share price. If they have a significant amount of their net worth tied up in the stock of the company, it makes them less likely to make value-destructive acquisitions and burn cash on unneeded projects. My method of considering director ownership ties up two factors I consider important - the actual ownership of the shares, and the yearly remuneration of the directors. It's all very well, I reckon, a director owning a decent number of shares - but if he's paid a huge salary every year anyway, the interests of shareholders are still sitting behind the interest of him keeping his job.
Keeping with Morson, and their director ownership looks among the best in my portfolio. The eagle-eyed among you may have spotted the reason for this - the two Masons' significant holdings suggesting that this may be a family business, which it is. Both Masons still hold a good amount of stock, and yearly remuneration isn't excessive given the size of the company. Indeed, only the 3 executive directors take a large salary - and rightly so - and even the two who own a relatively small amount of the business have some interest in the share price, given that a 50% rise in the value of their holdings is worth more than a year's salary to them. Most importantly, the head honcho, CEO Ged (A) Mason has a huge interest in the business, at a whopping 25 times yearly salary. It is difficult to see how the CEO, then, can not care about the performance of the stock. If he manages to double the share price in the next few years (eminently achievable, hence my holding!) he'll have netted himself a cool £9m - far more than his pay packet in that time.
Use of Capital
As hinted at above, the company's policy on returning cash to shareholders must be considered with the company's long term plans in mind - how they can potentially use capital, will acquisitions prove to be beneficial for the business, how much room for organic growth exists etc. - and these are all factors that are a little harder to quantify. In loose terms, though, Morson would worry me if they retained a large amount of their capital. As a recruitment and consultancy firm, they're dealing with services and people - not capital intensive heavy machinery. Their growth, then, shouldn't require them to retain a huge amount of their profit - and indeed they don't.
The best place to look for how the firm is spending is obviously the cash flow statement - and Morson's acquisition of Wynnwith last year plays a large part in this. Particular lines I'm on the lookout for are repayment of borrowings, purchase of plant/property/equipment, acquisition activity, and similar lines. These are all major items which should hint at management intentions. In the past few years, Morson's debt (in the form of bank overdrafts) has been slowly shrinking as the company retains earnings and improves cash flow management - a reasonable use for capital. Post acquisition, I have no objection to the company continuing to retain a decent amount of earnings to pay off those overdrafts and remove some uncertainty from the balance sheet. This is an example of qualifying a use for the capital  - I can see a logical use for the money, and it's not as if they're retaining a huge amount of their earnings anyway.
Conclusion
The best way of wrapping up this post is in a rather unusual format, but serves to more or less summarise my current thought process as I think about my interests and those of the company I'm analysing. In time, this will no doubt evolve, and the diagram below is at best a simplification - but hopefully it'll present my thoughts in a rather easier format than my essay above!
Simply answering 'yes' for the first question doesn't mean you're done with an analysis - but the chart does show the 'stacking' effect of multiple factors, whereby each factor makes the situation considerably worse than before. And, of course, there are a thousand other things to consider - most of which I'm sure I haven't even thought about yet. For now, though, I feel I've put together a fairly logical and simple way of deciding whether I like the story behind the company. Combined with my usual digging through company history and annual reports, I hope I'll be a little sharper with spotting potential issues.
---
Disclaimer:
As per our Terms of Use, Stockopedia is a financial news & data site, discussion forum and content aggregator. Our site should be used for educational & informational purposes only. We do not provide investment advice, recommendations or views as to whether an investment or strategy is suited to the investment needs of a specific individual. You should make your own decisions and seek independent professional advice before doing so. The author may own shares in any companies discussed, all opinions are his/her own & are general/impersonal. Remember: Shares can go down as well as up. Past performance is not a guide to future performance & investors may not get back the amount invested.
---
---