Jim Slater shares his latest views on asset allocation, investing criteria, gold and oil at the Growth Company Investor Show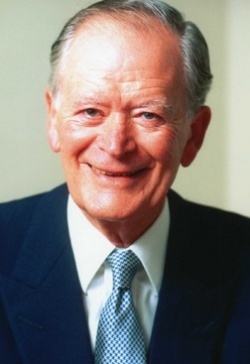 Jim Slater's Zulu Principle books were some of the first books I read about investing before I joined the City as a young broker and so it was with great pleasure that I listened closely to his views on the market at the very enjoyable Growth Company Investor Show yesterday afternoon at the Barbican.
The background on Slater, if you don't know his story, is very colourful.  He was a corporate raider building up Slater Walker through the 60's and early '70s in swashbuckling style and setting the mould for Jimmy Goldsmith who replaced him when it all went a bit wrong - the Bank of England having to step in to prevent it's collapse during a banking crisis.  He reinvented himself as a successful  children's author, broadsheet columnist and highly successful investing guru publishing the Zulu Principle and founding Company REFS. 
He has further built his fortune by practicing what he preaches through growth company investing and latterly investing in resources.
What follows are my notes from his presentation:
Outlook & Asset Allocation
He foresees 2 contrasting possiblities in terms of the economy and macro environment:
In the Dark Room -  This scenario involves deleveraging of banks, overcapacity, banks not lending, underfunded pensions, sovereign debt in doubt, US states in deficit, bleak deflationary output, US on point of no return - all pretty grim stuff really.
In the Light Room (or the Quantitative Easing room!) - He likens it to being a heroin addict. You can't take the patient off the drug.  The Bank of England and the Federal Reserve are talking of more Quantitative Easing.  It makes cash a terrible investment but leads to potentially hyperinflation.
So, based on that, his preferred asset allocation is to hedge your bets and prepare for either or both scenarios at the same time: 
25% in Cash,  
30% in small cap growth shares, 
30% in gold shares, 
5-10% in oil, 
5-10% in agriculture.
Growth Shares
Slater still insists that you should pick under researched niche small cap shares where reratings and takeovers are more likely.  He gave the statistic that the average micro cap share has beaten the market by 10 to 1 since 1940. 
Zulu Principle Criteria
Obviously he still bangs the table about the Zulu Principle System that he is renowned for and advocates his Company REFS product.  'It's all about the method'. In summary, he screens for the following:
Low p/e, 
Good eps growth, 
PEG < 1 (price earnings to growth ratio)
Cash-flow generation greater than profits, 
Low gearing
High relative strength, 
Not many director sales.
He mentions that the market is getting quite high, so the following stocks he qualifies as in general 'holds' rather than outright buys, but all he found on his Zulu criteria.
His son Mark Slater's fund is run based on the PEG principle. Called the MFM Slater Growth Trust, it's gained 75% in the last year so the criteria clearly have something going for them.  It is currently ranked number 1 out of 2795 Trusts.
Gold Shares
Regarding gold, he says that still nobody likes it. In his view, the Financial Times and the Economist have been terrible on gold, applauding Brown's sale at the bottom and still being sceptical.  They say it has no intrinsic value but you could say that about the dollar, works of art and many other assets. The Gold also isn't the dollar, it's not a doubtful debt, it's absolute and a historic store of value.  For 2500 years, its been a currency and it's embedded in the human psyche in a way that fiat currencies never have been.  It's getting hard to find, Slater is mining 40,000 tonnes per day and only finding half a gram per tonne.  Gold also goes up in times of fiscal uncertainty - which is exactly what we have now. He much prefers gold shares to gold itself as you get the leverage. If the gold price goes from $1300 to $1700 and your fixed mining cost is $900 you make twice the profit.
Slater says the potential upside for Gold Companies comes from more sources than growth shares which only normally get revalued due to takeover, growth or re-rating. Gold shares get the leverage from the gold price with an enormous effect on the bottom line; increasing production creates a double effect, increasing top and bottom line but also reducing the unit cost; and prospective deposits mean gold companies are very likely to find more.
Gold Share Investing Criteria
Similarly to his growth stock criteria he has different criteria for gold shares... he requires:
A safe political territory (i.e. not Venezuela and not Russia)
Strong resource base, 
No serious environmental problems, 
Experienced CEO, 
Strong balance sheet, 
No hedging, 
Strong cash flow and PCF below average of peer group, 
Increasing production, 
Long life time, 
Cost per ounce of produced no more than $900, 
Very prospective resource,
Cost per ounce of gold in the ground to be as low as possible. e.g. GoldCorp took over Andean Resources and paid $773 per ounce for gold in the ground. In the case of Norseman Gold Plc (LON:NGL) , he got in at $40 per ounce, and Spanish Mountain (CVE:SPA) $80 per ounce.
His son in law Angelos Damaskos started the Junior Mining Fund based on these criteria - which is currently 8th out of 2795.  They will be changing the name to Junior Gold very soon. He likes: Centamin Egypt (LON:CEY), Medusa Mining (LON:MML), Norseman Gold,  Australian Focus Minerals, Spanish Mountain
Oil Shares
Damaskos also runs the Junior Oils Trust which is 87th out of 2795 Trusts. We did an interview with Angelo here. The oil share he likes is Premier Oil (LON:PMO) . When he started, he advised him to invest in Tullow Oil Plc (LON:TLW) , Dana Petroleum Plc (LON:DNX) and Cairn Energy Plc (LON:CNE) and Premier - and the only one left that hasn't had a huge run is Premier, so he thinks it's likely to be the next takeover.
Agriculture
The one share he likes is Monsanto (NYSE:MON) - 'they will stop world starvation'.
Q&A
He's not wild about Platinum due to the uncertain political environment in Africa.  
Immunodiagnostic Systems Hldgs (LON:IDH) - he sees it as a good company but with 2 problems. They have a big liability to pay and they have a major competitor coming in, so it looks great on his criteria, but he would avoid because of these issues.
To finish, he reiterated that you have to have a set of criteriathat you use before investing.  Improve your criteria like you improve your golf swing. More on the man here: http://www.jimslater.org.uk/
---
Disclaimer:
As per our Terms of Use, Stockopedia is a financial news & data site, discussion forum and content aggregator. Our site should be used for educational & informational purposes only. We do not provide investment advice, recommendations or views as to whether an investment or strategy is suited to the investment needs of a specific individual. You should make your own decisions and seek independent professional advice before doing so. Remember: Shares can go down as well as up. Past performance is not a guide to future performance & investors may not get back the amount invested.
---
---
Norseman Gold plc is a gold production and exploration company. The company's principal project is the Norseman Project, which covers an area of 2,360 square kilometers located in the Norseman-Wiluna greenstone belt in Eastern Gold fields, Western Australia. The Company's operations include mining at the Harlequin mine, located to the north of Norseman. The Harlequin project is focused on the Redfin, HV1, HV5, HV6, Marlin and Perch reefs. Its North Royal Open Pit mine lies near the Phoenix Mill and has produced 3.5 million tons of ore. more »

Andor Technology Ltd, formerly Andor Technology plc, is a United Kingdom-based company engaged in the development and manufacture of scientific digital cameras for academic, industrial and government applications. The Company operates in three segments: research, microscopy systems and original equipment manufacturing (OEM). Research is engaged in sales of cameras and associated products to academia and government-funded research institutes. Andor's Microscopy Systems business provides high-end imaging solutions that are of primary interest to life sciences research institutes. Andor offers Electron Multiplying charge-coupled device (CCD) (EMCCD), scientific CMOS (sCMOS) and CCD imaging detectors. OEM includes sales of cameras and associated products to instrumentation manufacturers. In October 2013, Andor Technology Plc acquired Spectral Applied Research Inc. In October 2013, Andor Technology plc acquired Apogee Imaging Systems Inc. more »

Volex plc (Volex) is a supplier of power and data cabling solutions servicing a range of markets, including consumer electronics, telecommunications, data centers, medical equipment and the automotive industry. The Company operates through two divisions, which include Power and Data. Through the Power division, the Company designs and manufactures power cords that are sold to the manufacturers of a range of electrical and electronic devices and appliances. Volex products are used in laptops, personal computers and tablets, printers, televisions, games consoles, power tools, kitchen appliances and vacuum cleaners. Through the Data division, Volex designs and manufactures a range of cables and connectors that transfer electronic, radio-frequency and optical data. Volex products are used in a range of applications, including telecommunication systems, data centers, mobile computing devices, medical equipment, robots, vehicles and alternative energy generation. more »