Oil and Gas Finding Costs Still Soaring For the Majors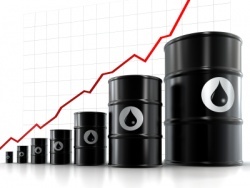 Oil and gas finding costs are on the rise again as inflationary pressures return to the industry and as Major companies struggle to improve their exploration performance in terms of reserves found per well drilled. That's the picture that emerges from the latest company data from Evaluate Energy. In this report we focus just on the leading Major companies – BP, Chevron, Conoco, ExxonMobil, Petrobras, Shell and Total. We're defining finding costs as exploration costs (as reported by the companies in their FAS69 submissions to the US SEC) divided by extensions and discoveries and revisions to Proved Reserves. Revisions often result from changes to reserves that may have been booked in the past but as they reflect better knowledge of reserve size and reservoir conditions, it makes sense to include them in this calculation.   Latest Trends for 2011
Evaluate data shows finding costs rising again in 2011 and sharply higher than a decade ago.




It would appear that the continued upward trend has been due both to rising operating costs (Evaluate data shows the average cost of producing a barrel of oil equivalent)   as shown in the graph below….




…..and to a rather lacklustre performance in terms of reserves added via exploration drilling:  the graph below shows the trend in reserves added via exploration and indicates that companies performed no better in 2011 on this measure than in 2010.


Ranking the Companies
There are significant fluctuations in company costs and reserve additions from year to year so we have taken a 10 year average to try to smooth out the data.

The graph shows Total delivering the lowest 10 year average finding costs of any of the Majors, followed closely by ExxonMobil and Petrobras. BP turns in the highest cost in the group at just under $5/bbl oil equivalent. This is partly because BP had some pretty big negative revisions to reserves in the last 2 years that caused its ranking to hit rock bottom.  If you ignore revisions and just look at the cost or finding proved reserves via discoveries alone, then BP actually comes out on top with the lowest 10 year average finding cost on this (narrower) definition.


If we look at how much oil and gas was added per exploration well drilled, there is a pretty close match in the rankings with Total and ExxonMobil discovering many million more barrels per well drilled than the others.


---
Disclaimer:
As per our Terms of Use, Stockopedia is a financial news & data site, discussion forum and content aggregator. Our site should be used for educational & informational purposes only. We do not provide investment advice, recommendations or views as to whether an investment or strategy is suited to the investment needs of a specific individual. You should make your own decisions and seek independent professional advice before doing so. The author may own shares in any companies discussed, all opinions are his/her own & are general/impersonal. Remember: Shares can go down as well as up. Past performance is not a guide to future performance & investors may not get back the amount invested.
---
---

BP p.l.c. (BP) is an integrated oil and gas company. The Company provides its customers with fuel for transportation, energy for heat and light, lubricants and the petrochemicals products used to make everyday items, including paints, clothes and packaging. The Company operates in three business segments: Upstream, Downstream and Rosneft. The Upstream segment's activities include oil and natural gas exploration, field development and production; midstream transportation, storage and processing, and the marketing and trading of natural gas, including liquefied natural gas (LNG), together with power and natural gas liquids (NGLs). The Company's Downstream segment's activities include the refining, manufacturing, marketing, transportation, and supply and trading of crude oil, petroleum, petrochemicals products and related services to wholesale and retail customers. BP's interest in Rosneft, an oil company in Russia, is reported as a separate operating segment. more »

Royal Dutch Shell plc (Shell) is an independent oil and gas company. The Company is engaged in the principal aspects of the oil and gas industry in more than 70 countries. The Company operates in three segments: Upstream, Downstream and Corporate. In Upstream, the Company focuses on exploration for new liquids and natural gas reserves and on developing new projects. In Downstream, the Company focuses on turning crude oil into a range of refined products, which are moved and marketed around the world for domestic, industrial and transport use. The Company's Upstream Americas business manages Shell's Upstream activities in North and South America. It also extracts bitumen from oil sands that is converted into synthetic crude oil. The Company's Upstream International business manages Shell's Upstream activities outside the Americas. The Company's Downstream business manages Shell's refining and marketing activities for oil products and chemicals. more »

Total S.A. is an energy operator. The Company operates through three business segments: an Upstream segment, including alongside the activities of the exploration and production of hydrocarbons, the activities of gas and power; a Refining & Chemicals segment constituting an industrial hub comprising the activities of refining, petrochemicals and specialty chemicals and also includes the activities of oil trading and shipping; a Marketing & Services segment, including the global activities of supply and marketing in the field of petroleum products, as well as the activity of new energies, and a Corporate segment, which includes holdings operating and financial activities. Its projects include CLOV, EGINA, IKIKE, INCAHUASI, LAGGAN-TORMORE, OML-58 UPGRADE, EA-1 AND EA-1A (UGANDA), ELGIN - FRANKLIN REDEVELOPMENT and ABSHERON PH.1, among others. more »