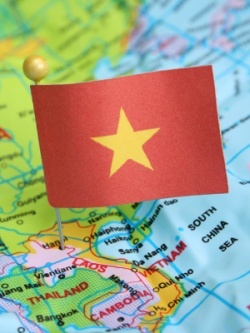 I know I've made the odd comment about $15 and $20 a barrel on the TGD thread for SOCO International (LON:SIA) but that was largely from the gut without too much thought, hence a bit more application now… Firstly, AFAIA, nobody has ever put a figure on how much the Lizeroux 20% minority interest should be discounted for their carried interest. This is obviously important since Soco include Lizeroux's entitlements in their booked reserves. Personally, I think Soco should be estimating what these amount to in the Annual Report notes.

It's impossible to be accurate but I'll suggest Lizeroux's holding should be reduced to around 12.5% going forward to first production at TGT. In round figures, I'm thinking 20% of say $500m invested over 10 years, the bulk in more recent times, charged at 9% interest is likely to run up a bill currently of say $150m…bearing in mind of course that a certain amount of carried interest bills will have already been paid back from CNV production. Unless anyone else believes these figures are shaky, I think 12.5% forms a pretty solid basis. So, SV's booked reserves need discounting by 12.5%. We also need to account for gas reserves being worth less than oil. As at 31 Dec 2009 booked Vietnam reserves were 124mmboe. My split on that is CNV 24 oil + 8 gas, plus TGT 92 oil. Total 116mmbls + 8mmboe

For the year end December 2010 booked reserves, I'd estimate an added 10 mmbbls for TGT making a total 126mmbbls + 8mmboe. Ok, that might look conservative but I've seen it all before where people get too excited on upgrades that don't materialise. One also has to bear in mind that potential downgrades on CNV (quite possible - even likely given production rates to date vs. production licence period) won't be apparent in the overall Vietnam reserves declaration. So, knocking off the 12.5% Lizeroux component we get y/end 2010 110mmbbls + 7mmboe. At $15/bbl and $5/boe, 358m shares out fully diluted(incl conv) equates to 295p/sh.

This exercise is meant to seek a rock solid core valuation when contemplating a sale of Vietnam assets in the market without any consideration for TGD or additional reserves which may or may not result from TGT production history in future. Apart from the level of reserves, the $/bbl price is obviously key. What will a buyer pay? Clearly, the Viet assets are of strategic importance, so you'd expect a keen price but they're not so large as to attract over the top bids imo. When RC says (according to Unwise's post) the NAV of Viet barrels is $20 based on $75 oil, that doesn't mean a buyer will base his purchase at $75. Indeed, when Soco sold Yemen, the oil price was in the $90s yet the sale was apparently based on $70. It could be that attitudes to future oil prices have changed since then and $75 now might be accepted in M&A circles but we can't know that until it manifests itself in a transaction. Clearly $20/bbl rather than the $15/bbl example above would yield 395p/sh and higher TGT barrels a good bit more but that's in the lap of the gods at this point in time!

Make of all that what you will but, if nothing else, it will hopefully be useful to establish Lizeroux's holding being worth 12.5% after consideration of their carried interest.
Disclosure of Interest: The Author holds shares in SOCO International (LON:SIA). 
Disclaimer:
As per our Terms of Use, Stockopedia is a financial news & data site, discussion forum and content aggregator. Our site should be used for educational & informational purposes only. We do not provide investment advice, recommendations or views as to whether an investment or strategy is suited to the investment needs of a specific individual. You should make your own decisions and seek independent professional advice before doing so. The author may own shares in any companies discussed, all opinions are his/her own & are general/impersonal. Remember: Shares can go down as well as up. Past performance is not a guide to future performance & investors may not get back the amount invested.
---
---

SOCO International plc is a United Kingdom-based oil and gas exploration and production company. The Company has oil and gas interests in Vietnam, which includes Block 9-2 and Block 16-1; Congo Basin, offshore Congo (Brazzaville), which includes Marine XI Block and Mer Profonde Sud; Albertine Rift, onshore eastern Democratic Republic of Congo, consisting of Block V, and Angola consisting of Cabinda Onshore North Block. The Company's operations are located in South East Asia and Africa. It holds its interests in Marine XI in Congo (Brazzaville) through its 85%owned subsidiary SOCO Exploration and Production Congo SA (SOCO EPC). It also holds a 60% working interest in the Mer Profonde Sud Block offshore Congo (Brazzaville) through its wholly owned subsidiary SOCO Congo BEX Limited. more »