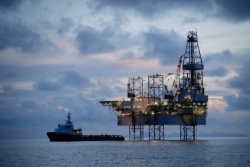 Just thought I'd start off a general thread for discussion of possible alternatives for those who will receive a chunk of cash (from whoever and at whatever price) following the demise of Dana Petroleum Plc (LON:DNX).
I'd start off by arguing that there aren't many Dana lookalikes in the UK. That is reasonably large and liquid stocks with a good combination of strong cashflows, reserves, development opportunities and exploration. There's dozens of high octane exploration plays on AIM but not many in the Dana mould. I wouldn't imagine that many will be looking to roll 0ver into 100% explo stories but may look to put a bit into them. 
Secondly I'd argue that more of the Dana look alikes are to be found overseas. Now its harder to research these but it can be done quite easily, especially if there are people willing to share notes...
May I suggest that if people think of an idea or want to expand on one then they should start up a new thread or continue on with the "main" thread of an existing company.

So, without thinking too hard, here's a list of some of my initial thoughts:

In the UK (some may have dual listings):

1. Ithaca Energy Inc (LON:IAE) - very sound finances now after the c$1.70 funding and BoS facility and way down from recent peaks. Dual listed and slightly more liquid over in Canada.

Ithaca Energy Inc (LON:IAE) came pretty close to death till a very good restructuring deal with Dyas was put in place. Now set to push on with developments and generate v strong cashflows in 2/3 yrs (20k bopd+). Would probably make a good acqn for someone (knoc perhaps given dnx gives them a good N Sea presence now). Merger potential too?

Disc - we've now got a good chunk in IAE.

2. Bankers Petroleum (LON:BNK) nominally UK AIM listing but in reality bloody hard to trade over here, espec in size (+kay for say 1k or 2k but even then a big spread).

There's already a thread here on Bankers Petroleum (LON:BNK) so I won't go into it further here. Not really any explo, unless you count the potential upside from the Thermal project - results in next year. Should be sold in 12-18 months I'd say.

Disc - we already have a good chunk of BNK.

3. Circle Oil (LON:COP) - again, a thread here gives the investment proposition. Good and growing cashflow, more to come from Egypt and Morocco with explo in Oman and Tunisia (and Namibia if PetroHolland ever pay up). Following placing its very well funded.

Disc - another one of ours.

4. SOCO International (LON:SIA) - no need to reiterate this one but I suspect most will already have an exposure. Critical period for the company in coming few weeks either making us all very happy, or testing if our theories re core downside protection are right.

5. Cairn Energy Plc (LON:CNE) - not sure if this should be here now that the Vedanta deal has come along. More an explo story now I'd say.

6. Melrose Resources (LON:MRS) - not one that's ever excited me and I don't like the majority ownership situation. Seems to lack critical mass in terms of impact?

7. Northern Petroleum (LON:NOP) - too disappointing for my like with personality problems and now Italian drilling moratorium.

8. Premier Oil (LON:PMO) - probably the most Dana-esq in terms of production, market size, developments and portfolio of explo. Arguably too dnx like for me i.e. bitty.

I think I'll leave it there for now. Thumbs are killing me. Will try to add some overseas names over the next few days.
---
Disclaimer:
The opinions expressed by the author are those made by him personally as an individual and not in any professional capacity. 
---
---

Ithaca Energy Inc. is a Canada-based company. The Company is engaged in exploration, development and production of oil and gas in the North Sea. The Company has a Norwegian exploration and appraisal asset portfolio, with a focus of activities being on the generation of reserves in lower risk geological and geographic locations. The Company also has a limited United Kingdom exploration asset portfolio. The Company's principal properties include Northern North Sea, which consists of Dons, Causeway Area, Broom and SW Heather; Outer Moray Firth, which consists of Athena; Central North Sea, which consists of Greater Stella Area, Cook, Pierce and Scolty Area; Southern North Sea, which consists of Anglia and Topaz, and Southern England, which consists of Wytch Farm. more »

Circle Oil Plc is an Ireland-based oil and gas exploration and production company. The Company is engaged in the exploration, development and production of oil and gas in North Africa and the Middle-East with oil and gas production in Egypt, gas production in Morocco and exploration assets in all areas of operation. The Company has its operations in Egypt, Morocco, Oman and Tunisia. The Company holds interests in three permits in Tunisia, which include Grombalia Permit, Ras Marmour Permit and Mahdia Permit. The Grombalia Permit covers an area of 2,820 square kilometers and has petroleum system in the Tertiary Bou Dabbous, and Cenomanian Bahloul limestones and Fahdene shales providing source rock. The Ras Marmour Permit is located in the south-east of Tunisia covering part of the Island of Djerba and south of the Gulf of Gabes. The Mahdia Permit covers an area of 3,780 square kilometers. more »

Bankers Petroleum Ltd. (Bankers) is a Canada-based oil exploration and production company with a focus on petroleum assets in Albania. The Company generates all of its oil revenue from its operations in Albania, which is located northwest of Greece in South Eastern Europe. Bankers operate and have the full rights to develop the Patos-Marinza and Kucova oilfields in Albania pursuant to License Agreements with the Albanian National Agency for Natural Resources (AKBN) and Petroleum Agreements with Albpetrol Sh.A (Albpetrol), the state-owned oil and Gas Corporation. The Patos-Marinza oilfield is an onshore oilfield in continental Europe, holding approximately 5.1 billion barrels of Oil Initially in Place (OIIP). The Company also has exclusive rights to exploration Block F (adjacent to the Patos-Marinza oilfield), a 158,000 acre oil and gas prone exploration field. more »