Stockopedia speaks to Jeremy Martin of nickel and gold explorer Horizonte Minerals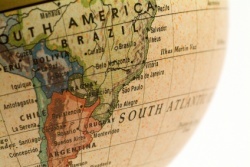 For many junior mining companies, winning over the financial and technical support of a major industry player is the moment when the transition from exploration to production becomes a real prospect. For AIM listed Horizonte Minerals (LON:HZM) , securing the backing of two mining majors in the last year has transformed the company and offered up significant potential for a major nickel project and multiple gold opportunities in the Carajás region of Brazil.

Horizonte has been active in Brazil for four years under the leadership of CEO Jeremy Martin, chairman David Hall and operations director Nick Winer, all of whom have wide experience of working in the region. Like Hall's other AIM listed mining interest Stratex International (LON:STI) , Horizonte set out to identify exploration targets and then bring in mining partners to drive them through to production. Earlier this year that strategy was rewarded with a major deal with Canadian giant Teck Resources (TSE: TCK), which swapped its Araguaia nickel operation for a 50% stake in Horizonte. The result, the companies hope, will be a 100m ton resource formed from Araguaia and Horizonte's nearby Lontra nickel project, with grades comparable to other world class projects in Brazil. Drilling there is now under way.

If that wasn't enough, Horizonte has also partnered with AngloGold Ashanti (NYSE: AU) on two joint venture gold projects in the country – at Santana and Falcao – with Horizonte taking the exploration lead with up to US$10m of AngloGold's cash. It also operates a JV with Troy Resources (TSE: TRY) on another gold project at Tangara. With the price of gold continuing to surge and the price of nickel now rising from market lows, Jeremy Martin spoke to Stockopedia about the thinking behind Horizonte's Brazilian endeavours and the prospects that lie in wait for the company and its investors.

Jeremy, can you tell us about Horizonte and the strategy you have been pursuing in Brazil?

Our business model hasn't changed. We went out and we recognised the lack of discoveries coming through and that's the same model that Stratex had in Turkey. The majors are looking for new projects, there needs to be new discoveries in the business to sustain that supply side of the business. Discovery rate is in decline, that's a fact.

So obviously with the experience that I and David and Nick have had in South America we selected Brazil and Peru as the two countries. Brazil is a huge country, there is a lot of prospective terrain and there isn't much generative exploration going on for the gold side. People are typically focusing on known deposits and then developing those rather than going out and looking at greenfield areas and saying: 'Hang on, this could potentially be the next discovery'. So our business model was to go out, make new discoveries, do the early stage work, develop the projects and then bring a major mining company in to take them forwards to production. Exploration is a risky business by the nature of it but our view is that there are a lot of projects out there that have got to feasibility stage, that have cost £20/30m, and are not going any further. So we said that we would get projects to that stage and then have a major miner cover that cost and give us a free carry. So it's trying to manage that risk side of it.

What was the original focus of your exploration activities?

We've generally been fairly broad focused. We have always looked at base metals and we have always looked at gold and, typically, gold-copper, which occurs together. So we started off with gold and we then started looking at some nickel sulphide projects that we were discovering. How we ended up getting into this nickel transaction is that we went into an area, which is now our Lontra project, on the basis of looking at an iron ore occurrence there. That actually turned out to be insignificant but we recognised the potential for nickel. That led to the discovery of Lontra, which was a good grassroots technical discovery, it's 100% owned by us and on its own it is 20-30 million tons, which is not a stand alone mine. So that is when we started looking for a project around it, to consolidate it, and we had Xstrata Plc (LON:XTA) to the north and we had Teck to the south. So we had been talking to both groups for just over a year and a half and it was really the financial crisis that brought Teck over the line – us buying Araguaia from Teck, combining it with Lontra, which gives us a 100 million ton target and a major company project.

Because of the business model, Horizonte is reliant upon a very skilled team being able to deliver the product to the majors. If you look at our management team – obviously it has increased significantly on the back of this nickel transaction – but all the guys on the Board are basically major company players. Roger Billington, who was a consultant for 15 months and has now come on board full time, was head of Falconbridge nickel laterite worldwide and at the moment he's working for us and Xstrata, so we are working with very high level guys. Alex Christopher has come across as Teck's representative and he runs Teck's junior equity portfolio which varies from £80m to £150m valuation at any point in time, so we have been very lucky to get him on board.

I think part of the reason Teck has structured a deal with us and allowed us into the transaction is because of the management team, that's one factor. Obviously if they're taking a 50% stake in a junior they want to make sure that it is actually going to deliver for them. If you've got a big equity holding you want to make sure it is going to be developed in a way that you feel comfortable with.

What is the environment like for mining exploration in Brazil?

Brazil has a very fair and balanced mining code that allows us to compete against the majors. If we are trying to acquire a licence over Area X all applications are treated on a level playing field. Because it is so big it is quite difficult to get a really good handle on who is doing what and suddenly companies come out of the woodwork that you've never heard of. So local knowledge is very important. But from an exploration and mining point of view it is excellent and from an economic point of view it is very good as well. It is one of the BRIC countries, there is internal demand for the final mining product, there's an internal demand for nickel as well as export, so we're very happy. We actually started in the two countries, Brazil and Peru, and we have focused back on Brazil. I think we were in danger of losing focus and it is difficult for a junior company with a small management team and a small budget to really do justice to two big countries. Now we have got AngloGold on the gold side, we've got Teck and there are not that many junior companies active in Brazil so we've said: 'Actually, this is really where we want to be, this is where all of our team is, this is where our projects are and we have got huge potential there'.

So this nickel transaction has focused the company, we've divested a lot of the early stage stuff because I think we were in danger of having lots of early stage projects out there. We have now got a nickel business stream, which is Araguaia, and we've got a gold portfolio, which is funded by Anglo, so it's clear for people to understand where the value is going to come from.

What are your plans for Araguaia?

The drilling started about two weeks ago and we have got three rigs there on site now and a fourth and a fifth coming up in the next two to three weeks, so there is going to be five drill rigs out there – which throw out a lot of core! We have started 8-10,000 metres now and that will be finished by February time, so there will be continuous news flow on drill results through that period. We will aim to have a first stage resource statement out, the maiden resource, March time and we are going to aim for about 60-70 million tons there. We will carry on drilling through until the end of the second quarter, and that's where we aim for our target of 100 million tons, and that will then be an upgrade on the resource and we'll also increase the high grade zone. So we hope for about 30-40% to be in the indicated category, which will increase the level of confidence, and that will be the high grade portions of the deposit. Then into pre-feasibility in the latter part of the year. In the first half of next year we will be listing in Canada, that's part of the undertaking with Teck, which I think is going to be quite an exciting development and milestone.

What are your views on the advantages of maintaining a listing in London and Toronto?

I think if you're a success story every market is open for business. Obviously when you are doing the day-to-day work, and maybe things are taking longer, or in exploration often a project won't deliver what you say, it is always tough, fundraising is always a tough exercise. But I like AIM, I think every market has its drawbacks but we are getting good liquidity at the moment and it is all about getting critical mass. It is very easy to drop off the radar on AIM, and obviously there is that big divide between the private and the institutional investor and what is good about this deal is it has got us out of that sub £10m market cap and now we are starting to get on the radar of the institutions. I think there is a very strong following here in London and, again, for development assets London has always been where the North Americans come to raise the finance. So it is almost a case that Canada services the exploration market but even the Canadians do their fundraisings in London as well as Canada when it comes to development funding. The idea is to be in place on the TSX on the back of a major project milestone on the nickel project in H1 next year, that's the plan.

Turning to gold, and your partnership with AngloGold Ashanti, what are you plans on that front?

The gold side is very busy; we've got three active joint ventures. The first joint venture we signed with Anglo was in September last year and it was quite interesting how it came about. Anglo have been very successful in Colombia using grassroots exploration, they have discovered La Colosa, which is a 14 million ounce grassroots discovery and a textbook example of the way to do it – go in, find it, drill it out, build a mine. They have two producing mines in Brazil but they don't have a generative exploration team down there. So we went and saw them and said: 'We've identified two areas in Brazil, they have good geological characteristics and they haven't had much exploration'. That's the beauty of Brazil, you can go into these belts with new ideas and when you look at the geology maps and go on the ground it is actually not as it is mapped in some cases. So we put this model to them, they liked it and we were able to structure a deal where we manage all of the operations, it is our team on the ground. They are spending $5.3m with us over the next three years to earn to 51% of any new projects generated within these two target areas. They can then select individual targets and earn up to 70% by completing individual pre-feasibilities on each project. So what does that mean for us? Well it means we could potentially have a free carry to pre-feasibility on any Anglo size project of plus-2 million ounces or, if they're not Anglo size, say they are below 2 to 1.5 million ounces, they come back to us 100%. So basically it is a fully funded exploration programme supported by a major, so that's very exciting and it really rubber stamps the quality of our team and what we are doing – the fact that Anglo is our partner in Brazil.

In September this year with signed another deal with Anglo, this time on our 100% owned gold project called Falcao, up in the Carajas district. All our projects in Brazil are Carajas, simply because it is a world class mining district, it has the infrastructure and you can take projects from discovery to production much quicker in a place like that. This project was discovered by BHP Billiton (LON:BLT) when Nick was the Exploration Manager and it is a very big gold anomaly, about 5.5km long by 2km wide. BHP did some very wide spaced drilling on it because at that stage they had a very high minimum size deposit that they were looking for. Having said that, they were pulling out of gold exploration worldwide just at that time and it was the last project they drilled in South America. On one fence of holes, all of the drill holes are running anomalous gold from top of hole to bottom and there are some very high grade hits as well within some of those holes, so there is something pretty exciting going on there. Anglo has been pushing very hard because it is obviously a target that they can see as having the size criteria they are after. We had a bit of a landowner access problem on that, which we have now resolved, and they have signed a three year deal where they are spending $4.5m on the project and they will be drilling 3,000 metres in Q1 next year there. So, overall, AngloGold are putting just under $10m into us over the next three years.

The final joint venture is with Troy; which was one of the earlier deals we did. We made a small gold discovery, it was never going to be a stand alone mine on its own but it was within trucking distance of their Andorinhas gold mine. So we were faced with the decision – do we go forwards with a small deposit? It was a logical decision that we didn't so we structured a deal with Troy where they can earn into 100% of the project. They had to spend $2.8m on exploration, which they've done, they've drilled about 12,000 metres. Then if they want to earn 100% of it they pay us $2m in cash and pay us $30 an ounce on any gold produced. The anniversary date for that is December this year, so it's clicking around quite quickly, and we see that as short to mid term cash flow because it is within trucking distance of their plant.

So the gold portfolio today is fully funded at no cost to us. We are looking at a couple of advanced assets. I would like to have a 0.5 million to 1 million ounce project that we can develop ourselves although they are not easy to come by with gold where it is. But there are a couple of things out there that haven't been recognised for what they are and that's where we see the upside on those projects.

What has been your approach to balancing your portfolio in light of market conditions for gold and nickel?

I think globally, with gold sitting at a high, everybody has a high valuation on their assets so that's why I like the nickel deal. We were able to do the nickel deal right at the bottom end of the nickel market when everyone was saying: 'We don't want nickel, why are you looking at nickel?' We are fairly bullish on nickel over the mid term and so this is the time to be buying assets, or putting assets together, at the bottom end of the price cycle. Obviously I think there is a good future ahead for gold and we have obviously got a strong portfolio but it would be nice to have some ounces on the balance sheet and the Tangara deal could do that. In the first year on the Anglo programme we generated 18 new targets and in year-two they will go through to drilling. Obviously not all of those will convert to development assets but you only need one and you are there. Equally they may all turn out to be small so we've got to keep our eyes open and be looking at new stuff all the time.

More specifically, what are you thoughts on the medium term outlook for gold and nickel?

Gold – I suspect you're going to see it moving around. I think the global financial crisis has been quite a good leveller because where things like this do happen it is always good to have a holding of bullion. You've got countries like China and India, net buyers now in terms of central banks, so you've obviously got a lot of gold held with ETFs. If that does unwind I think you'll see countries being net buyers, so that obviously keeps that balanced. You have also still got 15-20% of gold being produced out of the high cost end, i.e. the South African operations, which are on the upper end of the cost curve and getting deeper and deeper and more expensive. So the supply side is still relatively restricted on the gold side.

On the nickel side, there has been a bottoming of prices in the last 12 months; a lot of the big operations were closed down. They will start to come back online and there are robust forecasts coming out of China and India. All the time copper and iron are good, nickel is dragged along with them. You have got new operations forecast to come online in the next 12 to 18 months but if you look five years out a lot of the older operations go offline. So long term we are bullish on nickel, I think there is going to be a demand for new nickel coming online and there aren't that many quality projects out there. All of the Brazilian examples sit on the upper end of the grade curve, they're all over 1%, most of them 1.3% to 1.7%, and if you look at the Australian examples, they are 0.8%, 0.9%, so grade is always key. So Brazil is on the upper end of the grade curve and sits on the lower end of the cost curve because Carajas has excellent infrastructure.

Why do you think private investors should take a closer look at Horizonte?

Today we are trading at 12/12.5p, valuing the company at £30m. That values the Araguaia asset at less than one cent per pound in the ground. If you look at our junior company peer group [which includes European Nickel (LON:ENK) and African Eagle Resources (LON:AFE) on AIM, Anfield Nickel (TSXV: ANF), Mindoro Resources (TSXV: MOI) and Heron Resources (ASX: HRR)], you can compare what they are being valued at per pound of nickel in the ground based on their resource. Anfield Nickel is based in Guatemala and has a resource that they're drilling of 49 million tons at 1.3% nickel. They are valued at 6 cents per pound in the ground. At the lower end of the scale, Heron Resources, with a resource of 40 million tons at 0.7%, so it's a lower grade resource, are valued at 2 cents a pound. The average across this peer group is nearly 4 cents a pound. We acquired the project at 0.7 of a cent. Our resource base case will be 100 million tons at 1.3%, so it is almost double Anfield and it is at the same grade. Within that there will be 50 million tons at about 1.5% to 1.6% nickel, so it is high grade. You've got Teck as a shareholder and you are in a country where you have got infrastructure. So when we put the first maiden resource out early next year I would like to see us valued at the 2-3 cent range at least or we are doing something horribly wrong. As we move into next year, going into the pre-feasibility stage, we should be valued at the 5-6 cent range. Now obviously that is not an instant flow through in share price but people can then take the resources and run an NPV calculation.

In terms of the project, are we going to deliver those numbers? Yes, I'm comfortable that we will deliver those. Obviously there are uncertainties – the grade will be the unknown and obviously the timing, will it be Q1, will it be Q2? You can plan for everything but if it really goes to town on the weather it is going to slow us down a bit. But I think over the next six to eight months, from a private investor's point of view, you are going to see a revaluation of the company and I think the TSX listing early next year will also be a revaluation point. That valuation doesn't add anything for the gold side. Effectively, if you are buying in for the nickel you are getting an option on the gold but if you are buying into the gold, you are getting the nickel for free.

So I think from a private investor's point of view there is a lot of upside built into this and it is not pure speculative, this is going to deliver the milestones. It has obviously been a slow build up to this point but I think if you look at us now: we have got two of the biggest mining companies in the world, one is a 50% shareholder and one is a partner, we're funded and we've got the projects to deliver. So there is substance to the story and we are excited about where the company is going.

Thank you for talking to Stockopedia.

Thank you.
---
Disclaimer:
As per our Terms of Use, Stockopedia is a financial news & data site, discussion forum and content aggregator. Our site should be used for educational & informational purposes only. We do not provide investment advice, recommendations or views as to whether an investment or strategy is suited to the investment needs of a specific individual. You should make your own decisions and seek independent professional advice before doing so. Remember: Shares can go down as well as up. Past performance is not a guide to future performance & investors may not get back the amount invested.
---
---

Horizonte Minerals PLC is a United Kingdom-based company engaged in the exploration and development of precious and base metals. The principal activity of the Company and its subsidiaries is the identification, acquisition, exploration and development of mineral projects. The Company operates principally in the United Kingdom and Brazil. The Company wholly owns the Araguaia nickel project, located south of the Carajas mineral district in northern Brazil. It has 85 square kilometers of total license area. more »