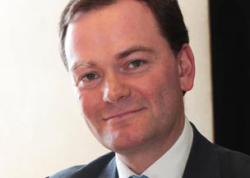 I attended the afternoon of the UK Investor Show held at the ExCel centre in London's docklands today. As a fellow bottom-up stock picker, the most interesting speaker at these events, for me is Mark Slater. He has an excellent track record of finding good GARP (growth at reasonable price) companies, and his various investment funds usually perform well. So he's rightfully a well-respected member of the investing community, as are the team he works with.
His speeches are always full of useful insights into the markets generally, as well as giving listeners some good stock ideas. I hadn't intended writing up a report on his speech today, but seeing as I took pretty thorough notes, thought it would be useful to share them here with you. Anything I missed, please feel free to add in the comments section below, as always this article is intended to be the starting point for a discussion.
There is more detail about Slater's background & investing approach in an article written here in 2011 by Ed Croft, which is still relevant, therefore if you have time I would strongly recommend reading that article first & then coming back to this one, which will save me duplicating background material. Also note that some of the shares mentioned this year by Slater are the same as in 2011, so useful to see what Slater said about them two years ago, and compare with now. He is clearly a long term buy & hold investor, an approach which I like.
Recap on his existing holdings
Slater's speech started with him running through and updating the audience on shares that he mentioned at last year's Master Investor conference. The format for this article is that I will show in bullet points Slater's comments on each company, then below it will show my remarks & brief analysis of each company too.
1250p per share - market cap £402m
Up 18% in last 12 months
High PER of 22 (as an aside Slater said that he always works on forward PER, which makes most sense - i.e. share price relative to the current year's forecast earnings, not historic earnings)
Operates in the LED lighting space, and is clear market leader, especially in hazardous areas.
Highly efficient products, use a lot less energy & heat, and customers gain one year payback on investment.
"Strong tailwind" from market growth, justifies high valuation.
50% turnover growth expected in next two years.
30% p.a. earnings growth.
Slater believes profits could grow from £20m to £70m in the next three years, well ahead of market forecasts.
My comments:
As with most growth companies, Dialight has always looked expensive to me on current year and even next year's forecast profits. But the stand-out comment is Slater's belief that profits could rise from £20m to £70m. If that's correct, then there could still be good upside on the current share price, even after its spectacular run in recent years.
However, another way to look at it, is that if Dialight does get profits up to £70m but no higher, then the PER multiple will fall as it moves from being a growth company to a mature company. Therefore the PER might drop from 22 to say 12, which after tax would give us a market cap of £648m (12 times PAT of £54m based on 20% tax). That's actually not a huge amount more than the current market cap of £402m. So one could argue that a lot of the growth is already priced-in.
So it seems to me the crux is all about researching Dialight's markets, and finding out what competitive pressures there are, and how long the growth can last? I can't form a view on that, as it's beyond my expertise, so will pass on this one. I'm sure Slater and his team have looked into it thoroughly though, so if they believe in it, that's a pretty good starting point for private investors. Personally I'm not comfortable paying so much up-front for future growth which may or may not happen.
1641p per share - £923m market cap
Also on a high PER of about 22
Also has "strong tailwinds" (i.e. favourable market conditions)
Leader in nano-technology
Very high quality business, Slater is hanging onto the shares.
 My comments:
The market cap of £923m prices-in a significant increase in the size of the business, so it's really the same situation as Dialight - if you believe the growth can continue, then it might be worth buying. But it's too pricey for me, and looking at the chart, it's difficult not to come to the conclusion that we've missed the boat. At what price does it become full valued, or even over-priced?
Special Offer: Invest like Buffett, Slater and Greenblatt. Click here for details »
335p per share - £106m market cap
Very high spec cameras
Some order deferrals
PER of 13.5, down to 11 if you strip out cash.
Slater funds have reduced their stake in the last year.
My comments:
Andor looks much more my type of share - on a reasonable PER, and with very healthy cash on the balance sheet. The key issue is why has growth apparently slowed (or stalled), and hence what are the company's prospects? That needs more research.
The dividend yield is unexciting at 1%, but I like that it is still generating a 15% operating profit margin, which tends to indicate good pricing power. Based on my superficial glance at the figures, I'd put this on my watch list, and might start to get more interested if the shares drop further to around the 300p level, or lower. Buying into a down-trend is always risky, as you can end up suffering increasing losses right from the start.
The Stockopedia section below is very useful at getting a snapshot of historic performance and broker forecasts. Note that EPS forecasts dropped sharply in the summer of 2012 from around 30p EPS to around 25p:
Cape (LON:CIU)
327p per share - £396m market cap
 Australian part of business has deteriorated.
Slater has sold them from his growth fund, as it doesn't fit the bill there any more.
14p per share - £13m market cap
 Has done well.
Returned 3.5p per share cash to shareholders.
Slater would be a buyer if he didn't already hold.
Maiden dividend gives a 5% yield.
Rated at only 9 times forward earnings.
20% of market cap is cash.
Well positioned to grow in Europe.
Rail is huge market that they have only scratched the surface of (mainly CCTV in buses so far)
Hang on to them.
My comments:
I like this company, and reviewed its most recent results near the end of this report. My main worry is that they rely on a small number of large contract wins each year, so there is always the chance of a profits warning.
Spanish Mountain Gold (TSX-V:SPA)
A Canadian junior gold company.
Mentioned last year
All junior gold companies have had a hard time.
Sector deeply out of favour.
Has cash.
Clearly a hold, but has not been a good investment.
Overview
Having recapped on most of his existing holdings, Slater then talked about overall market conditions.
In 2009 and 2010 he had said that equities were very cheap.
In the last few months he has become much more conscious of the distortion caused by QE, which has prolonged the bull market in Bonds.
Who in their right mind would lend to a Western Government for minimal return, in fact a negative real return, unless they had to?
Govts have forced people out of cash with ultra low interest rates.
Draghi started QE in the Eurozone.
Japanes now doing dramatic policy moves.
Some sign of recovery in the US economy, or at least stability.
A lot of fresh cash has come into the equity markets recently, esp. in Jan 2013.
IPO markets coming alive again.
Fund Mgrs all saying they don't want to be in cash.
Property REITs have been driven up recently by people chasing dividend yields.
High quality growth companies are now priced a lot higher, at PERs of 18-25.
Mediocre cyclicals are on a PER of 12-15, again much more expensive than last year.
Bond markets clearly distorted & over-priced, hence investors are chasing up equities instead.
He is concerned by these factors, but still prefers equities to anything else.
Equities could still go higher - tend to run higher than you expect in bull markets.
Normally best to ignore bad news - better to be in the markets than out.
Traditional Slater joke - lady with NAN badge! - nothing to do with investment!
Amber warnings are flashing, we're now in the optimism phase of a bull market, not yet in euphoria (the end game)
Be a littley wary - but he's still in equities.
Ideally likes GARP companies, low PEG.
Slater Growth Fund did OK, but less well last year.
Don't be afraid of banking profits at  higher rated companies.
Limit higher PER stocks to just the highest quality companies.
Higher PER shares - the upside all comes from earnings continuing to rise, there is no upside from a re-rating in the PER. So you have to be VERY  confident that the growth will happen.
Slater is now concentrating on growth companies on lower ratings, of PER 10-15, as they have scope for a re-rating still.
Also concentrating now on income shares - dividends are key.
 To continue reading please click here for Part Two
There's
value
in the stock market
but do you know where to look?
Get the most concise synopsis of everything that's been proven to work in value investing. If you like your stocks cheap you've found a treasure trove distilled to under 70 pages.
How to find ultimate Bargain Stocks with Ben Graham
How to spot Turnarounds and avoid Value Traps
From Graham to Greenblatt via Piotroski & Lakonishok
How to value stocks and set a margin of safety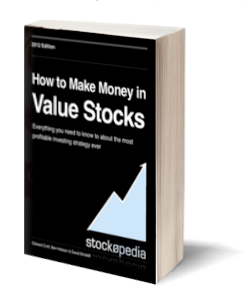 Disclaimer:
As per our Terms of Use, Stockopedia is a financial news & data site, discussion forum and content aggregator. Our site should be used for educational & informational purposes only. We do not provide investment advice, recommendations or views as to whether an investment or strategy is suited to the investment needs of a specific individual. You should make your own decisions and seek independent professional advice before doing so. Remember: Shares can go down as well as up. Past performance is not a guide to future performance & investors may not get back the amount invested.
---
---
Dialight plc is the holding company of the Dialight Group of Companies. The Company is engaged in applied light emitting diode (LED) technology. The Company operates in three segments: Lighting, Signals, and Components. Signals address the demands for Energy Efficient signaling solutions through the use of LEDs and utilization of a range of associated technologies. Areas of business include Traffic Signals and Obstruction Signals. Lighting addresses the demands for Energy Efficient Lighting solutions through the use of LEDs and utilization of a range of associated technologies. Its areas of business include Solid State Lighting products for Hazardous and Non-Hazardous Industrial application. Components segment sales are to Electronics original equipment manufacturers (OEMs) for status indication and residual disconnect components for automotive and industrial applications. more »

Oxford Instruments plc is a holding company. The Company is engaged in the research, development, manufacture and sale of high technology tools and systems. The Company operates in three segments: Nanotechnology Tools, Industrial Products and Service segment. The Nanotechnology Tools segment contains a range of businesses supplying similar products, characterized by a high degree of customization and high unit prices. Its nanotechnology tools include NanoAnalysis, NanoScience, Plasma Technology and Omicron NanoTechnology. The Industrial Products segment contains a range of businesses supplying high technology products and components manufactured in medium volume for industrial customers. The Service segment contains the Company's service business, as well as service revenues from other parts of the Company. more »

Andor Technology plc is a United Kingdom-based company engaged in the development and manufacture of scientific digital cameras for academic, industrial and government applications. The Company operates in three segments: research, microscopy systems and original equipment manufacturing (OEM). Research is engaged in sales of cameras and associated products to academia and government-funded research institutes. Andor's Microscopy Systems business provides high-end imaging solutions that are of primary interest to life sciences research institutes. Andor offers Electron Multiplying charge-coupled device (CCD) (EMCCD), scientific CMOS (sCMOS) and CCD imaging detectors. OEM includes sales of cameras and associated products to instrumentation manufacturers. In October 2013, Andor Technology Plc acquired Spectral Applied Research Inc. In October 2013, Andor Technology plc acquired Apogee Imaging Systems Inc. more »