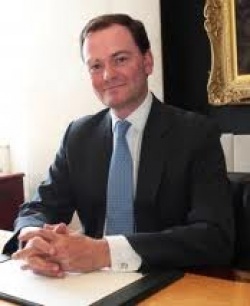 This is a continuation of an earlier post (part 1). I have split them into two parts, as the length of the post was causing formatting problems.
"What would I buy today?"
Mark Slater then circled back to his stock picks, and zoomed in on his current favourites, as follows:
Entertainment One (ETO)
Film distributor
Peppa Pig is doing well
Single digit forward PER, unusual for growth company.
Shares held back by large Sep 2012 Placing.
Modestly geared.
Very low risk.
Benefitting from move online, e.g. NetFlix.
My comments:
I like this one, and the forward PER does indeed look good value for a growth company. I shall wait until the next set of results, due on 23 May 2013.
Huchison China Meditech (HCM)
Share price 541p - market cap £280m
"There's normally something wrong with overseas companies that want to List in the UK"
I couldn't have put it better myself, so I switched off and didn't take notes on this company, but mention it for completeness.
Alliance Pharma (LON:APH)
Share price 36p - market cap £90m
Last two years fairly quiet
Problems largely behind them now.
Buys up old drug rights cheaply.
On a PER of 10.5.
None of brokers have included any growth from acquiring new products.
Growth should actually be double-digit.
My comments:
Very impressive operating profit margin, so they have a lucrative niche. Once debt is factored in though, it looks reasonably priced to me, rather than particularly cheap.
Restore (LON:RST)
Share price 125p - market cap £142m
Document storage company
Cheaper for e.g. solicitors to securely store documents, than more expensive scanning.
Buys smaller companies.
Low PER of 10.8.
More deals likely.
Cineworld (LON:CINE)
Share price 278p - market cap £415m
Has 25% of the UK cinema market Resuming its roll-out, currently has 78 sites. Will add 4 new sites this year, and 5 each year thereafter. ROCE is 20%, so roll out makes commercial sense. Managing its estate well. Digitising screens, so they can be used for other purposes. 11% p.a. growth. PER is quite low at 11.8 Good dividend yield of 4.6%
My comments:
As with almost everything, the shares have had a good run, so the question is whether they are still good value? The PER looks reasonable, but bearing in mind that CINE also has £127m of net debt, then the Enterprise Value is probably about right, in my opinion.
 IG Group (LON:IGG)
Share price 540p - market cap £1.97bn
Clear market leader (in spread betting & CFDs) Still growing, especially outside the UK. PER is 14 times. Dividend yield is good at 4.3% Higher market volatility will increase earnings by 13%.
Galliford Try (LON:GFRD)
Share price 915p - market cap £749m
Bought land cheaply at the right time. PER is reasonable at 12.4 times. Dividend yield of 4.4% Management say will grow rapidly.
 Interserve (LON:IRV)
Share price 481p - market cap £626m
PER of 10 Dividend yield of 4.6% Order book growth. Well positioned in Middle East. Conservative accounting policies. Management are targeting 80% growth in EPS in next three years. This is well ahead of market forecasts. Good operational gearing.
Glaxo SmithKline (LON:GSK)
Share price 1570p - market cap £77bn
Dividend stalwart Drugs shares lead the stock market in the USA, but not in the UK. PER of 13 Dividend yield of 5% Unpopular with investors = good, more likely to be a bargain. Massive & deep pipeline of products. Already passed the "patent cliff" (i.e. expiry for key products) Non-cyclical.
I don't have any views on large caps, so didn't add any of my comments for the last few.
Thanks again to Mark Slater for an informative & enjoyable presentation.
Regards, Paul Scott.
(of the shares mentioned, Paul holds no long or short positions in any of them)
P.S. Sorry for the awful formatting, something has gone wrong with the coding & I've re-done it 6 times now, and it corrupts every time, so it's staying like this now I'm afraid!
Disclaimer:
As per our Terms of Use, Stockopedia is a financial news & data site, discussion forum and content aggregator. Our site should be used for educational & informational purposes only. We do not provide investment advice, recommendations or views as to whether an investment or strategy is suited to the investment needs of a specific individual. You should make your own decisions and seek independent professional advice before doing so. Remember: Shares can go down as well as up. Past performance is not a guide to future performance & investors may not get back the amount invested.
---
---

IG Group Holdings plc is a United Kingdom-based company, which is engaged in online trading. The Company's segments include UK, Australia, Europe and Rest of World. The Company's United Kingdom (UK) segment consists of its operations in the UK and Ireland. The Company's Europe segment consists of its operations in France, Germany, Italy, Luxembourg, the Netherlands, Norway, Spain, Sweden and Switzerland. The Company's Rest of World segment consists of its operations in Japan, South Africa, Singapore, the United States and the United Arab Emirates. The Company offers its clients with trading on a range of instruments, including indices, shares, forex and commodities on various platforms. The Company also allows trading on interest rates, government bonds, exchange-traded funds (ETFs) and a range of other markets. The Company offers a range of services, including contracts for difference (CFDs), spread betting, stockbroking and North American Derivatives Exchange (Nadex). more »

GlaxoSmithKline plc. (GSK) is a healthcare company that researches and develops pharmaceuticals, vaccines and consumer healthcare products. The Company operates in two segments: Pharmaceuticals and Vaccines, and Consumer Healthcare. The Pharmaceuticals segment develops and makes medicines to treat a range of acute and chronic diseases. Its human immunodeficiency virus (HIV) business is managed through ViiV Healthcare. GSK's Vaccines has a portfolio of over 30 paediatric, adolescent, adult travel vaccines. GSK's Established Products Portfolio includes over 50 off-patent products, as well as its branded generics business and other local products. The Consumer Healthcare business develops and markets products in four categories, such as wellness, oral health, nutrition and skin health. Its brands include Sensodyne, Panadol, Horlicks, Polident, Paradontax, Tums, ENO, NiQuitin/Nicorette, Abreva, Zovirax and Aquafresh. It operates in the United Kingdom, the United States, Belgium and China. more »

Interserve Plc is a United Kingdom-based support services and construction company. The Company provides a range of integrated services in the outsourcing and construction markets. It has four operational segments: Support Services, Construction, Equipment Services and Investments. Support Services focuses on the management and delivery of operational services to both public and private-sector clients in the United Kingdom and internationally. Construction segment offers design, development, consultancy and construction services for building and infrastructure projects. Equipment Services operates globally, designing, hiring and selling formwork and falsework solutions for use in infrastructure and building projects. Investments segment is engaged in project-investment activities and manages the Company's equity investments both in Public Private Partnership (PPP) and private-sector projects. more »