Warren Buffett's Shareholder Letter: America's Prospects & $38bn in cash for Berkshire Hathaway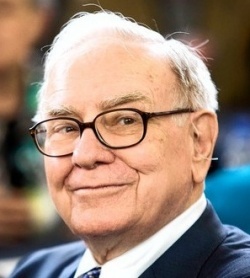 As always, his shareholder letter is of hot interest, and as always he has once again lived up to expectations (Heres the link for the actual letter and this is for those who wish to read the highlights)
1)  His sheer bullishness on America, which considering their failure to yet secure a proper deficit cutting plan, at present I am not sure I agree with.  Also his point on the the housing market recovering over the next year I also have doubts about, as with the sheer fact that they have such an over supply of housing, and high unemployment, at best all I can see is a stoppage of the deterioration (Could possibly be what he means by turnaround).
2)  The fact that they have such a very large amount of cash, $38bn,  at Berkshire Hathaway (NYSE:BRK.A) and Buffet has stated (Emphased even) the fact that he wishes to make a major acquisition with this money.  I have to say I have pretty much no doubt considering his bullishness on the US, that the acquisition will be an American company. 
But it will be very interesting to see where he goes considering he has stated he wishes to further diversify away from the insurance industry, and it could be something to watch.  I would ask if anyone has any ideas of which industry he may be interested in, but knowing Buffet, the chances of you getting it right would be slim, but if anyone has any ideas, please feel free to post them.
3)  His large holding in Tesco (LON:TSCO), he now holds over 242m shares of Tesco, at a buy price at current exchange rates of about 360p.  This I feel is a very good omen for Tesco you would think, to have someone like him holding such a large amount of the company now.  (Note I believe the increase is about 16m shares over the last year or so, but don't quote me on that one)
If anyone would like to add to my points of interest please feel free to do so below.  Also what are peoples feelings on Buffett's letter?  Agreement on America?  I have to be honest I would not like to bet against him, also though I knew he was bullish on the US's prospects, I was not expecting him to be as bullish as he sounds.  Maybe he is right, and our fear of the markets tenative attitude to the US is misplaced?  Remember as he always says, buy when others are afraid, sell when they are bullish.  Though I cannot help but feel though US company balance sheets are exceptionally strong (Combined $1.3tn in cash I believe), at the moment, they are certainly not cheap.
Disclaimer:
As per our Terms of Use, Stockopedia is a financial news & data site, discussion forum and content aggregator. Our site should be used for educational & informational purposes only. We do not provide investment advice, recommendations or views as to whether an investment or strategy is suited to the investment needs of a specific individual. You should make your own decisions and seek independent professional advice before doing so. The author may own shares in any companies discussed, all opinions are his/her own & are general/impersonal. Remember: Shares can go down as well as up. Past performance is not a guide to future performance & investors may not get back the amount invested.
---
---

Tesco PLC is a retail company. The Company is engaged in the business of retailing and retail banking. The Company operates in four segments: UK, Asia, Europe and Tesco Bank. It has retailing and associated activities (retail) operations across the United Kingdom, Asia and Europe. It is engaged in the retail banking and insurance services through Tesco Bank in the United Kingdom (Bank). The Bank offers a range of personal banking products, which include mortgages, credit cards, personal loans and savings. The Company operates approximately 7,817 shops around the world. Its subsidiaries include Tesco Stores Limited, One Stop Stores Limited, Tesco Ireland Limited, Tesco-Global Stores Privately Held Co. Limited, Tesco Polska Sp. z o.o., Tesco Stores CR a.s., Tesco Stores SR a.s., Homeplus Co. Limited and Homeplus Tesco Co. Limited, among others. more »