Why Ben Graham Would Probably Have Liked Molins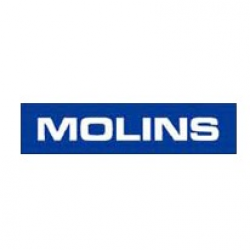 Next on my whistle-stop tour of the bargain bucket bin is Molins.  It's an international business designing and making machinery for high-volume consumer goods like food and tobacco. It also supplies related services as well.

As with most of these low debt, low P/B companies it's a small-cap with a market value of just over £20m.

It has borrowings of about £6m and cash of about £12m.

Sales are over £80m which is almost four times the market cap.

There's also a reasonable history of dividend payments and the yield is currently almost 5%, which is a bit of a bonus. 
But, I'm a system-addict so I can't get ahead of myself with excitement. Let's fill in those simple numbers first:
The numbers, step-by-step:
Price to book = 0.43
price to tangible book = 0.6
Price to Sales = 0.25
Net cash = £6m
So it's a classic low debt manufacturing business selling at a large discount to tangible assets, something that Graham and Schloss spent much of their time investing in.
Are they about to go bust?
Not that I can see. The latest news and annual report just seem to confirm that the company is bumping their way through the economic landscape, just as they have since 1912.
A toe in the water
I'm not much of a stock picker. One of the things that differentiates me from most value investors is that I have little faith in the benefits of extremely deep analysis.  I prefer to stick to a small number of key factors and ignore the rest.

Other than in rare cases, I think it's almost impossible to beat the market by working harder and analysing deeper than everyone else. There are just too many smart people working long hours across the globe for me and my little 3lb brain to have any chance of success by being BETTER or SMARTER than everyone else.

However, I think it is possible to beat the market if you are DIFFERENT from everyone else (or at least from the vast majority of market participants).

In my case that primarily means buying out of favour stocks (the central theme of value investing) and holding them longer than most other investors, a process known as time-arbitrage.

For these small-cap stocks I have a fixed holding period of 5 years because that seems to be the time horizon over which the most outperformance can be had for the smallest amount of effort.

And on that note Molins has joined the 21st century net-net portfolio with a 1.7% weighting (1/60th). You can see the existing holdings below and how some of them have already jumped up in value.
The difficult part is to fight the urge to do something, to be clever and make a quick 25% in a month. Short-term trading is so alluring and that's why so many stock pickers do it because the gains can look fantastic. However, in the longer-term it almost never works out and many short-term investors find themselves on the road to day-trading hell.
---
Disclaimer:
This article is for information and discussion purposes only and nothing in it should be construed as a recommendation to invest or otherwise. The value of an investment may fall and an investor may lose all their money. Any investments referred to in this article may not be suitable for all investors.  Investors should always seek advice from a qualified investment adviser.
---
---

Molins PLC is a United Kingdom-based technology and services company. The Company is engaged in providing high performance instrumentation, machinery and analytical services to the fast-moving consumer goods (FMCG), healthcare and pharmaceutical sectors, together with aftermarket support. It operates through three segments: Scientific Services, Packaging Machinery and Tobacco Machinery. Scientific Services segment supplies and supports the process and quality control instruments and analytics machinery to the tobacco industry, as well as the supply and support of equipment to other industrial sectors. Packaging Machinery segment supplies automated product handling, cartoning and robotic end-of-line packaging machinery and systems, and operates from three locations in Mississauga, Canada, Wijchen in the Netherlands and in Singapore. Tobacco Machinery segment designs, manufactures, markets and services specialist machinery for the tobacco industry and provides aftermarket support. more »