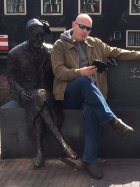 Real Name: Simon
Occupation: Blogger, Private Investor
Interests: Funds, Stocks
Location: Bournemouth
Twitter: @BrilliantLeader
About Me:
I have been an active private investor since the mid 1990s and while I have made healthy gains overall, I am the first to acknowledge that although having learnt much already, I still have plenty more to learn. I started the Share Knowledge blog in 2011 in order to share my research, commentary and investment ideas. Since then, the readership base has grown at a healthy rate and continues to do so. The site is entirely non-commercial and carries no advertising or sponsored links, other than a referral button for Stockopedia.
I am primarily interested in investing and commenting on growth companies. I try to avoid early stage growth or so called 'blue sky' stocks having been burnt on these too many times. These days my sweet spot is to focus on companies that are transitioning into or growing profitability. Typically, my investment time frame when I take a position in a share is 3-5 years and I try to take a strategic perspective, ignoring short-term price fluctuations, while ensuring that the investment case remains valid and risks are assessed.

Investment Strategy
I trade...
a few times per year
I tend to buy...
after much research
Diversification is ...
essential to reduce risk
I generally have an appetite for relatively smallcap shares with solid or spectacular growth potential. In theory, this often carries a higher risk profile than investing in so called blue chip shares. However, I believe that with smaller companies in particular, private investors can gain an advantage if they conduct solid research, paying particular attention to risk management – not just the upside potential. I try to avoid frequent trading and have a preference to buy and hold my investments for months or years while remaining vigilant of changing circumstances. I also have a self-imposed policy of not using leveraged instruments in my own investment transactions.
Blog

My Share Knowledge blog is where I diarise my ongoing attempts to 'beat the stock market'. It is a never ending challenge of course because investing in shares is not a one way bet. My aim is to balance risk and reward to push the odds of success in my favour.
Find out More »
Crazycoops's Latest Blogs
Crazycoops's Latest Comments
crazycoops's Top Awards
12
crazycoops has 28 followers including:
and 20 more.