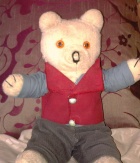 Real Name: Richard
Occupation: Private Investor, Other
Interests: Asian Markets, Bonds, Commodities, Derivatives, Economics, Emerging Markets, Forex, Gold, Interest Rates, International Stocks, Oil, Property, Stocks
About Me:
A bit of a perfectionist (iNTj to boot), just slightly OCD but I work hard to break habits as well. Rapidly turning into a curmudgeonly conservative, but still willing to change if an alternative presents itself.  Aiming to start my own business within the next couple of years...
Investment Strategy
I trade...
a few times per year
I tend to buy...
after much research
Diversification is ...
a hedge for ignorance
Behold, the fool saith, "Put not all thine eggs in the one basket" -- which is but a manner of saying, "Scatter your money and your attention"; but the wise man saith, "Put all your eggs in the one basket and -- watch that basket!".
TamesisChild has 0 followers :