289 Reads (3 mins read)
Is Talktalk Telecom's (LON:TALK) dividend payment about to get cut again?
6th Mar by

Jack Brumby
Investors love dividends but when business fortunes fade, these payments to shareholders can end up doing more harm than good. When a company is forgoing profitable investment opportunities just to make its dividend payment, you have to wonder whether or not a cut is around the corner...
This could end up being the case with Talktalk Telecom (LON:TALK), which pays a 2.5p rolling dividend. The provider of fixed line broadband, voice telephony, mobile and television services might serve over four million residential and business customers, but it still posted a net loss of £3M for the six months ended 30 September 2018.
A quick analysis of the company shows that shareholders ought to be seriously concerned about the sustainability of its dividend, even after accounting for two dividend cuts in two years...
GET MORE DATA-DRIVEN INSIGHTS INTO LON:TALK »
Is Talktalk Telecom (LON:TALK)'s dividend cover below 1.0x?
Dividend cover is an important dividend health metric and is calculated by dividing earnings per share divided by dividend per share (EPS/DPS). The usual rule of thumb is that dividend cover of less than 1.5x earnings can become a concern.
The rolling dividend cover is based on projected dividends and earnings. Talktalk Telecom's (LON:TALK) rolling dividend cover is 1.83, which is a pass.
The historic dividend cover is, of course, based on historic dividends and earnings. Talktalk Telecom's historic dividend cover is -0.42.
TalkTalk's historic dividend cover fails our test, suggesting that the dividend could be at risk. That said, dividend cover is expected to improve as long as the company can steer clear of further exceptional costs.
Does Talktalk Telecom (LON:TALK) have a strong balance sheet?
Another way of thinking about dividend safety is to instead look at a company's balance sheet strength. A highly leveraged company that struggles to meet its short-term liabilities is more likely to cut its dividend than a well-financed one.
A safe level of gearing (debt to equity) on the balance sheet is generally considered to be 50 percent or less. Talktalk Telecom's (LON:TALK) gearing ratio is 317.5% - well above the 50% threshold.
The current ratio (current assets / current liabilities ) gauges a company's capacity to service short term debts. A current ratio of less than one can be cause for concern. Talktalk Telecom's (LON:TALK) current ratio is 0.68 - below our 0.8x cut-off point.
Does Talktalk Telecom have enough cash?
Shareholders could take additional steps to analyse dividend safety by comparing Free Cashflows Per Share (FCF PS) with the Dividend Per Share (DPS). Talktalk Telecom generated -1.91 in FCF PS. This is lower than the dividend payout 2.5p and indicates that the company has not generated enough FCF to sustain dividends over the past twelve months.
Revenues did increase 1% to £808M in its H1 results as a result of an increase in demand for the Company's products and services due to favorable market conditions. That said, a quick look at the Broker Consensus Trend chart shows a clear deterioration in earnings expectations across a group of 12 brokers: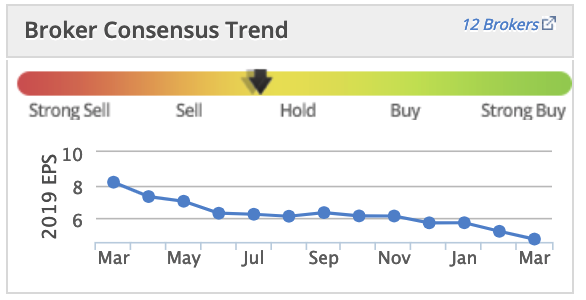 TalkTalk (LON:TALK) might be a well-known name, but it is clear that the company has to work hard to turn its operational fortunes around. Bearing this in mind, questions must be raised about whether the cash set aside for dividend payments might be better used elsewhere.
Income investing: what you need to know
For many investors, dividends are a vital part of their long-term strategy. That's why we have created a variety of income-focused stock screens, such as the Best Dividends Screen, to identify promising candidates for income portfolios. Take a look and see if any of the qualifying stocks might be worthy of further research.
As for Talktalk Telecom (LON:TALK), you can find a wealth of financial data on the group's StockReport, including information on the group's past and forecast dividend payments. If you'd like to discover more about dividend investing, you can read our free ebook: How to Make Money in Dividend Stocks.
Share this article