567 Reads (2 mins read)
Is the Boral (ASX:BLD) share price too cheap?
2nd Apr '19 by

Jack Brumby
If you find a well-covered, steadily rising dividend payment paired with strong and improving financial health, chances are you are looking at a high-quality company. 
Take Boral (ASX:BLD), for example, which is a conservative contrarian company in the Basic Materials sector. The group is engaged in the provision of building and construction materials and recent half-year results suggest business is good, with revenue up 5% to A$2.93bn and net income up 10% to A$190.4m. Despite these results, market conditions have led to the group nearly halving in market cap value over the past year: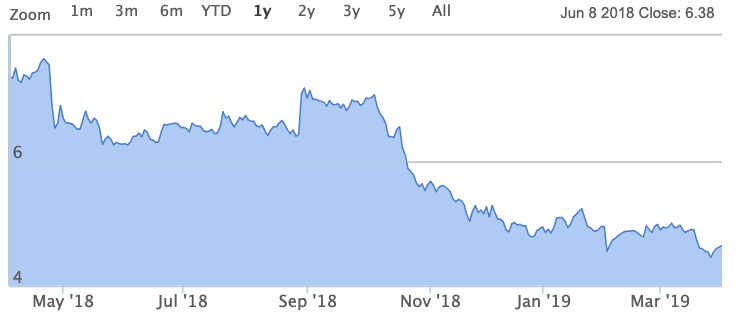 Boral (ASX:BLD) pays out a rolling 5.80% of its share price in dividend payments. I'd like to know if it can continue paying out this dividend. A good starting point would be to analyse any improvement or deterioration in financial health.
This is exactly what the Piotroski F-Score is designed to do.
GET MORE DATA-DRIVEN INSIGHTS INTO ASX:BLD »
Why the Piotroski F-Score matters
Celebrated accounting professor Joseph Piotroski is the man behind the F-Score: a simple indicator to highlight stocks showing the most likely prospects for outperformance amongst a basket of apparently undervalued companies.
The great thing about the F-Score is that it essentially is an entire quality and fundamental momentum screen in a single number. It's made up of nine checks separated into three main areas of financial analysis. First is profitability, where it examines operating profits and cash flow to make sure the business can sustain itself and pay dividends. Then come three checks on the capital structure of a business, followed by a final look at the firm's operating efficiency.
Stocks scoring 8 or 9 are considered strong. Those scoring 2 or less are considered weak. 

What Boral's (ASX:BLD) F-Score means
Stockopedia applies algorithms to its stream of financial data to automatically calculate the Piotroski F-Score for every stock on the market. It shows that Boral (ASX:BLD) scores 8 out of a possible 9. By investing in companies scoring 8 or 9 by these measures, Piotroski showed that, over a 20-year test period through to 1996, the return earned by a value-focused investor could be increased by an astounding 7.5% each year. Even better, it suggests that the company is well-placed to continue to pay out attractive dividends.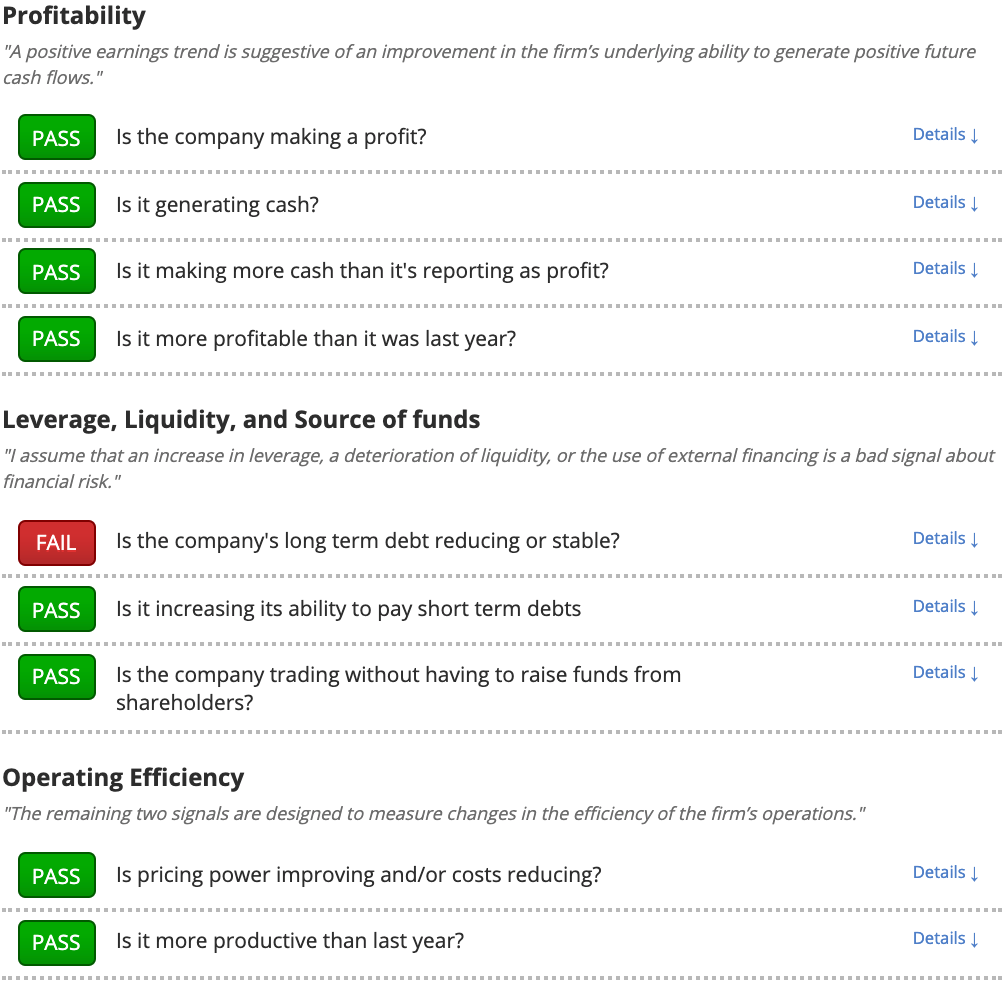 What does this mean for potential investors?
Boral has an F-Score that suggests it could be a promising investment candidate worthy of further research - but it's only a first step. Higher F-Score stocks can still have weaknesses and may trade at premium prices compared to other stocks. We've identified some areas of concern with Boral that you can find out about here.

Alternatively, if you'd like to find more shares with high F-Scores, just come and take a look at this High F-Score screen.

Share this article