495 Reads (3 mins read)
Is Transurban's (ASX:TCL) share price is at risk?
2nd Apr '19 by

Jack Brumby
"At the end of the day, the most important thing is how good are you at risk control."
So said legendary stock trader Paul Tudor Jones. Investors would do well to heed his advice. Big losses are the death knell to a portfolio, and that's why great investors focus on risk just as much as returns - no matter how tempting it is to get carried away with future prospects.
Some very smart people have come up with proven checklists over the years that can drastically improve risk management with minimal effort. One of them was found to be:
72% accurate in predicting bankruptcy two years prior to the event in its initial test
80-90% accurate in predicting bankruptcy one year before the event in the 31 years up until 1999
I'm talking about the Altman Z-Score, which measures the degree to which a stock resembles companies that have gone bankrupt in the past. Clearly, avoiding the stocks this checklist highlights could save us a lot of pain in the long run. And what it says about Transport Infrastructure operator 
Transurban (ASX:TCL) might well be keeping the group's chief financial officer, Adam Watson, up at night...
GET MORE DATA-DRIVEN INSIGHTS INTO ASX:TCL »
How the Altman Z-score works and why Transurban shareholders should pay attention
Interpreting the Z-Score is simple. Any Z-Score above 2.99 is considered to be a safe company. Those with a Z-Score of less than 1.8, on the other hand, have been shown to have a significant risk of financial distress within two years. As we mentioned earlier, numerous historical studies have shown the Z-Score to be an accurate predictor of imminent financial distress for those companies that score less than 1.8.
If we apply it to Transurban (ASX:TCL) what do we get? A Z-Score of 1.18 - well below the cut-off point that signals potential distress. Here is how exactly the group fails: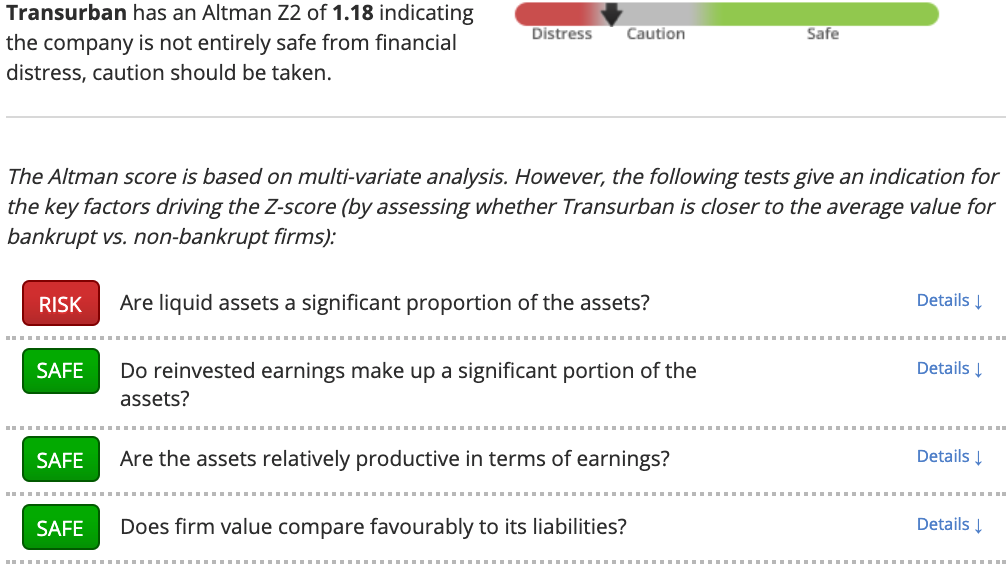 We can see that, even though Transurban scores poorly, it only actually fails one check. What's more, the liquidity check it fails is considered to be the least significant of the five factors.
Using the Z-Score to protect your portfolio
The Z-Score has proven very effective in predicting business distress. It measures how closely a firm resembles other firms that have filed for bankruptcy by looking for red flags in the following areas:
Current assets as a proportion of total assets,
Cumulative profitability and use of leverage,
Productivity of assets, and
Firm value compared to liabilities
Anthony Bolton, the well-regarded investment fund manager, once said: "When I analysed the stocks that have lost me the most money, about two-thirds of the time it was due to weak balance sheets. You have to have your eyes open to the fact that if you are buying a company with a weak balance sheet and something changes, then that's when you are going to be most exposed as a shareholder." Using the Z-Score to identify and avoid this type of stock seems like a smart way to manage risk.
Fortify your portfolio with simple, effective tools
The problem areas for Transurban identified here can be explored in more depth on Stockopedia's research platform. All the best investors have stringent due diligence processes that reduce the chances of them suffering big losses, so why not take a leaf out of their book?
Simple tools can help us better measure and understand the risks we take. That's why the Stockopedia team has been busy building new ways of understanding investment risks and company characteristics. In this webinar, we talk about two or our most popular innovations: StockRank Styles and RiskRatings. These indicators transform a ton of vital financial information into intuitive classifications, allowing you to get an instant feel for any company on any market - sign up for a free trial to see how your stocks stack up.

Share this article