694 Reads (2 mins read)
Premier Oil's (LON:PMO) share price: is the market being too fearful?
18th Mar '19 by

Jack Brumby
Some stocks excite investors by talking up future growth prospects, while others point to heavily-adjusted vanity metrics.
Honing in on the data that tell us what's really going on can save us a lot of time and pain. At Stockopedia, we read through academic studies and backtest strategies to identify these key measures. One of the most promising we have found so far is Piotroski's F-Score - and the F-Score has good news for shareholders of mid-cap oil and gas explorer Premier Oil (LON:PMO).
GET MORE DATA-DRIVEN INSIGHTS INTO LON:HBR »
What makes the Piotroski F-Score so good?
Followers of celebrated accounting professor Joseph Piotroski are well aware of the checklist that made him famous at the turn of the millennium. Piotroski is behind the F-Score: a single number that acts as both a quality and fundamental momentum screen. In quantifying the financial trend of a company, the F-Score differentiates itself from other metrics by focusing on the direction of travel.

The F-Score is made up of nine checks split up into three main areas of financial analysis. First is profitability, where it examines operating profits and cash flow to make sure the business can sustain itself and pay dividends. Then come three checks on the capital structure of a business, followed by a final look at the firm's operating efficiency.
Premier Oil (LON:PMO)'s F-Score: what does it mean?
Premier Oil (LON:PMO) gets an F-Score of 8 out of 9. In his landmark academic paper "Value Investing: The Use of Historical Financial Statement Information to Separate Winners from Losers", Piotroksi showed that by investing in companies scoring 8 or 9 by these measures over a 20-year test period through to 1996, investor returns could be increased by an astounding 7.5% each year. Here is Premier Oil's F-Score in slightly more detail: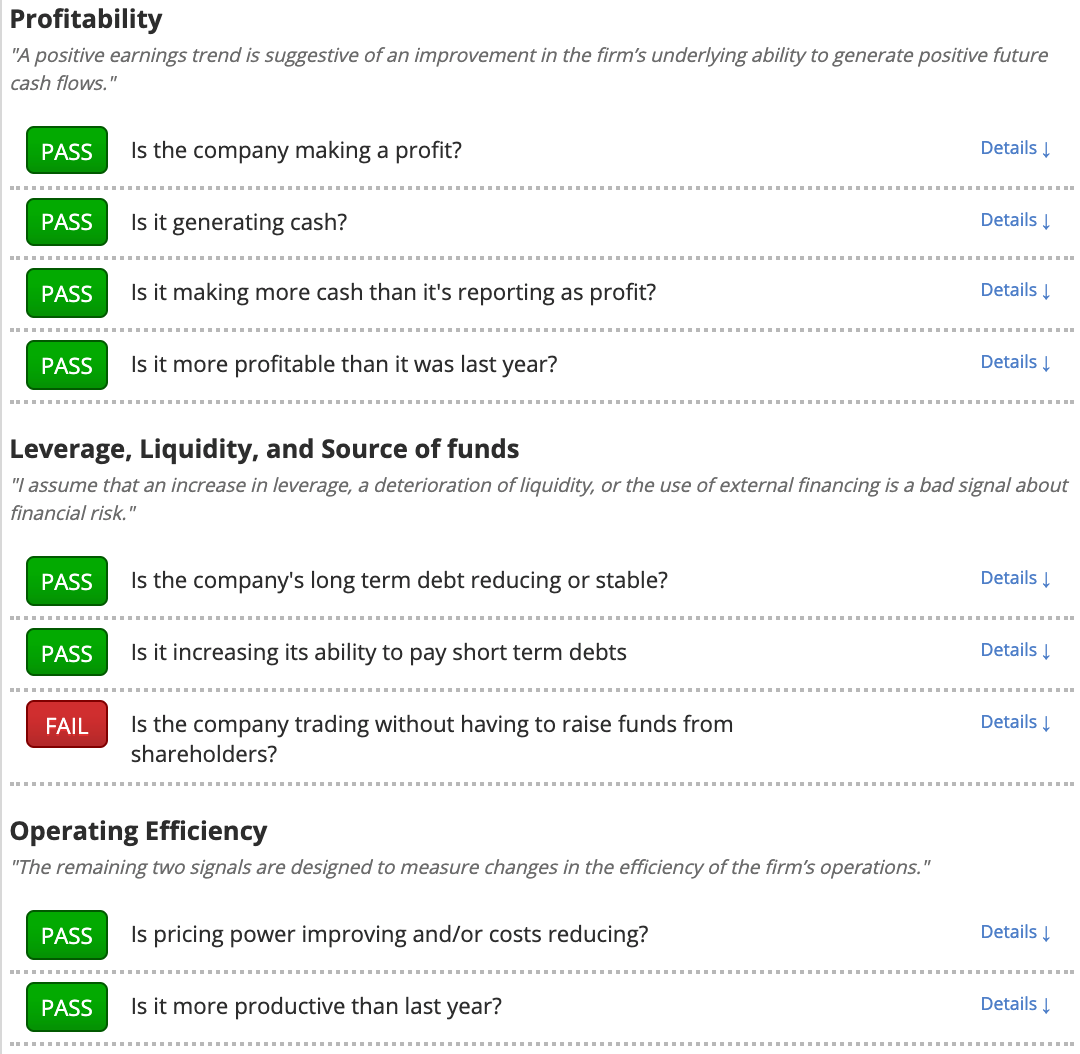 Of course, there are other elements to consider as well - a high F-Score alone does not equal a safe investment, merely that a company's prospects appear to be improving. Premier Oil still carries £2.3bn of net debt on its balance sheet (albeit down 16% from a high of £2.7bn in FY16) and, as with any oil explorer and producer, its profitability is closely tied to the price of oil.
What does this mean for potential investors?
Harbour Energy has an F-Score that suggests it could be a promising investment candidate worthy of further research - but it's only a first step. Higher F-Score stocks can still have weaknesses and may trade at premium prices compared to other stocks. We've identified some areas of concern with Harbour Energy that you can find out about here.

Alternatively, if you'd like to find more shares with high F-Scores, just come and take a look at this High F-Score screen.

Share this article