201 Reads (2 mins read)
The Northgate share price: poised for recovery?
11th Jul by

Jack Brumby
Anybody who has watched Indiana Jones or Monty Python will know to beware holy grail-based quests. But what if we said that there was not only a holy grail in equity investing, but that the famed SocGen Global Equity team actually found it in 2012 (with a little help from Professor Piotroski...)?
The 'SG Quality Income Index' tracks yield and quality. Many in the market now appreciate that both higher 'quality' stocks and higher yielding stocks tend to outperform, but according to the research note, stocks that share both qualities put together standout total returns that have averaged 11.6% per year since 1990, more than doubling the return of the global equity markets at a significantly reduced volatility.
This 'holy grail' stock is, simply, one with a Piotroski F-Score of more than 7 and an above-average dividend yield. Using the financial data computed and included in Stockopedia's StockReports, we can instantly check whether our own stocks meet these criteria and screen the market for new candidates.
Let's take Northgate (LON:NTG) as an example.
GET MORE DATA-DRIVEN INSIGHTS INTO LON:NTG »
Checking the quality-income characteristics of Northgate
The first point to check is Northgate's Piotroski F-Score. As mentioned above, any score above 7 gets this company past the first hurdle. A quick look at the group's StockReport shows a passing F-Score of 8.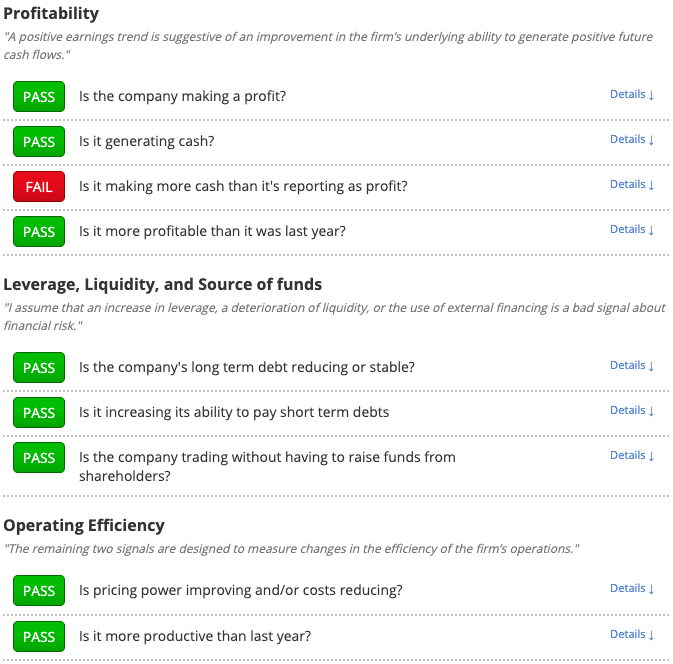 Next up is the income check. Northgate pays out a rolling dividend yield of 5.19% (covered 2.08 times) rising to 5.31% covered more than two times - an attractive yield by any standards.

Find more high-quality stocks
This F-Score suggests Northgate is a promising investment candidate and is worthy of further research - but it is only a first step. Higher F-Score stocks often trade at a premium compared to other stocks. Investors like to pay up for quality but it's important not to pay too much. We suggest checking the various value factor measures for Northgate on the group's StockReport.
For years, the Stockopedia team have been poring over studies to see what works in investing. That's how we found the F-Score, but that's not all we've found... So take a two-week free trial today to see how Stockopedia can help you to build a better portfolio.

Share this article