1182 Reads (2 mins read)
Two financial risks weighing down Dixons Carphone's share price
16th May by

Jack Brumby
Screening out weak balance sheets is one of the most effective ways of reducing risk in your portfolio.
One simple way to do this is to apply Stockopedia's take on the Altman Z-Score, a checklist that was found to be up to 80-90% accurate in predicting bankruptcy one year before the event in the 31 years up until 1999 in the original study. We can see it in action by applying it to Consumer Cyclicals group Dixons Carphone (LON:DC.).

GET MORE DATA-DRIVEN INSIGHTS INTO LON:DC. »
The Altman Z-Score doesn't like Dixons Carphone

Unfortunately, Dixons Carphone fails Altman's test, with a worryingly low Z-Score of -0.082. This is well below the distress threshold of 1.8 and suggests that the group is heading for financial distress within the next two years.
Here's exactly how Dixons Carphone fails the Z-Score: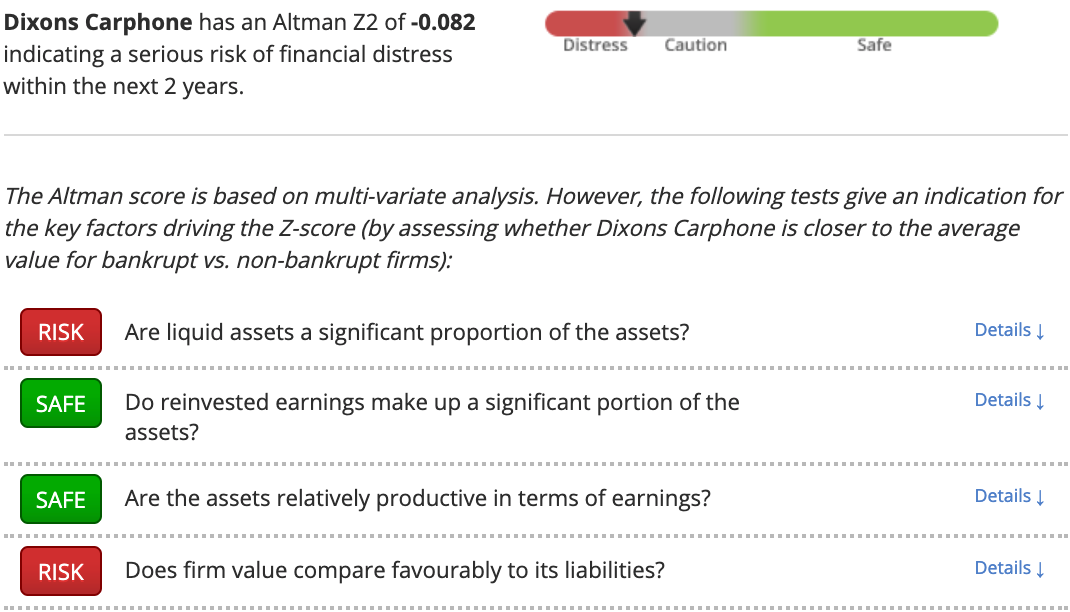 Fortify your portfolio with simple, effective tools
The problem areas for Dixons Carphone identified here can be explored in more depth on Stockopedia's research platform. All the best investors have stringent due diligence processes that reduce the chances of them suffering big losses, so why not take a leaf out of their book?
Simple tools can help us better measure and understand the risks we take. That's why the Stockopedia team has been busy building new ways of understanding investment risks and company characteristics. In this webinar, we talk about two or our most popular innovations: StockRank Styles and RiskRatings. These indicators transform a ton of vital financial information into intuitive classifications, allowing you to get an instant feel for any company on any market - sign up for a free trial to see how your stocks stack up.

Share this article