421 Reads (3 mins read)
Why the future looks bright for Bca Marketplace's (LON:BCA) share price
8th Mar by

Jack Brumby
In investing, knowing which numbers you should pay attention to and which you should discard is half the battle. Honing in on the measures that tell us what's really going on can save us a lot of time and pain. It also allows us to move faster than the competition.
At Stockopedia, we strive to identify these key measures. One of the most useful we have found so far is Piotroski's F-Score - and the F-Score has good news for shareholders of mid cap High Flyer Bca Marketplace (LON:BCA), which operates in the Consumer Cyclicals sector.
BCA Marketplace plc, formerly Haversham Holdings plc, owns and operates in the United Kingdom and Europe's used-vehicle marketplace with its We Buy Any Car brand. The Company operates through three divisions: UK Vehicle Remarketing, International Vehicle Remarketing and Vehicle Buying, offering a range of digital and physical pre and post-auction services.
GET MORE DATA-DRIVEN INSIGHTS INTO LON:BCA »
Bca Marketplace (LON:BCA): strong recent performance
The group has been a strong performer recently, as shown in its five-year income history:

For the six months ended 30 September 2018, BCA Marketplace PLC revenues increased 22% to £1.43B and net income increased 35% to £34.9M. Given this encouraging financial performance, does its financial health match up?

Why we should pay attention to the Piotroski F-Score
Followers of celebrated accounting professor Joseph Piotroski are well aware of the checklist that made him famous at the turn of the millennium. Piotroski is behind the F-Score: a simple indicator to highlight stocks showing the most likely prospects for outperformance amongst a basket of neglected companies.
The great thing about the F-Score is that it is essentially an entire quality and fundamental momentum screen in a single number, succinctly summing up the financial health trend of a company. Applying it as a filter on top of almost any strategy can help to increase returns and reduce risk.

Bca Marketplace (LON:BCA)'s F-Score: what does it mean?
Bca Marketplace (LON:BCA) scores 8 out of a possible 9. In his landmark academic paper "Value Investing: The Use of Historical Financial Statement Information to Separate Winners from Losers", Piotroksi showed that by investing in companies scoring 8 or 9 by these measures over a 20-year test period through to 1996, investor returns could be increased by an astounding 7.5% each year. Below, you can see exactly how LON:BCA stacks up against the checklist.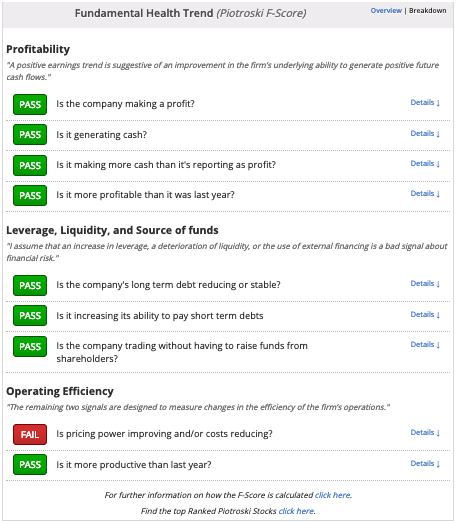 Find more high-quality stocks
This F-Score suggests Bca Marketplace is a promising investment candidate and is worthy of further research - but it is only a first step. Higher F-Score stocks often trade at a premium compared to other stocks. Investors like to pay up for quality but it's important not to pay too much. We suggest checking the various value factor measures for Bca Marketplace on the group's StockReport.
For years, the Stockopedia team have been poring over studies to see what works in investing. That's how we found the F-Score, but that's not all we've found... So take a two-week free trial today to see how Stockopedia can help you to build a better portfolio.

Share this article