125 Reads (2 mins read)
Why the Iomart share price might encounter turbulence
19th Mar by

Michael Green
Stockopedia's 'High Flyers' are the stock market superstars. These companies tend to be the ones that fund managers jostle and barter over. They are high quality, growing stocks with a history of beating estimates - and Iomart (LON:IOM) is one of them.
Iomart is a small cap stock in the Internet Services industry. When we analyse Iomart from a factor perspective, we find that it has a Quality Rank of 93, a Momentum Rank of 63, but a Value Rank of only 23. This is the classic factor profile of a High Flyer.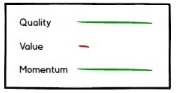 A combination of high quality, high momentum and low value is great when earnings go up but a bad place to be when things go wrong. 

GET MORE DATA-DRIVEN INSIGHTS INTO LON:IOM »
What kind of High Flying stock is Iomart?
So, High Flyers tend to be riskier and more volatile than the market average. But is this true of Iomart?
We can find out quickly by applying Stockopedia's RiskRatings system, which splits the stock market into five buckets according to stock price volatility. The five classifications (from least to most volatile) are:

Conservative (10% of the market)
Balanced (15% of the market)
Adventurous (20% of the market)
Speculative (25% of the market)
Highly Speculative (30% of the market)
Iomart is an adventurous stock. This means that the group is in the more volatile half of the market in terms of stock price volatility, as might be expected of a High Flyer. Those looking to invest here should prepare themselves for a potentially bumpy ride. 
That said, we can see from Iomart's above average five-year return on capital employed figure of 15.1% that the group has been highly profitable over multiple years. This suggests that Iomart can back up its favourable factor exposures and volatility characteristics with some kind of economic moat.

Find the rockstars of the stock market
High Flyers are great stocks to have in your portfolio if you think you need more momentum or quality - just look out for signs that momentum might be changing. If you want to see which other stocks qualify as High Flyers, you can find a comprehensive list on Stockopedia's StockRanks page.
Simple tools can help us better measure and understand the risks we take. That's why the Stockopedia team has been busy building new ways of understanding investment risks and company characteristics. In this webinar, we talk about two or our most popular innovations: StockRank Styles and RiskRatings. These indicators transform a ton of vital financial information into intuitive classifications, allowing you to get an instant feel for any company on any market - sign up for a free trial to see how your stocks stack up.
Share this article