619 Reads (2 mins read)
Why there are downside risks to Bango's (LON:BGO) share price
22nd Mar '19 by

Jack Brumby
Bango (LON:BGO) operates the Bango mobile payment platform, which enables smartphone users to make payments for digital content and media on phones and tablets.
For the six months ended 30 June 2018, Bango plc revenues increased 54% to £2.6M, but net loss increased 10% to £1.9M. A quick look at the company's StockReport shows that, while revenue has floundered, the group has been consistently loss-making for the past five years:

Unfortunately, applying the Piotroski F-Score to this small cap doesn't do much to dispell these concerns... We'll get into this later, but first a quick refresher on what the F-Score means.
GET MORE DATA-DRIVEN INSIGHTS INTO LON:BGO »
The Piotroski F-Score: one indicator to rule them all?
The Piotroski F-Score is a nine-strong checklist split up into three sections, each looking at a different part of a company's financial situation. Its secret sauce is that, unlike most ratios, the F-Score looks more deeply into the direction in which a company's financial health is moving. Keeping on top of these trends can help us stay ahead of the game.
When a stock gets beaten down it ends up in the bargain basement of the stock market. From here there are generally three outcomes. The stock either:
Stumbles along, zombie-like,
Tumbles into administration, or
Recovers emphatically
Stanford Finance Professor Joseph Piotroski wanted to sort the wheat from the chaff. After settling on the F-Score, he produced some astonishing results.
The F-Score really does not like Bango (LON:BGO)
Piotroski found that weak stocks with an F-Score of 1 or less are five times more likely to either go bankrupt or delist due to financial problems. 
Working through the checklist, we can see that Bango has the dubious honour of one of the few listed stocks to score 1 out of a possible 9.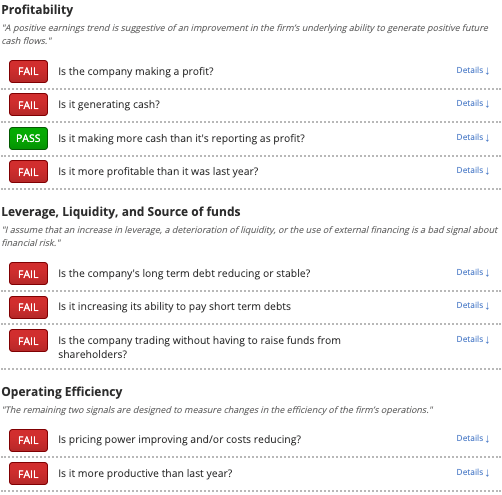 Bango's share price performance has been pretty miserable over the past year.

Unfortunately, the group's F-Score suggests that there is more likelihood of a surprise to the downside than the upside in the months ahead.
Fortify your portfolio with simple, effective tools
The problem areas for Bango identified here can be explored in more depth on Stockopedia's research platform. All the best investors have stringent due diligence processes that reduce the chances of them suffering big losses, so why not take a leaf out of their book?
Simple tools can help us better measure and understand the risks we take. That's why the Stockopedia team has been busy building new ways of understanding investment risks and company characteristics. In this webinar, we talk about two or our most popular innovations: StockRank Styles and RiskRatings. These indicators transform a ton of vital financial information into intuitive classifications, allowing you to get an instant feel for any company on any market - sign up for a free trial to see how your stocks stack up.

Share this article