866 Reads (2 mins read)
Will N Brown's (LON:BWNG) share price suffer because of its poor F-Score?
19th Mar '19 by

Jack Brumby
It's hard to keep tabs on hundreds of companies, but that's what we have to do if we want to find overlooked investment opportunities.
Thankfully there are measures like the Piotroski F-Score, which distill a wealth of financial data into one easily comparable score. Unfortunately, what the F-Score algorithm says for Simply Be and Jacamo operator N Brown (LON:BWNG) is not good. First a little bit more on what this number means.
GET MORE DATA-DRIVEN INSIGHTS INTO LON:BWNG »
What the Piotroski F-Score says about N Brown (LON:BWNG)
The Piotroski F-Score is a nine-strong checklist split up into three sections, each looking at a different part of a company's financial situation. Unlike most ratios, the F-Score looks more deeply into the direction in which a company's financial health is moving.
Piotroski found that weak stocks with an F-Score of 2 or less are five times more likely to either go bankrupt or delist due to financial problems. Working our way through Piotroski's checklist, we can see that N Brown (LON:BWNG) gets a lowly F-Score of 2 out of a possible 9...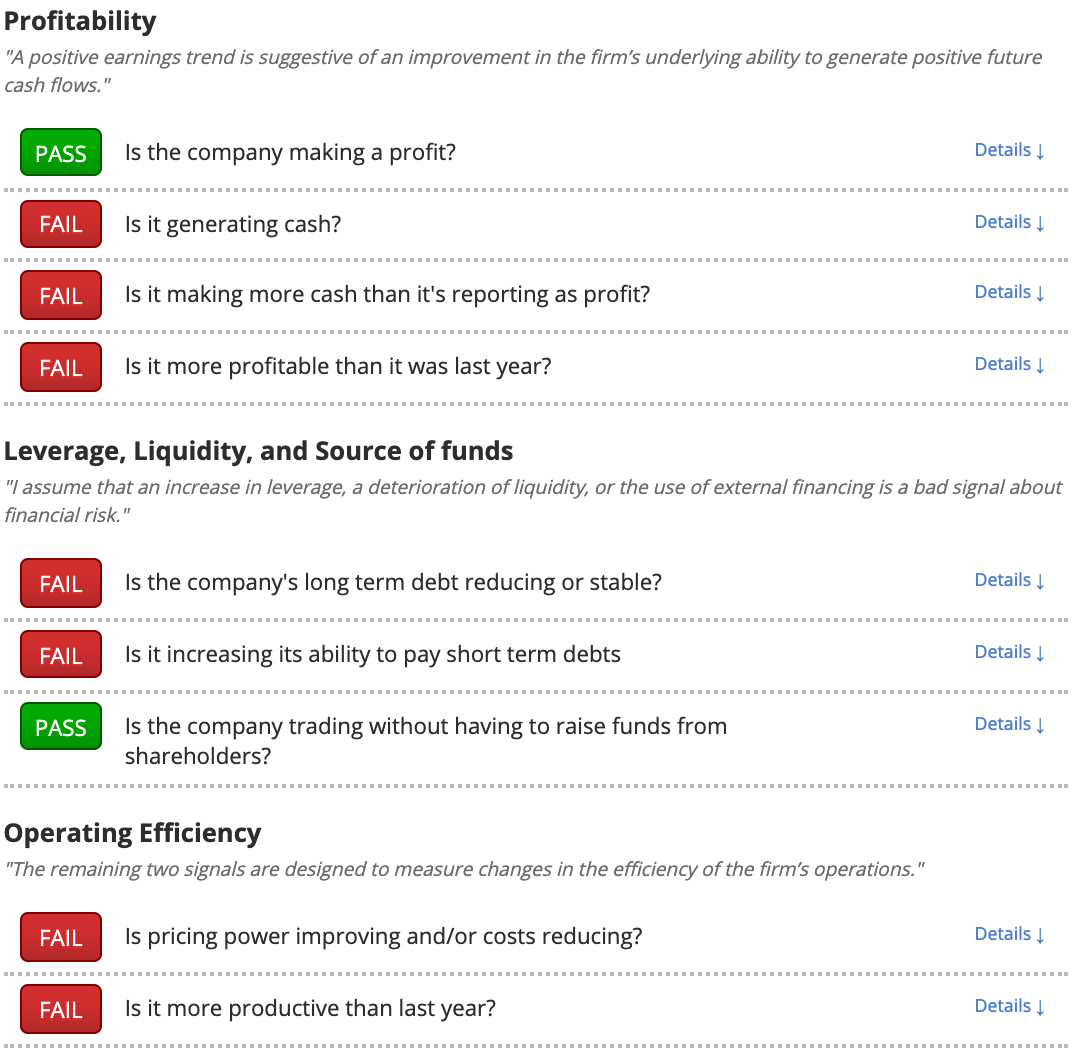 This means that not only is N Brown (LON:BWNG) financial health deteriorating, it currently fits in with the stocks that Piotroski identified as being five times more likely to go bankrupt or delist. Looking at the group's recent financial results for the 26 weeks to 01 September 2018, we can see that although revenues increased 1% to £457.8M, net loss widened 23% to £26M.
This performance highlights why paying attention to systematic checklists such as the F-Score can provide some much-needed clarity and help us make considered, consistent decisions.
Fortify your portfolio with simple, effective tools
The problem areas for N Brown identified here can be explored in more depth on Stockopedia's research platform. All the best investors have stringent due diligence processes that reduce the chances of them suffering big losses, so why not take a leaf out of their book?
Simple tools can help us better measure and understand the risks we take. That's why the Stockopedia team has been busy building new ways of understanding investment risks and company characteristics. In this webinar, we talk about two or our most popular innovations: StockRank Styles and RiskRatings. These indicators transform a ton of vital financial information into intuitive classifications, allowing you to get an instant feel for any company on any market - sign up for a free trial to see how your stocks stack up.

Share this article