RESULTS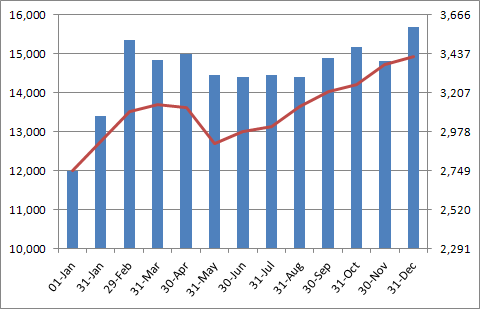 Portfolio value (start £12k) v FTSE SmallCap (start 2,749)

| | | | | | |
| --- | --- | --- | --- | --- | --- |
| Date | 01-Jan | 31-Dec | % change | Dividends | Yield |
| Brady (LON:BRY) | 1,000 | 1,309 | 30.9% | 19.74 | 1.97% |
| £C21 | 1,000 | 1,172 | 17.2% | 241.38 | 24.14% |
| Coastal Energy Co (LON:CEO) | 1,000 | 1,244 | 24.4% | - | - |
| Cove Energy (LON:COV) | 1,000 | 2,065 | 106.5% | - | - |
| dotDigital (LON:DOTD) | 1,000 | 1,735 | 73.5% | - | - |
| First Derivatives (LON:FDP) | 1,000 | 1,069 | 6.9% | 16.80 | 1.68% |
| Lo-Q (LON:LOQ) | 1,000 | 2,005 | 100.5% | - | - |
| Medusa Mining (LON:MML) | 1,000 | 1,167 | 16.7% | 9.56 | 0.96% |
| Real Good Food (LON:RGD) | 1,000 | 1,024 | 2.4% | - | - |
| Software Radio Technology (LON:SRT) | 1,000 | 827 | -17.3% | - | - |
| Tullow Oil (LON:TLW) | 1,000 | 903 | -9.7% | 8.56 | 0.86% |
| Titan Europe (LON:TSW) | 1,000 | 1,160 | 16.0% | 0.27 | 0.03% |
| Portfolio value (£) | 12,000 | 15,679 | 30.7% | 296.31 | 2.47% |
| | | | | | |
| | | | | | |
| FTSE 100 | 5,572.3 | 5,897.81 | 5.8% | | |
| FTSE SmallCap | 2,749.0 | 3,419 | 24.4% | | |
| FTSE AIM All-share | 693.2 | 707.21 | 2.0% | | |
PORTFOLIO BACKGROUND
***  PAGE HOLDER UNTIL COMPLETED  ***   (sorry, still not complete...)
Ever since I've had an interest in the stockmarket I find myself spending more time on portfoio allocation matters and performance recording at this time of year than any other.  There's no logic for this time over, say, March or June, or even tax year-end, but the extended break allows for some reflection and setting some targets for the year ahead.
It's also the time of year when fun competitions abound to pick some winners for the year ahead (a ludicrously short time for investing) and newspapers publish share ideas instead of news, but I can't resist a comp so have submitted entries to a fair few that are found online*.
* Stockpicking comps:
UK Stock Challenge - (select 5 stocks) [NB - finished +32.45% - 43rd out of 327 entrants ]
TMF - Pub annual comp - (2 stocks) [ finished +31.2% - 36th of 158 entrants ]
TMF/Stockopedia - annual oil stock challenge - (choose 1 long, 1 short entry)
Stockopedia Fantasy Fund [+31.4% with constituents largely matching my own, though in different weightings]
----------------------------------------   12 for 2012    ----------------------------------------
Anyway, I decided to put together a portfolio that contains some interesting picks, is reasonably diversified, has potential for growth and contains some downside protection.  We'll see if I am right in my assertions as the year pans out - to this end I've noted the year-end FTSE100 and FTSE All-share values as well as the closing offer prices for each stock per Stockopedia (I'm sure the spreads can be beaten, but I've no live prices to use currently).  I own nine of the dozen listed, and am actively researching the remaining three for an initial entry purchase this month.
All comments are welcome!
*** INDIVIDUAL COMPANY COMMENTS TO FOLLOW ***

Brady (LON:BRY) - 76p
Software systems and risk management tools for banks, brokerages, traders, hedge funds, etc... of commodities (energy, metals, softs). Forecast EPS of 4.99p = forward PE of 15.2. Brady is making steady progress with both organic growth and via acquisitions.  Revenues are growing, with recurring revenues hitting 54% at the Interims.   

Amongst 150+ geographically diverse clients are Glencore, Xstrata, Statoil, Mitsubishi, Australian Bullion Exchange, Norsk Hydro, RWE.

Admittedly not cheap, but becoming further and further embedded into commodity trading companies and increasing sector penetration, with ongoing revenues following the initial installation.  And not forgetting the 2% dividend yield.

21st Century Technology (LON:C21) - 14.5p
Public transport systems - Driver safety & efficiency alert system, CCTV, and passenger counting.  EcoManager is a clever driver warning system that warns a driver when the vehicle is accelerated or breaks too hard, which produces fuel savings of 12% and reduces accidents by 60% - 6,500 sold to date & being installed on the majority of all Arriva buses.  On-board Wi-Fi CCTV systems pioneered which send live pictures to public transport and police control centres - supplier to Arriva, Go-Ahead and First Group in the UK, plus Scandinavian sales, and trials in Mid East.

Company is debt-free, with significant cashflow, and sold its superfluous large HQ for £2.35m at Christmas, and will have ~£5m cash when the £2m balance is paid on 6-Jan (MktCap £13m). Possible special dividend when results announced. 2011 EPS forecast to be 1p, rising to 1.5p in 2012 giving a v. low forecast PEG.

Coastal Energy (LON:CEO) - 965p
Highly successful oil & gas exploration company drilling offshore Thailand (oil) and onshore (gas).  Produced just under 10k bopd production in 2010, and exited 2011 with 18.5 bopd + 2,000 boepd.

Latest company presentation indicates that 2012 offshore production will be IRO 20k bopd and 22 boepd incl. onshore gas.  Two horizontal wells at Bua Ban North A are online producing 4k bopd, with eight more due online by mid-February.  There's plenty of oil at Bua Ban North B too, with the B-12 well encountering 75 ft of net pay - two additional horizontal development wells will be drilled here before the rig is moved to Bua Ban South to begin exploration of ahighly prospective asset.

Various Canadian brokers covering the CDN stock (TSE:CEN) have progressively moved their target prices up over the last year, from C$12 when I started buying mid-2011 to latest notes stating C$24-26, which equates to ~£15.80.  One thing we're guaranteed here is an exciting year ahead!

Cove Energy (LON:COV) - 116p

DotDigital Group (LON:DOTD) - 8.5p
An interesting little company this and the wild card in my dozen.  Listed on AIM in Mar-11, £23m market cap DOTD provides digital marketing software to hundreds of firms to enable them to manage their web offerings, as well as an email marketing platform. Y/e trading statement noted revenues up 30% YoY, and forecast annual earnings of £10.5m to 30-Jun-12 with reduced EPS of 0.59p (0.70p to Jun-11) due to a large increase in headcount (prior year absorbed AIM-listing exceptionals).  House broker has EPS growth pencilled in to Jun-13 with 0.83p.

I like the experience of the board (for example Richard Kellet-Clarke of IDOX), and am expecting continued growth according to house broker estimates, and perhaps some additional acquisitions to increase their offering and customer base. 
First Derivatives (LON:FDP) - 485p

LO-Q (LON:LOQ) - 192p

Medusa Mining (LON:MML) - 294.75p

The Real Good Food (LON:RGD) - 41p

Software Radio Technology (LON:SRT) - 26p

Tullow Oil (LON:TLW) - 1402p

Titan Europe (LON:TSW) - 104p
FTSE100 - 5572.3
FTSE All-share - 693.2
Performance >>>> http://uk.advfn.com/p.php?pid=pf_summary&p=1&u=strollingmolby
Data taken from Stockopedia Premium
Disclaimer:
As per our Terms of Use, Stockopedia is a financial news & data site, discussion forum and content aggregator. Our site should be used for educational & informational purposes only. We do not provide investment advice, recommendations or views as to whether an investment or strategy is suited to the investment needs of a specific individual. You should make your own decisions and seek independent professional advice before doing so. The author may own shares in any companies discussed, all opinions are his/her own & are general/impersonal. Remember: Shares can go down as well as up. Past performance is not a guide to future performance & investors may not get back the amount invested.
---
---

accesso Technology Group plc is a United Kingdom-based company engaged in the development and application of ticketing, mobile and e-commerce technologies, and virtual queuing solutions for the attractions and leisure industry. The Company's solutions include accesso LoQueue, accesso Passport, accesso Siriusware and accesso ShoWare. accesso LoQueue is a queuing solution that includes Qsmart, Qbot and Qband. The accesso Passport ticketing suite is built where its customers shop. accesso Siriusware provides clients with ticketing and admission solutions, and includes various modules, such as OnSite Ticketing, OnLine eCommerce, Point-of-Sale and Guest Management. accesso ShoWare offers a range of ticketing software solutions for theaters, fairs, arenas and tours. The Company's products and services support attractions in the world, including a range of paid admission operations ranging from theme parks, water parks and zoos to cultural attractions and sporting events. more »

LSE Price

Coastal Energy Company (Coastal) is an international oil and gas exploration and development company with operations in offshore Thailand and Malaysia. The Company holds a 100% working interest in Blocks G5/43 and G5/50 in the Gulf of Thailand, as well as varying interests onshore northeast Thailand, including over 13.7% interest in the Phu Horm gas field. The combined area of the blocks is approximately 4,926 square kilometers (1.22 million acres), which is across the Songkhla, Nakhon and Ko Kra basins. The Company holds a net of over 13.7% working interest in the Hess-operated Sinphuhorm gas field located in northeastern Thailand. The Company's KBM Cluster fields are located within 20 kilometers of each other in a water depth of 60 meters. more »

Price