1pm plc - (One Payment Monthly) - Revenue and Earnings Growth Forecasted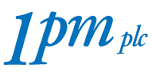 1pm (LON:OPM)
Mid Price 61.5p  (Up 7.89% today)                     Bid/Offer Spread 60p-63p  
Market Cap  circa £34m                                       AIM Listed
About the Company

1pm finances a wide range of business assets to small and medium size enterprises. They also use a large network of 190 leasing brokers to drive business their way.
Principally, the company provides finance leasing and hire purchase services for amounts from 1K to 50K.  A proprietor guarantee is required.
They also provide small business loans from 1k to 50K for periods of 3 - 60 months. Likewsie a proprietor guarantee is required.
Back in  bad old days in 2010, bad loans provisions were nearly 6%.  Now currently only .28%.of total loan portfolo.
Interest rate charges on leasing are circa 13% p.a..  The shorter term loans of less than 2 years, the rates can go up to 26% p.a. .
RNS Trading Headline - July 8th 2016

"Strong trading momentum maintained; profitable organic and strategic growth"
General Comments
Another positive trading statement with a positive outlook for better than expected earnings and more growth to come.

Originally, back in 2015, I questioned the valuation of 1pm when the company stood on a relatively high p/e ratio.   I suggested somewhere around 50p would be the more realistic price.  I have been converted over time to 1pm, mainly by the successful acquisition of Academy for £12m.  Previously,  I doubted this large acquisition, because it seemed too cheap, and why would the vendors sell so cheaply? 
Another add-on smaller acquisition for Broadgate was made in early 2016.  Each of the two acquisitions appear to be working well and earnings enhancing. The original 1pm business, the main part of the business is also similarly growing revenue and profits.  The company is certainly firing on all cylinders. 
Earnings Forecast
 The  final results for the year ended 31 May 2016,  are scheduled to be announced during the week commencing 5 September 2016.

I expect the company to earn above 6p per share for the year given that 2.91p was earned at the interim's stage.  This would give a very reasonable 10 p/e multiple on the current share price.
Opportunities
Opportunites for 1pm  to do a few more small add-on acquisitions in a very fragmented sector seems likely.  Their competitive advantage is their ability to out-manoeuvre larger banks or firms in its narrow specialist leasing area.  New business origination…

Unlock the rest of this Article in 15 seconds
Already have an account?
Login here