407m reasons to sell Lonmin PLC
It is now clear that Lonmin's management has admitted to the 'huge' problems facing the third biggest platinum producer.
Yesterday, they dropped 'bombshell' on Lonmin's shareholders by discounting its latest Rights issues at 97% to the current price.
Now the discount is at 90%, given the dramatic decline in share price in 36 hours!


I like to point out several things to Lonmin's shareholders even though it is a bitter pill to swallow about the Rights issue.
The FT did a piece on Lonmin (albeit a very brief one) about the Rights issue. They alluded that 10% of the issue will go the bankers or $38m of shareholders' cash (like they haven't suffered enough!).
Also, $135m of the proceeds goes directly to banks paying down Lonmin's US dollar facility of $225m.
So, only $234m (£155m) of the Rights issue goes into the company's coffers.


Is there any value in Lonmin?
Right now the answer is a big 'NO.'
The reason being is 27bn new issues flooring the market for starters.
Secondly, there're uncertainties surrounding the Rights issues. What I mean is: Would current shareholders fork out more money for Lonmin, despite seeing their current shareholdings of Lonmin being decimated.
To phrase this different: Are current shareholders willing to fork out a further £3,000 for every £1,000 they owned in Lonmin's shares (based on last week market value)?
Or, would current shareholders put MORE good money after bad money?


But what will happen if Lonmin's shareholders don't take up the Rights issue?
Six days ago we had our answer from Lonmin's management and that would be to go bankrupt!!


More importantly, this isn't the first time Lonmin did a Rights issue! Back in 2012, the company raised $767m in fresh equity at £1.25/share.
The surprising thing about the 2012's Right issue is the major shareholders ponied up the cash while its minority shareholders didn't take up any of its Rights, therefore got immediately diluted.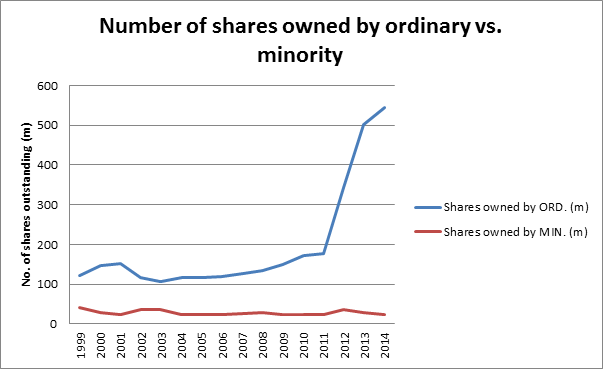 Source: Lonmin's annual reports.
So who is this mysterious shareholder?
Well it's Incwala Platinum Limited (IP), a mining investment vehicle that has a vested interest in Lonmin's subsidiaries (more below).
Here is an excerpt from my piece on Lonmin about its HDSA receivables:
Further investors warning ahead
 …

Unlock the rest of this Article in 15 seconds