5 red flags that could have saved you from the collapse at Carillion
This time last year the construction and support services group Carillion was valued at £1.0 billion. Yet 12 months on, its equity is effectively worthless and liquidation beckons. It's been a disastrous turn of events for what was one of Britain's largest government contractors. But what were the red flags that could have warned you it was coming?

For shareholders in Carillion, most of the price destruction unfolded during 2017, but some had predicted problems long before that. For the past three years, shares in Carillion have been some of the most heavily shorted in the market. For bears, the group was guilty of getting its contract pricing wrong and racking up too much debt. Ultimately, that spiralling debt has been its undoing.
But could these problems have been anticipated? We've taken a look at the Carillion StockReport - a page packed with algorithmic insights into its finances - to see where the red flags were and how these warnings can help investors detect and avoid disasters like this…
1 - A High Bankruptcy Risk
Predicting a corporate bankruptcy isn't easy, especially in a business that's politically sensitive because it does so much public sector work. However, there are ways to assess bankruptcy risk, and one of them is to use the Z-Score, which was designed by finance professor, Edward Altman.
The Z-Score rates companies against a set of features that are commonly seen in firms that go bust. So while it's not built to predict a bankruptcy, it does aim to measure how closely a company resembles other firms that have filed for bankruptcy in the past.

Carillion was in 'Caution' territory for much of 2017, but its half-year results at the end of September 2017 pushed it into the Distress Zone. It was then that the company's already high debt levels increased substantially (see below). At that point, all four of the main checks were flagging as a risk, and this was a big warning that Carillion's finances were deteriorating.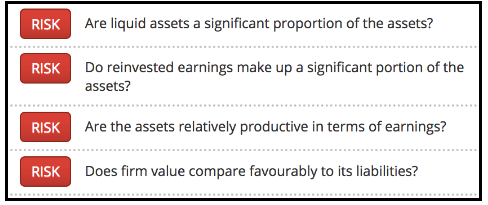 These sorts of accounting insights are just one click away on the Stockopedia StockReport.
2 - A Falling StockRank
There was a brief spell in the second half of 2016 when Carillion's StockRank broke above 80. That put it in the top 20% of the market for its exposure to the three factors…

Finish reading with a 14 day trial
Already have an account?
Login here