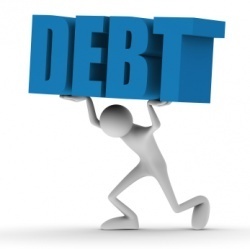 To most value investors, debt is one of the first things they look at when analysing a company.  Since value investing, almost by definition, involves buying unpopular stocks, there is often some kind of bad news surrounding the company which will only be made worse by high levels of debt.
The problem with debt
Debt, in itself, is not a bad thing and is vital to almost every company in some way or other.  Some debts are short term and interest free, such as credit from suppliers, while other debts are longer term and do incur interest.  In most cases it is the interest bearing debts that are the danger, although in some cases a sudden reduction of incoming cash can cause a cash flow crisis where suppliers cannot be paid.
Debt and the turnaround situation
I used to invest in small and struggling turnaround situations and for these companies debt was a major worry.  Although these stocks can often be picked up at 'bargain' prices and sold for big profits at a later date, the risks posed by debt are substantial. For small and struggling companies the current and quick ratios are a good place to start. 
The current ratio is the ratio of current assets to current liabilities.  There are no hard and fast rules but many value investors prefer a ratio of 2 or more in order to ensure sufficient short term liquidity.  This can be a rather limiting rule that is only really suitable for turnarounds rather than solid, healthy companies.
The quick ratio is the ratio of quick assets – those which can be turned to cash within 30 days or so – to current liabilities.  An alternative to working out the true quick assets is to remove inventory from current assets and use that figure.  The idea is that often inventory cannot be turned in to cash quickly and would be of no use in generating cash during a cash crisis.  A quick ratio of more than 1 is enough to keep most value investors happy although again, this can be limiting if applied to healthy companies.
Debt and the wonderful company
I no longer invest in small and struggling companies and instead much prefer the advice of Warren Buffett who said, "It's far better to buy a wonderful company at a fair price than a fair company at a wonderful price".  With…

Unlock this article instantly by logging into your account
Don't have an account? Register for free and we'll get out your way
Disclaimer:
This article is for information and discussion purposes only and nothing in it should be construed as a recommendation to invest or otherwise. The value of an investment may fall and an investor may lose all their money. Any investments referred to in this article may not be suitable for all investors.  Investors should always seek advice from a qualified investment adviser.
---
---

Imperial Brands PLC, formerly Imperial Tobacco Group PLC, is a fast-moving consumer goods company. The Company offers a range of cigarettes, fine cut and smokeless tobaccos, papers and cigars. The Company's segments include Growth Markets, USA, Returns Markets North, Returns Markets South and Logistics. The Growth Markets segment includes Iraq, Norway, Russia, Saudi Arabia and Taiwan, and also includes Premium Cigar and Fontem Ventures. The Returns Markets North segment includes Australia, Belgium, Germany, the Netherlands, Poland and the United Kingdom. The Returns Markets South segment includes France, Spain and its African markets, including Algeria, Ivory Coast and Morocco. Its businesses include Tobacco and Logistics. The Tobacco business comprises the manufacture, marketing and sale of tobacco and tobacco-related products. The Logistics business comprises the distribution of tobacco products for tobacco product manufacturers. more »

LSE Price