7 European stock markets that beat the S&P 500 this year
The S&P 500 index of America's leading shares has risen by 25 percent in 2019, marking another impressive year for an index that's been on a blistering 10-year bull run. US shares and markets have mesmerised investors over the past decade - and they still dominate financial headlines around the world.
But while markets across the Atlantic have performed well, it would be easy to overlook the fact that superior returns have been on offer elsewhere this year. Indeed, when it comes to international diversification for UK investors, world-beating gains have been achievable much closer to home.
In 2019, a select group of European stock markets have delivered some stand out performances. This is all the more impressive when you consider that equity returns have been disappointing in so many other regions - especially the UK.
For instance, Britain's blue chip index, the FTSE 100, has managed a more modest 10 percent gain in 2019. Likewise, the small-cap, growth-oriented Alternative Investment Market, which is popular with individual investors, is up only 6.0 percent.
By comparison, the FTSEurofirst index of Europe's 300 leading shares has delivered a near 20 percent gain in 2019. Dig a bit deeper and you'll find that seven European markets have performed particularly well.
But which ones are they and how could investing in these markets have enhanced your returns?
Seven European markets that outperformed in 2019
Compared to US and European markets, Britain's FTSE 100 index has drifted in 2019. With the haze of electoral uncertainty hanging over the country, and the unpredictable impact of Brexit and future trade negotiations, British investors focused on their home market have missed out on some stunning gains elsewhere in the world this year.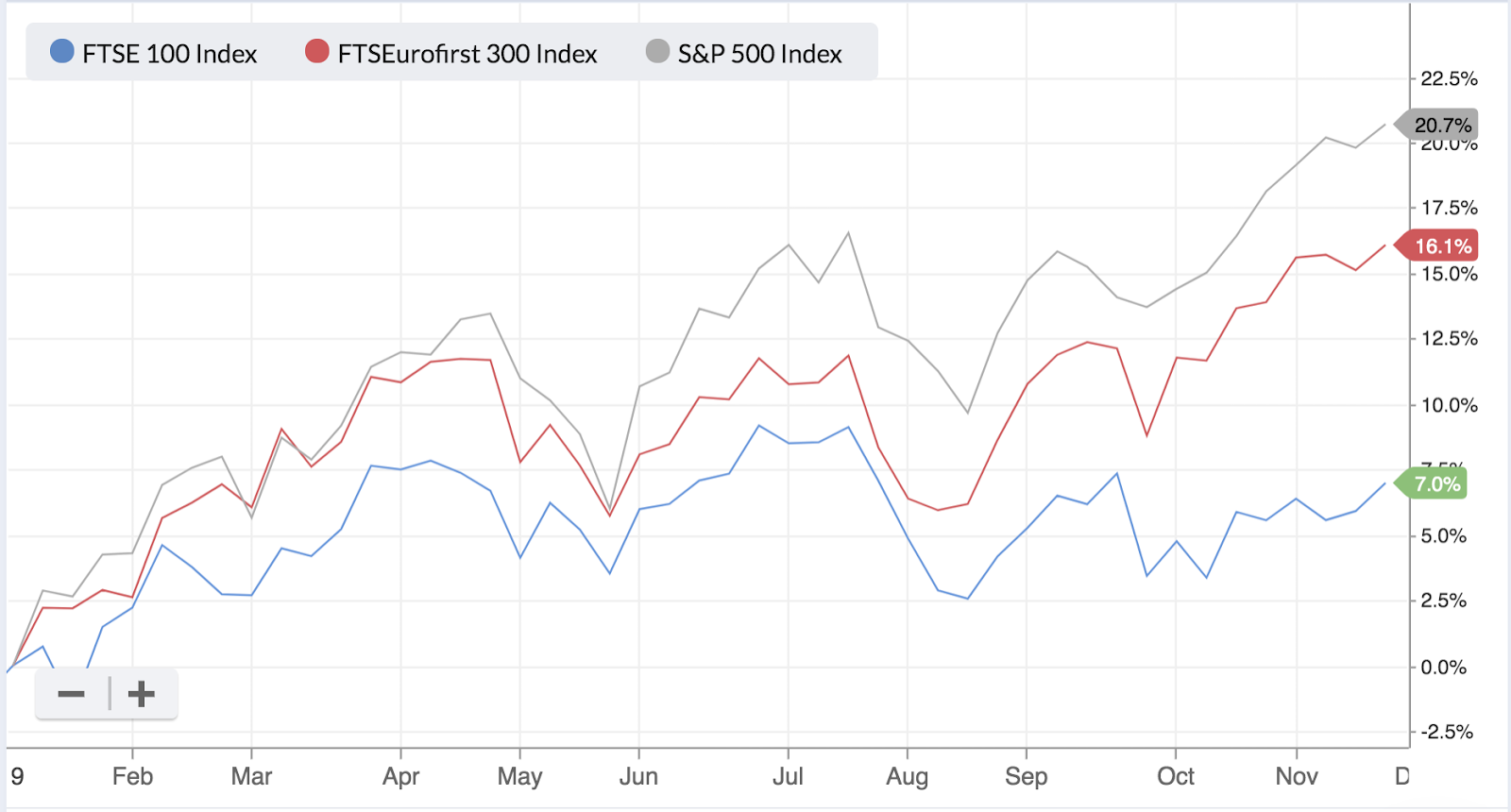 By contrast, a range of European markets have done much better. Interestingly, from low bases, both the Greek and Bosnia and Herzegovina markets have seen the largest percentage rises year to date. Following closely behind are the leading exchanges from some of Europe's biggest and, in the case of Romania, fastest-growing economies.
| | |
| --- | --- |
| Market | YTD Performance % |
| Greece ASE | 46.5 |
| Bosnia and Herzegovina SASX-10 | 39.1 |
| Romania BET | 31.0 |
| Italy MIB | 28.0 |
| Germany DAX | 25.5 |
| France CAC40 | 25.2 |
| Ireland ISEQ | 25.8 |
| US S&P 500 | 25.0 |
| UK FTSE100 | 10.0 |
It's fair to say that in the case of markets like Greece and Bosnia and Herzegovina, there are challenges for international investors. The Greek market collapsed in the years after the financial crisis, as the country's economy lurched into crisis. Yet signs…

Unlock the rest of this Article in 15 seconds
Already have an account?
Login here