A newly joined subscriber to Stocko, I thought it would be an interesting exercise late last year to run in parallel two portfolios based on wholly different selection criteria. These were both assembled and valued at approximately the same time in mid to late December 2015. For better or worse I own all of the stocks mentioned, albeit in differing amounts to those used in these virtual portfolios.  As explained below, both portfolios were seeded with an initial £50,000 investment capital with the objective of making as high a return within 12 months as possible from Capital Gains.  (For the time being I have ignored dividends but will re-assess the possible impact they would have had at the end of the period).
Portfolio 1 - Naps Portfolio
Portfolio 1 is a NAPs portfolio chosen by picking 25 diverse stocks with high the highest available stock rankings in their industry sector. The original portfolio was outlined in a posting on December 15th, 2015 which for ease of reference I've cut and pasted an extract from here.
"The portfolio consists of 25 stocks with an initial gross investment of £2,000 each (i.e. pre dealing costs). Notwithstanding my better intentions of assembling the stocks over 3 months to spread the risk of a market sell off, (which is exactly what happened), I am now fully invested with all stocks purchased. These are all UK LSE/AIM listed and meet the general criteria of having a dealing spread of less than 5% and a market cap of more than £15 million. The portfolio currently consists of:-

Cambria Automobiles (LON:CAMB); Character (LON:CCT); Dart (LON:DTG); H & T (LON:HAT); Hydro International (LON:HYD); NWF (LON:NWF); Empresaria (LON:EMR); Inland Homes (LON:INL); Wizz Air Holdings (LON:WIZZ); Computacenter (LON:CCC); Headlam (LON:HEAD); Journey (LON:JNY); Somero Enterprises Inc (LON:SOM); Berkeley Group (LON:BKG); Mears (LON:MER); Novae (LON:NVA); Sprue Aegis (LON:SPRP); Fyffes (LON:FFY); Safestore Holdings (LON:SAFE); Castings (LON:CGS); Norcros (LON:NXR); Manx Telecom (LON:MANX); Telford Homes (LON:TEF); J Sainsbury (LON:SBRY); and, Finsbury Food (LON:FIF).

At the time of selection, each stock had a Stock Ranking of 90 or more and an Index score (calculated as SR + (VR x QR x MR x GR)) of greater than 100%.  I have sliced and diced the available stocks a number of ways from an original short list of about 50 stocks to obtain this selection.  I have removed:- (a) stocks with a Piotroski F score of less than 5; (b) an Altman Z score (where relevant) of less than 1.95; and (c) a Magic Formula rank of less than 65. I have also discounted stocks were there has been recent negative subjective comment from some of the principal Stockopedia bloggers or where there have been other characteristics such as a small free float or apparent dominance of the share register by a dominant family shareholding which suggests there might be some issues with liquidity or free market price discovery. In effect, I've taken a long short list of objectively picked stocks and then subjectively hand-picked my preferred 25. I have about 5 or 6 stocks identified on a reserve list which I am keeping under review for possible inclusion if need be. Ideally, I would like to intervene as little as possible with the experiment but that is easier said than done when there is real money at stake!

At inception, the portfolio had an average Stock Rank of 96, Value Rank of 76, Quality Rank of 83, Momentum Rank of 86 and Growth Rank of 73. My Index average ranking is 135%. I suspect my natural bias, at the margin, has been to pick better quality, albeit slightly more expensive, stocks than a pure random selection. In terms of market sectors, I have compromised my diversification and have neither a Utility nor a pure Healthcare stock since no stocks from these sectors met my investment criteria. (I have picked Mears, an "Industrial", for its substantial personal healthcare activities as my Healthcare exposure). The choice was also pretty limited for Technology, Telecoms and Energy (one pick each). If you dig into the portfolio you will see I have an over concentration on consumer cyclicals (6/25) and industrials (7/25), but at this stage in the economic cycle I can live with this and have where possible tried to diversify within these broad sectors."


http://www.stockopedia.com/content/webinar-alert-u...
Portfolio 2 - Special Situations
The second selection was more of a "special situations" portfolio chosen through a somewhat idiosyncratic process, the product of a slightly chaotic investor with an occasional interest in stocks and shares and an eye to a well told investment story.  I provided an outline of the portfolio on December 28th, 2015 at the following link:-
 http://www.stockopedia.com/content/guilty-pleasure...
 Again, for reference, I've cut and pasted the guts from the the text here:-
"As an alternative to some of the Stock Rank driven NAPs portfolios that many of us (including me) are running in 2016 - either as shadow or real portfolios - I am planning to run a high fat, high cholesterol, ugly duckling portfolio of non-politically correct, guilty pleasure stocks to see how these perform against my own NAPs portfolio.  I am charitably calling this a "Special Situations Portfolio", although it might be more appropriate to call it a "Special Needs Portfolio"...  My one rule is that I have to own all of these stocks in my wider investment portfolio (albeit not in the size that I may shadow in this particular portfolio - now that would be stupid!).  Not very scientific, but like the start of an AA meeting its the opportunity for me to say, "Hello, I'm Gus and I have invested in ,,,,,," as a means of starting the process of breaking some of my previous bad habits.  Those of a tender persuasion please look away, as some of this may shock you.  Definitely not one for widows or orphans....
Like my NAPs portfolio, I've invested - in this case a notional - £50,000 but in 15 initial positions (rather than the 25 in my NAPs).  Some of these stocks I have held for over 7 years, others are relatively recent acquisitions.  Most have a "story" behind them; one or two are even the product of dipping into a dreaded bulletin board and taking a punt.  Some of the
recent ones have paid lip service to at least looking at the Stock Rankings, although by and large I've gone into these positions based on an "artistic" rather than "scientific" interpretation of the analysis.  I will run the portfolio as of (offer) price levels of 24th December, 2015 and mark to the bid side of the market plus £9 buying commission and stamp duty where appropriate.  I am not running the positions on an equal size investment basis, but have allowed myself to invest up to £7,500 (15%) in a particular stock and am not proposing to look for any particular sector diversification etc.. I may re-position from time to time and add (similar) stocks (if I can find them).
Anyhow, here are the picks (from lowest Stock Rank upwards):-
Lonmin (LON:LMI) - (SR18) bombed out Platinum mining stock.  I've held a small (and increasingly smaller) position for years but recently increased my holding after the 46:1 rights issue and subsequent tanking of the post rights share price.  So many issues to fret about ...
I see it as a charitable donation to the South African economy but it is so cheap at the moment that as a pure platinum recovery play who knows?
OptiBiotix Health (LON:OPTI) - (SR 22) classic jam tomorrow, story pharma stock.  Plenty of blue sky prospects in cholesterol management and other lifestyle health issues.
Amur Minerals (LON:AMC) - (SR25) potentially one of the largest nickel mines in the world (albeit in Russia).  A darling of the II bulletin boards, worth following just for the banter (as my 14 year old daughter would say).
Ithaca Energy Inc (LON:IAE) - (SR32) Oil and Gas explorer. A couple of big projects due to come on line in 2016.  Made a significant equity placement with a reputable trade buyer a few months ago.  Now trading at about a 50% discount to that placement price.
Pantheon Resources (LON:PANR) - (SR32) another Oil explorer.  I've discussed this elsewhere on Stocko. Currently my "illogical, conviction stock".
Sirius Minerals (LON:SXX) - (SR36) a UK based polyhalite (agri fertiliser) start up mining company.  Secured planning permission this year to develop its mine in the North Yorkshire National Park - no small achievement.  Needs to secure financing to develop the mine, but strong management team, numerous off-take agreements in place and a huge, proven resource for which they will hopefully become one of the lowest cost global producers.
Petra Diamonds (LON:PDL) - (SR38) another resource company, this time diamonds.  Bombed out share price this year but purchased as a commodity recovery play. The wife likes the idea of it ...
Glencore (LON:GLEN) - (SR39) inherited a position when they took over Xstrata.  Watched it fall like a stone in line with the rest of the commodity sector.  Over leveraged from previous empire building but addressing these issues now with non-core disposals and a significant cost saving program.  Strong trading arm should make money irrespective of commodity price levels.
Boohoo.Com (LON:BOO) - (SR 41) UK high growth online fashion retailer.  Bought on  a dip after the initial IPO hype. Hope Paul Scott (a big fan) doesn't take offence that they are in this exalted company.

Trakm8 Holdings (LON:TRAK) - (SR 46) high growth vehicle systems management.  Lucky enough to buy in a few months ago and have seen exponential SP growth since.  Current Value Rank of 5 so a suspicion that it is over bought, but still seems huge potential in overseas markets.

French Connection (LON:FCCN) - (SR 59) interesting "metamorphosis play" as they move from troubled high street fashion retailer to global brand franchiser.  (Happy to acknowledge an analysis shamelessly borrowed from Paul Scott).
DX (Group) (LON:DX.) - (SR 65) an ugly duckling mail delivery company, ex-IPO with a kitchen sink profit warning a few months ago. Hoping for a bounce and change of sentiment - 4th quarter trading figures key.  Also facing issues with a significant investment program required in a new distribution centre.
Home Retail (LON:HOME) - (SR73) plenty of recent postings on this.  Argos/Homebase owner with a bombed out share price, presently with a market cap equal to the approximate value of cash plus its consumer loan book (near cash).  A few years ago this would have already been gobbled up by a PE buyer and restructured.
Bonmarche Holdings (LON:BON) - (SR75) "dame d'une certaine age" retailer.  Recent profit warning and loss of CEO to a competitor saw share price fall by over 1/3. Sense this is overdone and will recover, even if current mild weather impacts current season's trading.
Premier Farnell (LON:PFL) (SR76) - UK electrical components. Historically a market leader but has lost its way a little recently. Share price halved to all time lows in 2015.  Hoped for recovery with the potential of a tie up with principal competitor Electrocomponents mooted from time to time.
Changes to the portfolios ….
After some initial promise during the December Santa rally, both portfolios hit the wall in January through to early February before a recovery of sorts during later February and into  March.  Portfolio 1 took a couple of hits in the March end rebalancing as Sprue Aegis (LON:SPRP) and Mears (LON:MER) were bounced out and replaced by Avesco (LON:AVS) and Zytronic (LON:ZYT) respectively following the formers' loss of ranking.  Although they had also been downgraded,  I am currently sticking with Norcros (LON:NXR) and Fyffes (LON:FFY) pending further review.  To cover the losses on sale, I top sliced Hydro International (LON:HYD) which had performed pretty well allowing me to invest £2,000 in each of the two newcomers while retaining a proportionate position in Hydro.  Portfolio 2 also
faced one or two issues, but given the laid back investment style and lack of logical selection criteria the only change at quarter end was the sale of Home Retail (LON:HOME) following the bid by Sainsbury's more or less going through and the purchase with the sale proceeds of Satellite Solutions Worldwide (LON:SAT), (Stock Rank 37) a satellite based broadband service provider, and another O&G exploration company,  Chariot Oil and Gas (LON:CHAR) that was purchased at the start of April.  With a lofty Stock Rank of 49 this compared quite well to its sector peers and was in the process of reporting a promising looking farm out deal with ENI at the time of purchase.
The Story So Far ….
So, two portfolios to consider.  One lean and mean and chiselled from granite using the best available technology Stocko can offer.  The other a flabby, flatulent middle aged spread of the unloved and unlovable usually consigned to the dark recesses of the advfn and LSE bulletin boards. Perhaps surprisingly, the performance so far has not been quite what was expected. As the old cliche goes, a picture paints a thousand words, well in this case two pictures.
The first shows the daily performance of the NAPs portfolio since inception. Initially up by about 4.5% in the run up to year end, it dropped in January to a low of down 3.9% before recovering to its current position of up 2.8%.  Given the performance of the FTSE ASX over the same period this is not a bad return and the relatively low volatility suggests either that the individual stocks are quite stable or that the portfolio diversification is achieving its purpose of offsetting gains and losses.  I would suggest it is the latter, insofar as the best performing stock, Dart (LON:DTG) is up 25% and the worst, Berkeley Group (LON:BKG) is down 17%.  Indeed during the period the range has been from +40% to -25% for individual stocks.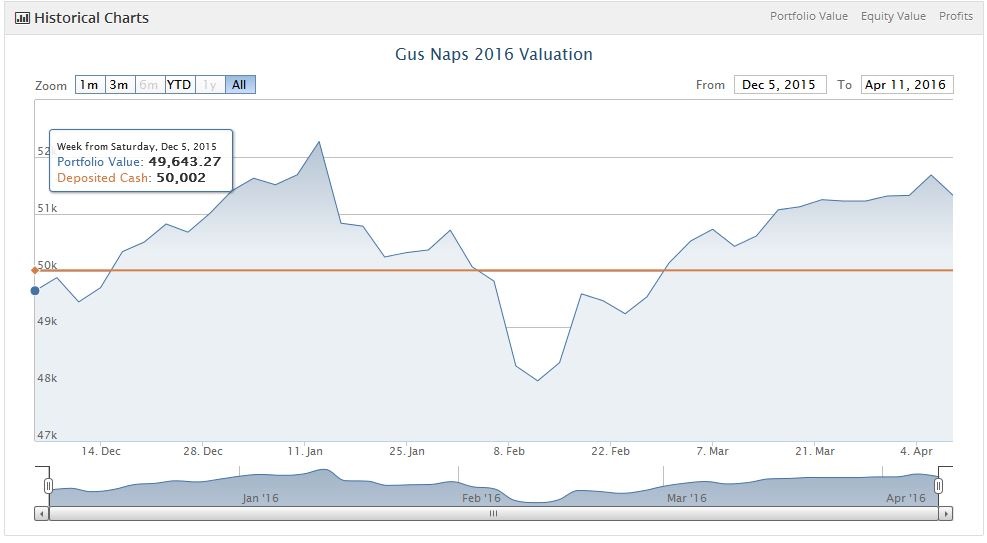 The second chart shows the performance of the Special Situations portfolio.  This portfolio was put in place about 10 days after the NAPS portfolio so the valuation missed out on a couple of weeks of the Santa rally.  By Jan 11th, (two weeks in) the portfolio was down by an eye watering 16%, the kids were on their way to the workhouse and the dog was threatening to leave home.  Things got marginally less bad moving into February as the price of oil ticked up a little and the commodities sector started to pull itself, perhaps temporarily, out of its four year free fall.  Over the following three weeks, things really took off as the aggregate loss of 9% became a net gain of 18%.  (Coincidentally, I was away for much of this period and quite oblivious as to what was going on in the markets.)  While things have been a little more stable for the portfolio as a whole since then, there have still been some pretty wild swings within its underlying components.  There have been at least three "bear raids" on individual stocks and as a result a couple of stocks ( Pantheon Resources (LON:PANR) and Trakm8 Holdings (LON:TRAK) ) saw their share price fall by over 50% during the period although both have recovered creditably since.  On the upside, four stocks have seen a more than 75% increase in value ( Lonmin (LON:LMI), Glencore (LON:GLEN), Satellite Solutions Worldwide (LON:SAT) and Chariot Oil and Gas (LON:CHAR) ) while the current laggard so far has been Amur Minerals (LON:AMC) , currently down 24%.  The star performer has probably been Lonmin (LON:LMI), whose value from trough to peak during the period has risen by approximately 257%.  This is probably the first time in 8 years of holding Lonmin (LON:LMI) that is has been compared to a star as opposed to an investment black hole.   All told, the aggregate portfolio is currently up 26% as of close of business this afternoon.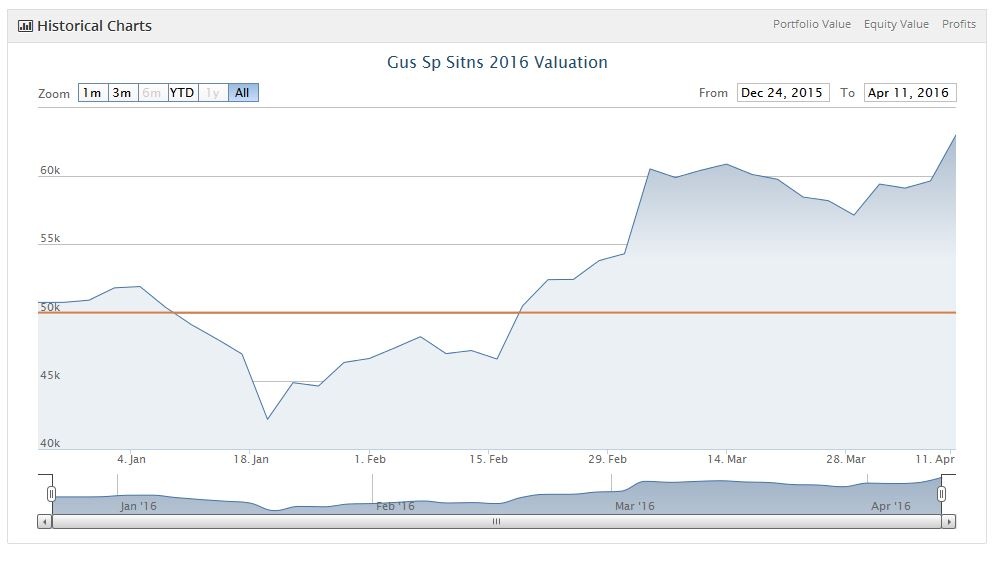 As many investors will have found, the last four months have been quite a roller coaster.  From the usual year end seasonal optimism, we have moved through the doom and gloom of early January with the likes of RBS telling everyone to sell up and go and live in a cave, back to the current situation of what feels like the calm before the storm of Brexit, a China crisis, (more) war in the Middle East or maybe just Donald Trump becoming US President.  
This bumpy ride has certainly been the experience with both of the above portfolios.  Lessons learned?  Probably too early to tell after only three months or so.  Naturally, I have been pleasantly surprised with how well some of the Special Situations stocks have performed, but then like the golfer holing a 30 foot put, why should I be surprised given that getting it into the hole is the objective of the game. This said, I am not so naive as to think that this level of performance is sustainable and expect quite a bit of turbulence over the coming months.  Picking up on posting earlier in the week, I think this small sample does show that there are some good (short term at least) returns to be had from AIM and the less fashionable areas of the main market and that there is scope for many types of different investment strategies.  On that subject, I am thinking of putting together a pretty simple TA based portfolio to see how that stacks up against these two.  More on that later ...
Disclaimer:
As per our Terms of Use, Stockopedia is a financial news & data site, discussion forum and content aggregator. Our site should be used for educational & informational purposes only. We do not provide investment advice, recommendations or views as to whether an investment or strategy is suited to the investment needs of a specific individual. You should make your own decisions and seek independent professional advice before doing so. The author may own shares in any companies discussed, all opinions are his/her own & are general/impersonal. Remember: Shares can go down as well as up. Past performance is not a guide to future performance & investors may not get back the amount invested.
---
---

Optibiotix Health Plc is a life sciences company developing a range of products to modify the human microbiome. The Company's principal activity is research and development into microbiome modulators. It operates in UK segment. The Company has a pipeline of microbiome modulators that can impact on lipid and cholesterol management, energy harvest and appetite suppression. The development pipeline is operated by its OptiScreen and OptiBiotic platform technologies designed to identify metabolic pathways and compounds that impact on human physiology. Its Optiscreen is a screening and optimization technology platform designed to identify microbes within the human microbiome with metabolic pathways, which can interact with human physiological processes. Its OptiBiotic is a platform technology, which generates compounds and screens them for their ability to modulate the human microbiome and its microbial end products. Its platforms are applicable across a range of other human diseases. more »

LSE Price

Glencore plc is an integrated producer and marketer of commodities, such as metals and minerals, energy products, agricultural products and Corporate and other. The Metals and minerals segment is engaged in copper, zinc/lead, nickel, ferroalloys, alumina/aluminum and iron ore production and marketing. It also has interests in industrial assets that include mining, smelting, refining and warehousing operations. Its Energy products segment includes coal mining and oil production operations and investments in strategic handling, storage and freight equipment and facilities. Its Agricultural products segment is supported by controlled and non-controlled storage, handling and processing facilities in various locations, and is focused on grains, oils/oilseeds, cotton and sugar. Its diversified operations consist of over 150 mining and metallurgical, oil production and agricultural assets. more »

LSE Price

Pantheon Resources PLC is a United Kingdom-based oil and gas exploration company. The Company is principally engaged in investing in oil and gas exploration and development. The Company operates in two business segments: USA and Head Office. The Company holds working interest in approximately five prospects in Tyler and Polk Counties, East Texas where the Company has drilled over two exploration wells. The Company's Tyler County is located in East Texas near the border with Louisiana. The Company's Polk County is located to the immediate West of Tyler County. The primary target of both wells is the Woodbine/Eagle Ford sandstone formation. The secondary target is the Austin Chalk, which exists on the Tyler County prospects. The Company operates in the United Kingdom through its parent undertaking and in the United States through subsidiary companies. The Company's subsidiaries include Hadrian Oil & Gas LLC, Agrippa LLC and Pantheon Oil & Gas LP. more »

LSE Price