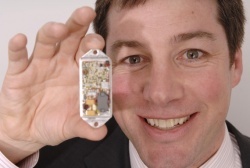 Advanced Power Components (LON:APC) founded in 1982 is an AIM listed specialist distributor of electronic components. As a business, APC is split into a number of autonomous units, who supply a wide range of specialist components and equipment to a range of customers within different sectors such as, aerospace, defence, display technology and specialist industrial and commercial markets. Following a busy year end, and having recently announced that the company expects its profits to show a substantial improvement over the prior year in line with expectations, Mark Robinson the APC Chief Executive Officer has taken time out to discuss various aspects of the business, including, growth strategy, QV acquisition, debt terms, and the much talked about imop™ energy saving device:

Q1. Advanced Power Components have recently provided its shareholders with a positive end of year update, what would you personally regard as being the high point of FY2011 for APC as a business?

The high point of the year is difficult to pin-point as in truth it's been very hard work for the last 3 years without many specific noteworthy achievements. Even though we've turned things around, a good number of people have put a huge amount of effort into building a positive future and much of it has yet to come to fruition though we are seeing some satisfying signs of progress.

Over the last two years we have avoided the temptation to compete for spot business in the market and focussed on building long term design-wins. It is satisfying to see this reflected in the fact that our order book is now the highest it has been in a number of years

In addition, I've spent a great deal of the year travelling to new markets in developing countries in an attempt to create new opportunities which at times has been quite an eye opener. The contrast between the stalling western economies and the rapidly developing nations is quite amazing. I feel we are making steady progress in efforts to widen our markets which is again quite satisfying.


Q2. During hard economic times many firms have had to cut back on expenditure such as wages, training, advertising etc, have APC been forced to cut back costs?

At the start of our last financial year we froze wages and put in place an…

Unlock this article instantly by logging into your account
Don't have an account? Register for free and we'll get out your way
Disclaimer:
This content has been created for information purposes only, and is NOT, in any way, a recommendation to invest.  This communication is a snapshot of a certain aspect of a discussed business at a moment in time, and is merely a basic starting point for research.  The article/thread has been created with honesty and integrity in mind and is based on publically available information sourced in relation to the title, such as from, RNS announcements, published reports, management comments, analyst reports, media coverage etc.  To this extent the author who has written the piece in good faith accepts no liability for the accuracy of the information and urges all readers to verify the content independently.  Please note that the value of investments may fall or rise and you may not get back the amount originally invested, or in some cases your investment may be wiped off altogether.  When investing, bear in mind that past performance is not a guide to future performance and that qualified independent financial advice should be sought before buying or selling shares.  The Author of this article may hold shares in the companies discussed.
---
---

APC Technology Group PLC is a United Kingdom-based company, which provides design, specification and distribution of electronic components and systems, lighting technologies and connectivity products. The Company's product ranges from critical components and Internet of Things (IoT) solutions to light emitting diode (LED) lighting. The Company's specialist electronic component distribution business, trading as Advanced Power Components (APC), is a distributor of specialized electronic components. APC Lighting Technologies trades as Minimise Energy Limited (MEL), which is engaged in the design, specification, supply and installation of individual LED projects. The Company, through Minimise Solutions Limited, offers advisory services to monitor, measure, analyze and verify energy and water usage. The Company, through EEVS Insight Limited, offers energy savings solutions. The Company provides services to the defense, aerospace, industrial, real estate, logistics and healthcare sectors. more »

LSE Price