Advertising Spend rising fast in the UK - who profits?
I noticed from this International Business times article that UK advertising spend is rising at its fastest rate since 2010, some 8.5% year-on-year in Q2 2014. This was predictably led by digital advertising, with e-commerce related advertising the subsegment growing fastest of all on TV, radio and internet.
So to cut to the chase, which UK companies benefit? Of course, the advertising behemoth that is WPP (LON:WPP) is an obvious beneficiary, but in my view not the best one as it is one of a select few truly global advertising giants (together with Omnicom and Publicis). Equally well, we should not forget M&C Saatchi (LON:SAA), which is also an advertising agency play. 
No, my focus is on smaller, more UK-centric advertising and marketing plays, such as Communisis (LON:CMS) whom I saw at a recent Sharesoc event in London (highly recommended for anyone who likes to hear UK small-caps present and then answer questions).
Communisis is a cheap stock with high Value and Quality StockRanks, combined with decent top-line growth prospects and slowly improving profitability. 
1. Communisis StockRanks
I would also suggest other media-related small-cap names such as Mission Marketing (LON:TMMG) (which I have written about previously here), a collection of advertising and marketing agencies that is also very attrractive on the Value StockRank, trading at a P/E of 7.2x and a trailing EV/EBITDA ratio of only 5.4x. Just like Communisis, analysts expect decent top-line growth from Mission Marketing as well this year and next. 
2. The Mission Marketing Group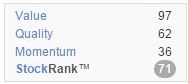 Bear in mind that, according to the research of Wesley Gray at Alpha Architect, the best value measures for value stock outperformance have been EV/EBIT and EV/EBITDA over the last few decades. So on this basis, both Communisis (LON:CMS) and Mission Marketing (LON:TMMG) look good from both a micro value perspective as well as the macro outlook. 
Finally, it would be remiss of me to mention a third favourite of mine in the small-cap media sector, Creston (LON:CRE), which…

Unlock this article instantly by logging into your account
Don't have an account? Register for free and we'll get out your way
Disclaimer:
My opinions only, not investment recommendations: Please Do Your Own Research
---
---

WPP plc (WPP) is a holding company engaged in providing communications services. The Company comprises companies in a range of disciplines, which include advertising, media investment management; data investment management; public relations and public affairs; branding and identity; healthcare communications; direct, digital, promotion and relationship marketing, and specialist communications. The Company operates through four segments: Advertising and Media Investment Management; Data Investment Management; Public Relations & Public Affairs, and Branding & Identity, Healthcare and Specialist Communications. The Company has operations in over 110 countries. The Company offers global, national and specialist advertising services from a range of international and specialist agencies, which include Bates CHI&Partners, Grey, JWT, Ogilvy & Mather Advertising and Y&R. It provides media planning and buying, and specialist sponsorship and branded entertainment services from GroupM companies. more »

LSE Price

Communisis PLC is a United Kingdom-based integrated marketing services company. The Company helps in communication between brands and their customers. It creates content and delivers across multiple customer touch-points in digital, broadcast and print channels. It operates in three segments: Design, Produce and Deploy. The Design segment offers marketing expertise, communications consultancy and creative services specializing in customer relationship marketing, shopper marketing, brand activation and financial services content. The Produce segment includes its outbound transactional services for billing and statements for financial services and utilities. The Produce segment includes its capabilities, such as document composition, workflow management, and digital output, such as e-mail. The Deploy segment offers brand deployment support with service lines, such as campaign management, studio services, supplier sourcing, governance, in-store activation, and warehousing and logistics. more »

LSE Price

The Mission Marketing Group plc (the mission) is a United Kingdom-based marketing communications and advertising company. The Company's portfolio comprises integrated, multi-discipline, multi-sector agencies, specialists in specific marketing/communications activities and specialists in particular market sectors. The Company's segments include Branding, Advertising and Digital; Media; Events and Learning, and Public Relations. The mission includes a network of entrepreneurial marketing communications agencies in approximately 20 offices in the United Kingdom, as well as offices in Asia and San Francisco. Its subsidiaries include April Six Ltd, which is engaged in marketing communications and specializes in the technology sector; Big Dog Agency Ltd, which is engaged in Marketing communications, Speed Communications Agency Ltd, which is engaged in public relations, and Bray Leino Ltd, which is engaged in advertising, media buying, digital marketing, events and training, among others. more »

LSE Price