After losing on Tesco, which UK stocks might be a better bet for Warren Buffett?
With an estimated personal fortune of $72bn it's little wonder that many investors pay close attention to what Warren Buffett has to say. In his recent letter to shareholders of Berkshire Hathaway, he reflected on why the conglomerate had been so successful over the past 50 years. And he was candid about some of the mistakes he'd made, too… not least his costly flirtation with Tesco. But one of the big takeaways was how he'd made the transition from a 'cigar butt' deep value investor to focusing on quality companies that can compound wealth over the long term. His message is that quality really does count - but how can we apply that philosophy?
Buffett credits his business partner Charlie Munger for influencing his change of approach. While Buffett had made a lot of money with the value strategies advocated by his tutor Ben Graham, Munger shaped the the Berkshire blueprint by urging him to "forget what you know about buying fair businesses at wonderful prices; instead, buy wonderful businesses at fair prices."
Buffett conceded that while buying marginal businesses at cheap prices worked well in the short-term, the strategy was never going to scale enough to build a large, enduring enterprise. He noted: "Selecting a marriage partner clearly requires more demanding criteria than does dating."
What is a Buffett-style quality business?
While Berkshire's success is attributable to a wide range of factors, Buffett's focus on business and financial quality is a common theme. Typically, these firms exhibit the traits that he would describe as an economic 'moat'. They're able to protect themselves from competition and market pressures, which means they can command high operating margins and generate high levels of free cash flow (which can be invested). Those investments themselves produce strong returns, which can be seen in measures like return on capital employed (ROCE) and return on assets (ROA).
At Stockopedia, our tracking of a Buffet style Historical Growth screen has shown very strong performance so far this year especially. It has returned 11.6% over the past three months in the UK versus 4.6% from the FTSE 100 (and a stronger 13.6% and 15.5% in Europe and the US respectively). On a 3-year annualised basis it has returned 10.9%.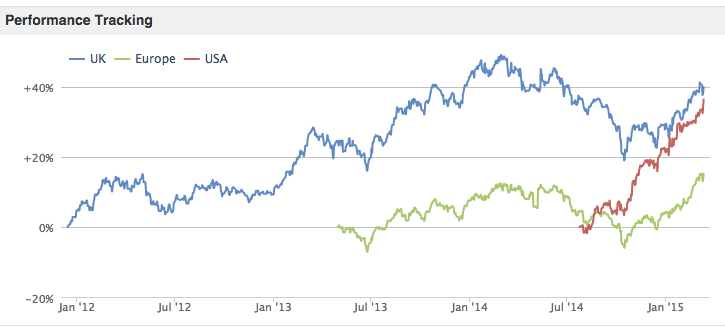 We have picked out some of the stocks that are currently qualifying across the three Buffett screens that we track.…

Unlock the rest of this Article in 15 seconds