Alder Biopharmaceuticals Inc (ALDR) - can it go further south?
One of my favourite technical / fundamental trades of the year so far from my weekly Traders Club reports at THE STOP HUNTER; Alder Biopharmaceuticals (ALDR) has been on the radar for 9 weeks now for a 53.3% gain.

Technically and fundamentally the weakness in the stock still looks like it has a firm grip on the price.

Fundamentally as Gordon Gekko would say, this one is a dog with fleas! A stock rank of 4, a Sucker Stock and not a lot else going for it and trading in one of the weakest sectors in the US: Biotechnology & Medical Research.



So the question is - can it go further South? The fundamentals warned me to the trade; Technicals got me in and technicals will help me manage it to the finish line.

Currently all the signals are bearish using the IHA setup (Ichimoku + Heikin Ashi + other indicators). Momentum is still bearish and negative volume has picked up.

What catches my eye is where the price sits at the moment - it is back down to 11.79 which is just above the key resistance level / Fibonacci level of 10. So there is a little downside still to go where I'd expect possibly some further consolidation and where there might be some short profit taking? I would then look for breaks under this 10 level and would take the stock into new territory.

Weekly chart: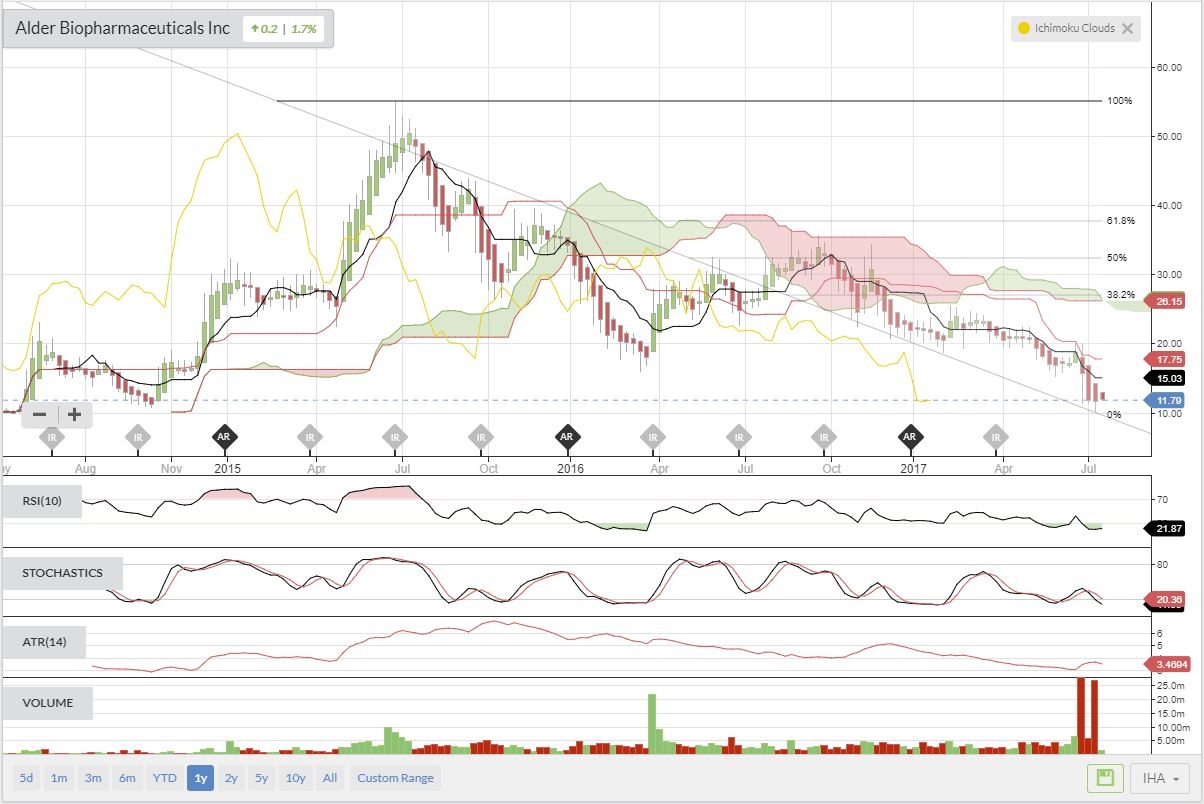 Technical Levels:

Disclaimer:  
Commentaries, information, courses, content on this site or provided on any other form of social media by Stephen Hoad or THE STOP HUNTER Ltd and any other materials or services provided by Stephen Hoad or THE STOP HUNTER Ltd ARE NOT and DO NOT amount to financial or investment or trading advice upon which reliance should be placed and DO NOT fall under any matter regulated by the Financial Conduct Authority (FCA).

Finish reading with a 14 day trial
Already have an account?
Login here